Wiki Targeted (Entertainment)
Play Sound

YMMV •

Radar

•

Quotes

• (

Funny •

Heartwarming •
Awesome) •

Fridge •

Characters •

Fanfic Recs •

Nightmare Fuel

•
Shout Out

•

Plot

•

Tear Jerker

•

Headscratchers •
Trivia • WMG •

Recap •

Ho Yay

•

Image Links

•

Memes

•

Haiku

•

Laconic

•
Source

•

Setting
The characters of the BBC series (2006-2009) Robin Hood:
---
Outlaws
Robin Hood (Jonas Armstrong)
The Hero of the piece, this Robin is a younger, cheekier, and more easy-going variation of the traditional character. The Earl of Huntington and Lord of Locksley, Robin returns from five years fighting with King Richard in the Holy Land, to find that his lands and estates are now under the control of Guy of Gisborne.
After refusing to conform to the corrupt laws that are now in place, Robin escapes into Sherwood Forest and begins a campaign of guerrilla warfare against the Sheriff, complete with the familiar "rob from the rich to give to the poor" system of wealth distribution.
Much (Sam Troughton)
| | | |
| --- | --- | --- |
| |   Much: I know that's what you think. Much talks too much. And eats too much. Worries too much. It's easy for you to say because if I don't do it, then who does? | |
| | | |
| --- | --- | --- |
| |   Robin: You are already more of a man than I will ever be. You are Much. And you are my best friend. | |
Robin's faithful manservant who accompanies him to the Holy Land and who is promised an Earldom by Robin on their return to England. Disappointed at the loss of Bonchurch Estate and all the comforts that it entails, but too devoted to Robin to do anything but follow him into Sherwood, Much is simultaneously the most loyal and most reluctant member of the gang.
Little John (Gordon Kennedy)
| | | |
| --- | --- | --- |
| |   John: I have never killed - except to defend myself. I robbed, to survive, but now I rob to help others... I am one of Robin Hood's men. | |
| | | |
| --- | --- | --- |
| |   Isabella: You don't say much, do you. | |
Outlawed prior to the show's commencement for reasons that are never specified, Little John is the leader of a team of outlaws before he throws his lot in with Robin. Believed dead by his wife Alice, and having never even met his son John, Little John is the champion of women and children, and the Team Dad of the outlaws.
Allan-a-Dale (Joe Armstrong)
| | | |
| --- | --- | --- |
| |   Allan: I've learnt which side my bread's buttered on. | |
A opportunistic thief, con-artist, pick-pocket and compulsive liar, this Allan strays far from his traditional role as a minstrel. The only outlaw that has no personal investment in the cause that Robin Hood is fighting (and often pointing out that as a poor person himself, he should have a share of any stolen goods) Allan sticks around just for the fun of it – or perhaps for want of anything better to do.
In early season two he is approached by Guy of Gisborne and coerced into becoming a spy. After a short stint as The Mole, he is found out and openly joins Guy as his right-hand man.
Will Scarlett (Harry Lloyd)
An apprentice carpenter in Locksley, Will's mother died of starvation in the attempt to keep Will and his little brother alive, and his father lost his hand after taking the punishment for his children when they steal food to eat. The youngest member of the gang at eighteen, Will joins the gang after Robin saves him from hanging and due to his deep hatred of the Sheriff, something that can often cause his low-simmering temper to rise up.
The most sensible, moral and sensitive member of the gang, Will falls in love with Djaq and decides to stay with her in the Holy Land at the conclusion of season two.
Djaq (Anjali Jay)
| | | |
| --- | --- | --- |
| |   Djaq: I had a brother. He was killed in your crusades. I became him, his name was Djaq. | |
| | | |
| --- | --- | --- |
| |   Much: Apart from being a girl, Djaq is one of the lads. | |
Following in the newer tradition of having a Saracen character join Robin Hood's gang, Djaq is the first female to hold the honour, making her a Twofer Token Minority. Contributing her skills as a physician, scientist, linguist and swordswoman to the team, she came across as less of a Mary Sue than she had any right to, largely due to the genuine affection she had for her fellow outlaws, and her role as Deadpan Snarker.
Royston White (William Beck)
| | | |
| --- | --- | --- |
| |   Roy: My name is Royston White. I fight for Robin Hood and King Richard! | |
An original member of Little John's outlaws, who dies in the fourth episode of the series.
Brother Tuck (David Harewood)
| | | |
| --- | --- | --- |
| |   Tuck: We're supposed to be inspiring these man to stand up and fight for themselves, giving them real hope. | |
A mysterious monk who arrives from travelling the world (having left the church after he became disillusioned) at the start of season three, and who joins the outlaws after inspiring Robin to recommit to the cause.
Kate (Joanne Froggatt)
A village girl who joins the team. Is what happens when writers decide they need a girl just for the sake of it.
Castle
Lady Marian (Lucy Griffiths)
| | | |
| --- | --- | --- |
| |   Marian: Everything's a choice. Everything we do. | |
| | | |
| --- | --- | --- |
| |   Guy: You must be the least easily won woman in England. | |
Dropping the usual "maid" part of her name in favor of "lady", this version of Marian operated as Robin's eyes and ears within the castle, but also had an agenda of her own what with her secret identity as the Nightwatchman, a masked and hooded figure who distributed food parcels amongst the poor.
The centre of a love triangle between Robin Hood and Guy of Gisborne, she dies at Gisborne's hands at the end of season two. Yes, you read that right. She dies.
| | | |
| --- | --- | --- |
| |   Guy: I have committed crimes... heinous crimes. But by taking Lady Marian in holy wedlock, I will wash away those crimes. | |
| | | |
| --- | --- | --- |
| |   Annie: He has a different side -- a side he cannot show. | |
The Sheriff of Nottingham's right-hand man and competitor for Marian's affections. The most incompetent assassin ever to screw up everything he's ever been ordered to do with little exception, Guy makes up for it with his ability to strut around in black leather.
The Sheriff of Nottingham (Keith Allen)
| | | |
| --- | --- | --- |
| |   Vaizey: Underneath this harsh surface, there's more harsh surface. | |
The gleefully sadistic Sheriff, who despite having ambitions to take over England, often seems to act the way he does just for the fun of it.
Isabella of Gisborne (Lara Pulver)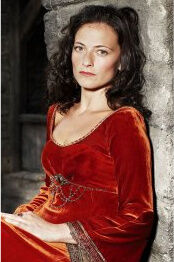 | | | |
| --- | --- | --- |
| |   Isabella: Now I know the only person I can trust is myself. I'm on my own. | |
Appearing in the third season as Guy's never before seen or mentioned little sister, Isabella entered the show on the run from her sadistic husband. An enigmatic presence throughout her eight episodes, she is the centre of the political machinations that drove the final season. Initially introduced as a Replacement Love Interest for Robin and as The Mole within the castle, Isabella Subverted expectations by striking out on her own, flirting with Prince John, performing a Face Heel Turn and winning herself the position of Sheriff of Nottingham.
Prince John (Toby Stephens)
King Richard's little brother, with his eye on the throne in his absence.
Others
Sir Edward of Knighton (Michael Elwyn)
| | | |
| --- | --- | --- |
| |   Edward: Do not make the mistake I and others have made and make your dissent public. | |
Marian's father and the former Sheriff of Nottingham.
Archer (Clive Standen)
| | | |
| --- | --- | --- |
| |   Malcolm: Remember the birthmark, shaped like an arrowhead. It is why your mother named him... Archer. | |
Guy and Robin's half-brother. Would have (presumably) become the new Robin but for the show's cancellation.
Carter (Joseph Kennedy)
| | | |
| --- | --- | --- |
| |   Carter: He's not crying, he's laughing on the wrong side of his face. | |
A Crusader who returned to England from the Holy Land seeking revenge against Robin for his brother's death. Hired as an assassin by the Sheriff, he successfully infiltrates the outlaw camp, but performs a Face Heel Turn after Robin tells him the truth about how his brother died. Appearing in only two episodes, this guest star became surprisingly popular among the fanbase.
Luke Scarlett (Jonathan Readwin/Christian Cooke)
Will Scarlett's little brother.