Hawkeye Is Here To Amaze - The Loop
Play Sound

YMMV

•

Radar

•

Quotes

• (

Funny •

Heartwarming •
Awesome) •

Fridge

•

Characters

•

Fanfic Recs

•

Nightmare Fuel

•
Shout Out

•

Plot

•

Tear Jerker

•

Headscratchers

•
Trivia

•

WMG

•

Recap

•

Ho Yay

•

Image Links

•

Memes

•

Haiku

•

Laconic

•
Source

•

Setting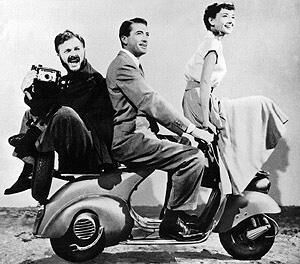 Roman Holiday is a 1953 Romantic Comedy starring Audrey Hepburn and Gregory Peck. It was directed by William Wyler.
The world-renowned Princess Ann, a member of the royal family of a small unnamed European kingdom, is in a whirlwind tour of Europe. After visiting London, Paris, and Amsterdam, she arrives in Rome, the Eternal City. Bored and upset with a life where her every waking minute is scheduled and rehearsed, she throws a tantrum and has to be sedated. However, before the drugs take effect, she manages to escape the embassy, determined to spend at least one day doing whatever she wants.
As the sedatives finally take effect, the weary princess collapses on a park bench, where she meets Intrepid Reporter Joe Bradley. Believing her to be drunk, he offers to have a taxi take her back to her home, but she refuses; finally, he caves in and allows her to sleep it off at his place (and no, that doesn't happen).
The next morning, Bradley wakes up late, having overslept and missed a scheduled interview with the princess. He tries to report in to his editor anyway, but he gets caught in the lie when he finds out that the princess "called in sick" at 3 o'clock that morning. After seeing a picture of Princess Ann in the paper, Bradley manages to put two and two together and sets out to get the scoop of a lifetime...
Notable moments include the original romantic Vespa ride through Rome, the scene at the Mouth of Truth, and a dance-turned-brawl where Ann clubs a man over the head with a guitar.
The film is notable as Audrey Hepburn's first major breakthrough in cinema; she won an Oscar for Best Actress for her role as Princess Ann, and always remembered this as her favorite role. It was also included in American Film Institute's 10 Top 10 list, placing fourth under the romantic comedy genre.
---
This film includes examples of: