Doctor Strange in The Multiverse o Madness - The Loop
Play Sound

YMMV •

Radar

•

Quotes

• (

Funny

•

Heartwarming

•
Awesome

) •

Fridge

•

Characters

•

Fanfic Recs

•

Nightmare Fuel •
Shout Out

•

Plot

•

Tear Jerker •

Headscratchers

•
Trivia

•

WMG

•

Recap

•

Ho Yay

•

Image Links

•

Memes

•

Haiku

•

Laconic

•
Source

•

Setting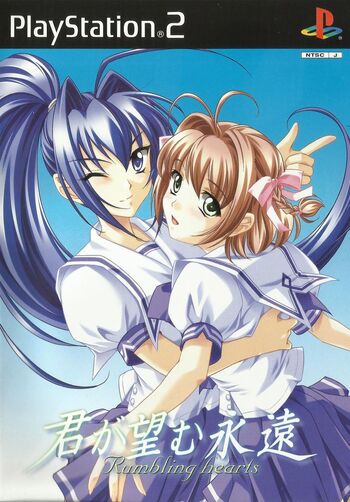 Short version? Guy dates girl. Girl gets in a car accident and is left in a coma. Girl's best friend eventually gets guy to get over his misery and starts going out with him herself. Girl finally wakes up from coma. Drama ensues.
Longer version? The highschooler Takayuki Narumi has just begun going out with his classmate Haruka Suzumiya; this is supported by Haruka's best friend Mitsuki Hayase, despite her secret feelings for Takayuki himself. However, the happiness is cut short when Haruka is hit by a car and falls into a coma, which destroys poor Takayuki on the inside and causes him to develop PTSD; Mitsuki, who blames herself from all fo this, decides to more or less drop her swimming career to take care of him.
Three years later, things are somewhat more stable — and Mitsuki and Takayuki are lovers. Then, Haruka wakes from said coma and her treating doctor says that she has amnesia as a consequence, and recovering her memories could actually kill her out of shock. So everyone must build a charade where time has not really passed for the sake of Haruka's mental stability, but it has quite the consequences on all of them. . .
Kimi ga Nozomu Eien (君が望む永遠, lit. "The Eternity You Desire"), or Kiminozo for short, known is a Japanese adult visual novel developed by Âge and released on August 3, 2001 for Windows. It was later ported to the Dreamcast and PlayStation 2. Still, outside Japan it's much better known by its Animated Adaptation Rumbling Hearts, a 14-episode TV series that aired in 2003-2004, and which follows mostly Mitsuki's route with some touches of Haruka's and Akane (Haruka's younger sister)'s paths. It also had a 4-episode OAV from 2007-2008, based on Haruka's route.
In 2019, a reboot of the original VN was announced.
Has a sequel of sorts in the form of the Muv-Luv series.
Tropes used in Rumbling Hearts include: