Jurassic World: Dominion Dominates Fandom Wikis - The Loop
Play Sound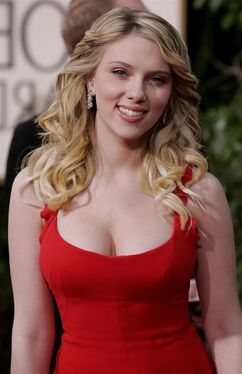 Scarlett Johansson is an American-born actress of Danish descent. She started acting at a young age, including a debut in North (hey, she was Paying Her Dues), then later got attention for roles in The Horse Whisperer and Ghost World. She then broke through in 2003 with the film adaptation of the book Girl with a Pearl Earring, and Lost in Translation. She is Jewish and has developed a close working relationship with Woody Allen, appearing in major roles in three of his recent films.
Today, she is considered one of the most beautiful actresses in Hollywood, with her almost-exotic face, gorgeous eyes, her voice, and her huge...tracts of land. She also won a Tony Award.
She also has a music career goin' on. She first gained attention from indie kids for appearing onstage during the first concert of a reunited The Jesus and Mary Chain to sing backing vocals on "Just Like Honey." Then proceeded to make an album full of Dream Pop covers of Tom Waits songs, and managed to bring David Fucking Bowie to sing on one of the songs.
She's also Black Widow in Iron Man 2 and The Avengers movie.
Scarlett has yet to conquer directing, however; her directorial debut[1] was cut from the anthology film New York, I Love You - fans of Miss Johansson (and Kevin Bacon, who stars in the short) can see it on the DVD as an extra.
Married to Ryan Reynolds, until they divorced.
---
Her Films Include:
Discography
Anywhere I Lay My Head (2008)
Break Up {With Pete Yorn} (2009)
---
Provides examples of: