House of the Dragon Trailer - The Loop
Play Sound

Quotes

•

Headscratchers

•

Playing With

•

Useful Notes

•

Analysis

•

Image Links

•

Haiku

•

Laconic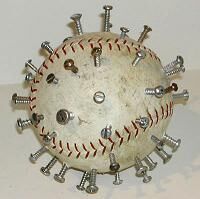 No, this doesn't mean what you think.
The Screwball Comedy has a pretty precise definition: a comedy film -- usually in black and white, although some were made in color -- in which an uptight, repressed, or otherwise stiff character gets broken out of his or her shell by being romantically pursued by a Cloudcuckoolander (or a similar character type). It does not just mean "zany comedy." The Producers, say, is not a screwball comedy, although it is screwy, ballsy, and very funny. It is characterized by fast-paced repartee, farcical situations, escapist themes, and plot lines involving courtship and marriage and showing the struggle between economic classes.
In other words, a Parody of a Romantic Comedy.
---
Classic screwball comedy examples include (period 1934-1944):
Bachelor Mother

Dinner At Eight

Easy Living

Holiday
Its a Wonderful World (the film - page at the moment redirects to The World Ends With You)

It Started With Eve

His Girl Friday (A remake of the play/movie The Front Page)

Libeled Lady

Midnight

My Favorite Wife

Nothing Sacred

Topper, followed by two sequels. Based on two novels by Thorne Smith, who also wrote the book on which

I Married A Witch

is based.

Twentieth Century
Later and modern examples of screwball comedy include: