Quotes

•
Headscratchers

•
Playing With

•

Useful Notes

•

Analysis

•
Image Links •

Haiku

•

Laconic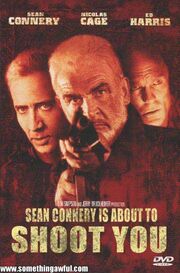 "December 1, 1903: Edwin Porter's

The Great Train Robbery

debuts. The plot: a wisecracking former cop fights train-jackers at 15 mph. Thrilling audiences with its pioneering realism and papier-mache trains, the final scene — in which the villain turns and fires his gun directly into the camera — was said to have so terrified the audience that they would often shriek in terror, screaming out 'Yippie ky yay, motherfucker!' as one.

"

When a character points a weapon at the camera so it looks like he is about to attack the audience with it. Sean Connery is not actually required, but doesn't hurt at all.
The more aggressive Sister Trope of Pistol Pose, this trope is frequently used on movie posters, DVD/VHS cases, and book covers. The star of the work is pointing a gun directly at the audience. It's that simple.
Note that while this usually involves guns, other weapons and even fists can also be used. The "Superman Is About To Punch You!" variant, in particular, is quite common on comic book covers. And certain movies.
This trope is often used in movies themselves as well, although the MPAA prohibits its usage in green-band (all ages) trailers. If the character actually attacks the audience, it's The Fourth Wall Will Not Protect You.
See also Pistol Pose, Stab the Sky. Often overlaps with Floating Head Syndrome. Sword Pointing is a variation.
---
Cover/poster examples:
Anime & Manga
Comic Books
Film
The first example ever is from The Great Train Robbery, which terrified audiences way back at the beginning of film in 1903.
Jackie Brown: Pam Grier Is About To Shoot You!
Man Bites Dog: Benoit Poelvoorde is About To Shoot You! (The original poster looks like an example of this trope at first glance, but turns out to be a bit more gruesome.)
The Bad Lieutenant: Harvey Keitel Is About To Shoot You!
Boiling Point: Wesley Snipes Is About To Shoot The Person Standing Next To You!
Star Wars: Return Of The Jedi — Harrison Ford Is Shooting You First!
The Chronicles of Narnia: Prince Caspian: Ben Barnes Is About To Impale You On Three Feet of Tempered Steel!
Rambo (fourth movie): Sylvester Stallone Is About To Shoot You WITH A BOW-AND-ARROW!
Robin Hood: Prince of Thieves: Prince Of Thieves: Kevin Costner Is About To Shoot You With a FLAMING Arrow!
Robin Hood (2010 film): (2010 film): Russell Crowe Is About To Shoot You With a REGULAR Arrow!
Robin Hood Men in Tights: Cary Elwes Is About To Shoot The Person Standing Next To You With Six Arrows!
Hot Shots Part Deux: Charlie Sheen Is About To Shoot You With A Chicken!
Stop Or My Mom Will Shoot: Estelle Getty Is About To Shoot You!
Pearl Harbor: A Japanese Warplane Is About To Drop A Torpedo On You(r Ship)!
Iron Man: Tony Stark Is About To Blast/Punch You IN A CAVE! WITH A BOX OF SCRAPS!!!
Batman is going to land a Batpod on you!
You Don't Mess With The Zohan: Adam Sandler Is About To... Dry Your Hair Between His Legs!
Harry Potter and the Order of the Phoenix: Daniel Radcliffe, Emma Watson And Rupert Grint (and Matthew Lewis in the background) Are About To Turn You Into A Toad!
Dirty Harry, both the original and its sequel Magnum Force: Clint Eastwood Is About To Shoot You With The Most Powerful Handgun In The World.
James Bond does it often (Twice in Goldeneye!).

Die Another Day: Pierce Brosnan and Halle Berry Are About To Shoot The Guy To Your Left.

And of course, every single opening of every one of the official movies.
Originally, Never Say Never Again and Casino Royale 1967 were meant to open with gunbarrels - the latter featuring a pop-gun wielding David Niven. These were removed before release.
The 1974 French knock-off "From Hong Kong With Love" opens with Bond attempting to shoot you... but his gun is empty. The camera shoots back, and kills him!

Spider-Man (first and second): Spider-Man Is About To Shoot Web At You!
City of God: Many Drugdealers Are About To Shoot You!
My Bloody Valentine 3D: The Pyro is about to pick-axe you to death.
Lucky Number Slevin: Josh Hartnett and Bruce Willis are about to shoot the people standing on either side of you!
The Brave One: Jodie Foster is about to.... prove that looks can kill?
Patriot Games: Oh Crap! Harrison Ford is about to shoot you again!
Ultimate Force: UFC Fighter Mirko Cro-Cop is about to shoot you!
Parole Violators: Sean Donahue is about to shoot you, and he has a rifle just in case!
Assault with a Deadly Weapon (1976): PC Skullface is about to shoot you!
Deadly Outbreak: Jeff Speakman is about to shoot you!
No Way Back: Russell Crowe is about to shoot you! — Gangsta Style!
Resident Evil Afterlife: Milla Jovovich isn't wasting any time; she's already shooting you!
Spellbound: Dr. Murchison is About to Shoot You!
Dead Man: Johnny Depp is about to shoot you!
The Expendables: The logo is about to shoot/stab absolutely everything beneath, to the left, and to the right of itself.
In one commercial for Men in Black 2, J and K really do neuralize the audience so viewers will forget they've already seen the film, then urge them to go see it.
Arnold Schwarzenegger Is Going To...
Indiana Jones and the Last Crusade: Harrison Ford, that is, the one riding a horse, is about to shoot you!
Ip Man: Donnie Yen is going to kick your ass.
Literature
Live-Action TV
Professional Wrestling
Tabletop Games
Video Games
Pokémon Platinum Version: Giratina Origin Forme Is About To Get You!!
Pokémon Silver Version: Lugia is about to eat you!
Dragonball Z: Budokai Tenkaichi:Goku, Piccolo, Vegeta and the main villains are all about to fire ki blasts at you!

Dragonball Z: Budokai Tenkaichi 2:Goku and Vegeta are about to fire ki blasts at you again! And theother Z-Fighters are going to attack everyone around you!
Dragonball Z:Budokai Tenkaichi 3: Goku and Vegeta are about to blat you again! And thers are about to attack everyone around you a second time!

Orphen: Scion of Sorcery: Orphen Is About To Zap You!
Mario Party 2: Cowboy Mario is about to shoot you with his invisible gun!
Metroid Prime Hunters: Samus Aran Is About To Shoot You!
Naruto: Clash of Ninja Revolution 2: Naruto Uzumaki is about to punch you.
Redneck Rampage: A Dirty, Ugly Redneck Is About To Shoot You!
Call of Duty 4: Modern Warfare: Sgt. Jackson is about to shoot you!
In this picture used as a

Game Pro

Magazine cover: Master Chief is about to shoot you while Samus and a Helgast Soldier watch.
The cover of Mass Effect 2: Miranda and Thane are about to shoot you and the person next to you, while Shepard glares you both to death.
Deus Ex Invisible War: Alex Denton is about to shoot you! In the chest!
Dirge of Cerberus: -Final Fantasy VII-: Vincent Valentine is about to shoot you, the guy beside you and the guy behind you!
Final Fantasy XII: Balthier Is About To Shoot You! (While riding on a sky motorcycle with two beautiful women no less)
Outcast: Cutter Slade is about to shoot you!
Castlevania: Inverted: Simon Belmont is about to storm Dracula's castle while the vampire count himself leers down at you!
The NATO soldier from Operation Flashpoint is menacingly aiming at you from point-blank range... and about to shoot you with an M16 !
Blaz Blue European cover: Noel Vermillion is about to shoot you!
Mega Man US cover: Mega Man would be about to shoot you — if his arthritis weren't flaring up so bad he can't move his wrist, and his cataracts weren't keeping him from seeing you in the first place.
Ghostbusters: The Video Game. Peter Venkman is about to trap you while Egon and Winston shoot people floating in the air next to you!
X-COM Apocalypse: An X-Com Agent is about to shoot another X-Com agent who isn't standing anywhere near you!
Silent Hill 3: Heather Mason is about to shoot you! And hit you with a pipe! And shine a flashlight in your eye!
This may be a stretch, but whatever.

SF 20

: The Art of Street Fighter: Ryu is about to counterpunch you!
Japanese cover for the Play Station cover of The King of Fighters '96: Iori Yagami is about to burn you!
True Crime: Streets of LA and True Crime: New York City: Nick Kang and Marcus Reed are about to shoot you.
Blood II: The Chosen: Caleb has already shot you!
Many of the campaign posters in Left 4 Dead use this trope. Bill, Louis, Zoey, and Francis are about to shoot the zombies behind you. Nick is about to do the same.
Lara Croft has already shot you in Tomb Raider III.
Asura is about T punch your face inside out. And or Scream at you.
In-story examples:
Anime & Manga
Film
Shows up frequently in James Bond openings, in the famous Bond Gun Barrel sequence (which before Quantum of Solace has been in all pre-credits/teaser sequences).
The Great Train Robbery, the Trope Maker and very likely the Ur Example (this was one of the first true movies, period).
Goodfellas ended with Joe Pesci shooting at the audience in an homage to The Great Train Robbery.
City of God makes very memorable usage of this trope.
The trailer for the Watchmen movie originally had an assassin pointing a gun at the camera in one scene. After being told by the MPAA that it would need to be removed in order to get a green band, director Zack Snyder digitally altered it into a walkie-talkie.
The Proposition: Danny Huston, Guy Pearce, and Ray Winstone are all going to shoot you. Or maybe someone just behind you and to your left.
The movie version of Patriot Games does this during the scene where Sean Miller (Sean Bean) executes Dennis Cooley.
Zardoz has Sean Connery shooting at the camera, in a red nappy.
John Woo's The Killer does this a lot, most famously the scene where Chow Yun-Fat takes out his target at the restaurant during the first major shootout of the movie.

Not to mention the vision that Jenny has of Ah Jong firing directly at the camera, with a sea of blood behind him.

In Serenity, both Mal and River point their guns at the camera at different times, and at the end of the movie, River is glaring directly at the camera after

slaughtering an entire army of Reavers

, looking for all the world like she's about to take those bloodstained blades in her hands to the audience next.
The Big Lebowski: John Goodman is going to shoot you unless you mark it zero!
When performing the theme song to The Three Caballeros, Panchito points one of his guns at the camera and it sings the lyric "and we'll stay so".
The second shootout (the one not dictated by Steve Buscemi) of Desperado features Antonio Banderas firing two full clips into the camera, and in the extras Robert Rodriguez points out that the force of the blanks and the closeness of the pistols knocked off the flash dampener.
In House of 1000 Corpses Bill Moseley is going to shoot you! (Pause for about thirty seconds.)
Once Upon a Time in the West: Frank's first Kick the Dog moment, which abruptly cuts to a train's whistle.
The Three Stooges even got in on the act during two shorts that were attempts at 3-d, 'Spooks!' and 'Pardon My Backfire'. Moe Howard Is About To Poke Your Eyes!
Happens in-character in Back to The Future Part II, when Marty encounters a holographic The Shark Is About To Eat You! advert for Jaws 19.
Near the end of The Avengers

Loki finds himself confronted by the Avengers

, leading to a Team Shot combined with Hawkeye Is About To Shoot You With A Bow And Arrow.
In The Hunger Games: Mockingjay - Part 2,

one of the "pod" traps in the Capitol involves a pair of automated machine guns firing into a kill zone, then turning and firing back down the corridor, creating the effect that they're firing wildly at the audience.
Literature
| | | |
| --- | --- | --- |
| |  A new poster had suddenly appeared all over London. It had no caption, and represented simply the monstrous figure of a Eurasian soldier, three or four meters high, striding forward with expressionless Mongolian face and enormous boots, a submachine gun pointed from the hip. From whatever angle you looked at the poster, the muzzle of the gun, magnified by the foreshortening, seemed to be pointed straight at you. | |
Live-Action TV
Chris Elliott is about to shoot you in his domestic sitcom/cop drama mashup Action Family where he guns down his teenage daughter's scuzzy boyfriend - not that he's guilty of Chris's partner's death, he's just conveniently there for the wrap-up/happy ending.
In the Firefly episode "Heart of Gold," Mal levels his pistol dramatically at the camera, and then gets startled by Inara and lets out a very undramatic "Bwa!" of surprise.
The opening of Sledge Hammer ends with Sledge saying "Trust me, I know what I'm doing" and shooting the screen.
When thugs interrupt Xena: Warrior Princess's bathing, you get a point-of-view shot of her punching you in the face.
Theater
In the finale of Assassins, the assassins all draw their guns, walk to the foot of the stage, and fire on the audience.
Video Games
Metal Gear Solid 2: Sons of Liberty has Solidus Snake pointing his P90 directly at the camera.
Ryu Hayabusa is about to hack you into bits.
Street Fighter:

Super Street Fighter II - Ryu is about to Hadouken you.

He does this in Super Puzzle Fighter II Turbo as well.

Street Fighter Alpha 2 - Ryu and Ken is about to Hadouken you.
In the Japanese commercials for the SFC port of Street Fighter II Turbo:

Guile is about to Sonic Boom you.
Chun-Li is about to Kikouken you.

Dante actually does kick the camera in the intro to Devil May Cry 3.

And an early trailer for Devil May Cry 4 consists of nothing but him unleashing a complete unholy beatdown on the camera.

One character's ending in Tekken Tag Tournament shows him delivering a beating to the camera.

At the end, the camera arcs around to reveal he's beaten Heihachi and Kazuya Mishama senseless.

The cover for Mega Man Battle Network 5 Double Team DS does this with both Rockman.EXE and Protoman.EXE, not sure about Colonel.EXE

Mega Man and Bass opens up with the titular characters shooting King's Emblem. Then they emerge from the bottom of the screen, arm cannons smoking hot, and Bass is about to shoot you! Mega Man is waiting his turn.
Before all of these, IV for the Game Boy had its intro finish with Mega Man demonstrating his charged shot, straight towards the camera.
Also the intro of 8.
In the cartoon, Mega Man now has your power, and is about to blast you with it!

In the ending of Super Metroid, Samus will shoot the screen (and then, depending on how fast you competed the game, just give you a thumbs up, flip open her helmet, or show off what she looks like under her suit.
Team Fortress 2: Meet the Sniper: The Sniper has a plan to kill you.
Fallout: New Vegas: The first thing your character actually sees in the game? Benny is about to shoot you. Justified, because that's the very next thing that happens.
The intro movie of Parasite Eve 2 ends with the main character Aya Brea doing a quick-draw and pointing her gun at the player/watcher. In the context of the actual game itself, she's pointing it at an army of Elite Mooks.
In Sengoku Basara, Nobunaga's Victory Pose has him shooting the camera with his Sawed-Off Shotgun.
War of Angels (character selection): Your own friggin' fighter is about to stab you!
X-COM: Terror From the Deep: The illustration for the Gillman entry in the UFOPaedia shows a Gillman pointing what looks like a Sonic-Blasta Rifle at the screen.
The Spear Pillar scene of Pokemon Platinum has Giratina lunge at the screen as it attacks Cyrus for denouncing it. Many a player jumped. Giratina also menaces you in the intro video.
God of War: You get to watch as Kratos gouges your eyes out. (You're really watching from Posideon's point of view as he gets the shit beat out of him, but the effect is there.)
Western Animation
In Batman: The Animated Series, Mr. Freeze fires his freeze gun directly at you. In the commentary, the directors are surprised they got away with it - they wouldn't have been able to with a regular gun, in case some kid decided to try it.
One Rocky and Bullwinkle storyline has a Southern Gentleman from the "League of Confederate Correctors" who couldn't stand anyone even mentioning the word "Civil". During a football game that somehow mutated into a re-enactment of a battle from the War Between The States, the narrator describes Bullwinkle "swivel-hipping his way to the goal --"
 Gentleman: Dagnabbit, you said "civil!" (Bang!)

Narrator: Excuse me, "war-between-the-states"-hipping his way to the goal!
Other Examples
The kids in the Storm Water Guns commercial are about to leave you soaking wet!
Eazy-E is about to shoot you. Or maybe he just did. Or maybe he's not finished yet. To add insult to injury, from the perspective it's clear that Dr. Dre is standing on your crotch.
Irish politician (at the time of the photo, Minister for Defense), Willie O'Dea is about to shoot you!
Lord Kitchener needs YOU to get a poke in the eye!
Linkara is about to shoot you on the trope page for Atop the Fourth Wall.
In Beast Wars, Dinobot and Rattrap punch the camera (which is looking through Tarantulus' POV). Complete with seeing double and falling over after it's done.
Real life example: occasionally in pro sports, an athlete or a ball will collide with a camera or cameraman. There is some pretty crazy footage from Major League Baseball of foul balls that have shattered the camera lens.
Flippy is about to shoot you... assuming you haven't burned to death already.
Used for humorous eefect on the cosplay/talk show/thing Demyx Time, where Vexen is using his mind-ray to make everyone forget about the body-switching incident - It Makes Sense in Context. The episode ends with him repeating 'NOBODY MUST REMEMBER!' and shooting it into the camera.