YMMV •

Radar

•

Quotes

• (

Funny •

Heartwarming

•
Awesome) •

Fridge

•

Characters •

Fanfic Recs

•

Nightmare Fuel

•
Shout Out

•

Plot

•

Tear Jerker

•

Headscratchers •
Trivia

• WMG •

Recap

•

Ho Yay

•

Image Links

•

Memes

•

Haiku

•

Laconic

•
Source

•

Setting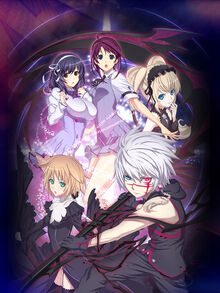 The St. Mikhailov Academy student Oribe Mafuyu comes across a mysterious silver haired boy. His name is Sasha and he is a Qwaser, a being that draws power from Soma and is able to manipulate a specific element. And now, in the 21st century, the mystery revolving around an Icon turns the academy into the battlegrounds for the fight between the Qwaser!
Seikon no Qwaser, a.k.a. The Qwaser of Stigmata, is written by Yoshino Hiroyuki and drawn by Satou Kenetsu, the artist of the manga adaptations of Mai-HiME and Mai-Otome. It is a story about Russian Orthodox Church Militants using alchemy with power over one specific element from the periodic table each. However, the Qwaser recharge their power by drinking "Soma" from women's breasts, and the stronger the emotions of the woman being sucked, the more potent the Soma. Yes, this rule applies to female Qwaser as well.
As you might guess, this story is definitely NSFW. On the other hand, if you're looking for a borderline-hentai manga with action, a plot, some chemistry and gratuitous Russian words mixed in, then Seikon no Qwaser may suit your taste.
The anime adaptation of this work premiered in January 2010, with a second season that started in April 2011. This time Sasha goes undercover in an all girls school to find a legendary maria. He does this by - you guessed it - sucking the breasts of his fellow schoolmates.
Character sheets can be found here.
The manga was picked up by Tokyopop and given the translated title The Qwaser Of Stigmata.
Tropes used in Seikon no Qwaser include:
↑

One bra cup size is equal to 2.5 cm (or one inch) difference between under and top bust circumference. 10cm is a D-cup, not an A-cup. Teresa with 15cm difference would be an F-Cup and herself with 25cm a J-cup.