Jurassic World: Dominion Dominates Fandom Wikis - The Loop
Play Sound

YMMV •

Radar

•

Quotes

• (
Funny •

Heartwarming

•

Awesome

) •
Fridge

•

Characters •

Fanfic Recs

•

Nightmare Fuel

•
Shout Out

•

Plot

•

Tear Jerker

•
Headscratchers

•
Trivia

•

WMG

•

Recap

•
Ho Yay

•
Image Links

•

Memes

•

Haiku

•

Laconic

•
Source

•

Setting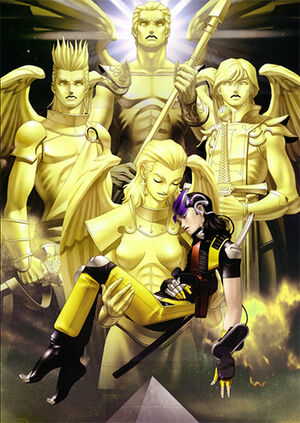 | | | |
| --- | --- | --- |
| |  Several decades after the great destruction... While cultivating the wilderness, fighting off packs of demons, and through countless deaths, humanity survived... but people were not strong enough to survive without someone or something to cling to or to rely on... The Mesian religion preached the advent of a savior, gathered together believers and built a city on the site of the old cathedral... | |

The second game in the Shin Megami Tensei JRPG series and direct sequel to Shin Megami Tensei I. It was released in Japan in 1994 for the Super Nintendo, with remakes coming out for the Playstation and Game Boy Advance in 2002 and 2003 respectively.
At the end of Shin Megami Tensei, the protagonist decided to create a world where the forces of Law and Chaos could exist freely, and people would have the freedom to make their own choices. Well one hundred years later and something has clearly gone wrong with that initial plan. Demons run freely throughout the wastelands of the world, the air is unbreathable and the only place where humans can live is an encapsulated city called Tokyo Millennium, run by the Messians.
The main character is Hawk, a amnesiac gladiator living in the Valhalla district of Tokyo Millennium. The citizens of Valhalla regularly fight in a tournament for the prize of being allowed to live in the Center district, a place of luxury which is completely free of demons. Hawk wins one such tournament and gains his citizenship in the Center, only to find out from the leader of the Messian religion that his true identity is Aleph, the prophesied Saviour of the human race who will bring about a paradise called the Thousand Year Kingdom.
Aleph is set to work by the Center eradicating demons in preparation for the Thousand Year Kingdom, but as he fights he bears witness to the various tragedies brought about by the Center's rule, eventually learning that the Thousand Year Kingdom necessitates the complete genocide of everyone outside of the Center. But then again, the alternative is allowing the last bastion of human life to be over-run by demons. Should Aleph fulfil his destiny and become the Thousand Year Kingdom's champion, or should he turn to the other side and bring down Tokyo Millennium?
Main characters:
Yes, the game is chock-full of religious symbolism, but this was before it became popular to oversaturate your work with it. It uses the same system as Shin Megami Tensei but refines several aspects, such as the fact that you can now access your minimap with a single button press rather than having to go through three menu screens. The graphics and environments have been improved, though the difficulty is still as high as ever. Also, several features that would go on to be mainstays in the Shin Megami Tensei series were added, such as fusion accidents and skill inheritance from "parent" demons.
Though the game was never released in the West, a group called Aeon Genesis has released a translation patch for the ROM.
---
Tropes seen in this game: