Cobra Kai Season 4 - The Loop
Play Sound

YMMV •

Radar

•

Quotes

• (

Funny •

Heartwarming •
Awesome) •

Fridge •

Characters •

Fanfic Recs

•

Nightmare Fuel

•
Shout Out

•

Plot

•

Tear Jerker •

Headscratchers

•
Trivia • WMG •

Recap

•

Ho Yay

•

Image Links

•

Memes

•

Haiku

• Laconic •
Source

•

Setting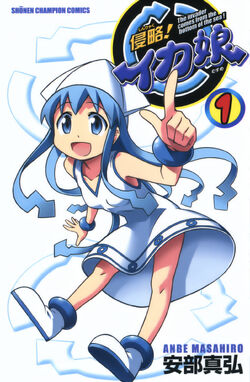 The Lemon Beach House, run by the Aizawa sisters, is booming with customers in the middle of the summer. This peace will be short-lived. A girl calling herself "Ika Musume" (Squid Girl) emerges from the sea, stating her goal of taking over the world as a revenge on humanity for polluting the oceans. This army of one has a long way to go, though. When she breaks a large hole in the beach house, the sisters force Ika to work for them until she can pay for the repairs. Thus begins a cute comedy about the friends at the Lemon Beach House and world domination... supposedly.
Based on Masahiro Anbe's manga, Shinryaku! Ika Musume -The invader comes from the bottom of the sea!- was adapted into a Twelve-Episode Anime in fall 2010. It's currently licensed and dubbed by Media Blasters.
Season 2, titled Shinryaku!? Ika Musume, aired in fall 2011.
Both seasons can be watched legally on Crunchyroll.
---
Ika Musume contains examples of:
| | | |
| --- | --- | --- |
| |  Ika: It's like she is trying to make up for lost time in one panel. | |
Brought Down to Normal:

Ika in episode 12. In the manga version of this story, Ika's abilities are restored when she is "attacked" by an orca float.

Camera Fiend: Sanae has entire photobooks of Ika, and more or less holds her hostage to get more. The so-called invader is powerless against this.
Card-Carrying Villain: Ika Musume is not a fan of the "winning the people's hearts" method of world-conquering, and considers being fearsome and terrifying to be job requirements. Nothing depresses her more than people thinking she's nice, and consequently she has a soft spot for Nagisa (who's scared to death of her).
Catgirl: Cat Squid Girl, actually.
| | | |
| --- | --- | --- |
| |   Eiko: How odd... (because of the squid portions) | |
| | | |
| --- | --- | --- |
| |   Ika: Oh? About what? (while being dragged by Chizuru to a room) | |
Cindy provides the obligatory Foreign Fanservice, of course.
Season 2 probably uses this trope a bit.

Feminine Women Can Cook: Subverted with Nagisa, who makes a surprisingly good vegetable soup. She ends up trying to hide it, but not because of femininity.
Feud Episode: Season 2 Episode 12.2: Isn't That A Festival? Ika and Eiko have a falling out and the rest of the sequence focuses on their making up. It's also the season finale.
Flanderization: While Ika is usually portrayed as intelligent, but easily distracted (because of her curiousity about life on the surface world), season 2 seems to have started making her more Keroro Gunsou-like. For instance, in episode 9-2, Ika is blatantly portrayed as Completely Missing the Point of using a bag and planner.
Flash Step: Chizuru demonstrates this ability when angered by Ika in Season 2 Episode 11.
Flat Earth Atheist: Squid Girl doesn't believe in ghosts, even though a horde of them helped her find her way out of a graveyard once (then again, she didn't even know what a ghost was at the start of the episode, so she thought they were just weird-looking humans.)
Follow the Leader: to Keroro Gunsou, down to having Expies of Fuyuki, Natsumi and Aki. And a Verbal Tic, de arimasu. Interestingly, Keroro sometimes features an underwater civilization that could execute a far more effective invasion if need be.
Freeze-Frame Bonus: Season 2 Episode 5 Part 2 - Kiyomi's 'hidden' wish is never said out loud, but the camera briefly shows it to you before she snatches it away and destroys the wish. It's for a bigger bust.
Friend to All Children: Ika gets along really well with Takeru and the other kids at the beach.
Fun Size: Mini Ika Musume. Tastes Like Diabetes indeed.
Fun with Foreign Languages: Season 2, Episode 4.1, particularly the hilarious In My Language, That Sounds Like... thing between Cindy and Eiko.
The Gadfly: Chizuru.
The Generic Guy: Takeru. According to Ika, anyway.
Genius Ditz: Ika Musume is able to use a cellphone and camera without reading the manual or hearing an explanation on what they're for or how they work. She's able to perform high-level math as well without batting an eye, not to mention being able to pick up Japanese (and later English!) in minutes.

She's one hell of a drummer and baseball pitcher too. So far (much to her annoyance), invading is the only thing she really sucks at.

Genki Girl: Ika and Sanae.
Godiva Hair: At one panel when Ika took a bath.
Gosh Hornet: When Ika hits a sunflower in chapter 141 and a bee stings her nose.
Gratuitous English: The alien researchers from America speak broken English.

In the very first episode of the anime, when Ika Musume is explaining her tentacles' abilities to Eiko:
| | | |
| --- | --- | --- |
| |   Ika Musume: Speed! Power! Reach! Delicacy! | |
In Season 2 Episode 3.3, when Goro suggests Ika Musume become a lifeguard, the picture demonstrating her tentacles being used includes the word "speedy" as an Unsound Effect.
Season 2, Episode 4.1 is basically one big Gratuitous English moment.
From the "On the Next..." section at the end of Episode 6 of Season 2:
| | | |
| --- | --- | --- |
| |   Cindy: Thank you for watching! | |
| | | |
| --- | --- | --- |
| |   Eiko: I don't even want to imagine the relationship map for this. | |
| | | |
| --- | --- | --- |
| |   Ika: "What's a military?" | |
| | | |
| --- | --- | --- |
| |   Sanae: I'm not a suspicious person! I wasn't trying to eavesdrop on your conversation or anything! Not at all! | |
| | | |
| --- | --- | --- |
| |  Eiko: "How can you eat that after watching her vomit?" | |
What Could Have Been: Invoked in ep 5-3, which answers the question of what would happen if Ika and Eiko had initially gotten on better terms. The answer? It ends in a Tear Jerker as Ika will most certainly outlive any human.
Wholesome Crossdresser: Takeru and Nagisa, apparently.
Why Did It Have To Be Orcas and Sharks? — Ika is terrified of her greatest natural predators, even in inflatable toy form. Also the banana in inflatable toy form, since she's never actually seen a banana.

She's also scared of Chizuru (but she has very good reasons to be).
Goro's not afraid of near-drowning — as a lifeguard, he takes risks regularly — but he is absolutely terrified of ghosts. Although it takes a lot to get him to admit it in front of Chizuru.

Wingding Eyes: A common reaction of both Cindy and Sanae to Ika Musume, and a common reaction of Ika Musume to shrimp.
Work Off the Debt: Even after the wall is repaired, Ika will still have to work 5 or 6 years to pay it off. She did find a large bill, but Chizuru persuaded Ika to use it on a shopping trip, keeping her in Lemon's employment.
| | | |
| --- | --- | --- |
| |  Ika: "What kind of lame wage are you paying me, de geso?" | |