Doctor Strange in The Multiverse o Madness - The Loop
Play Sound

YMMV •

Radar

•

Quotes

• (

Funny

•

Heartwarming

•
Awesome

) •

Fridge

•

Characters

•

Fanfic Recs

•

Nightmare Fuel

•
Shout Out

•

Plot

•

Tear Jerker

•

Headscratchers

•
Trivia

•

WMG

•

Recap

•

Ho Yay

•

Image Links

•

Memes

•

Haiku

•

Laconic

•
Source

•

Setting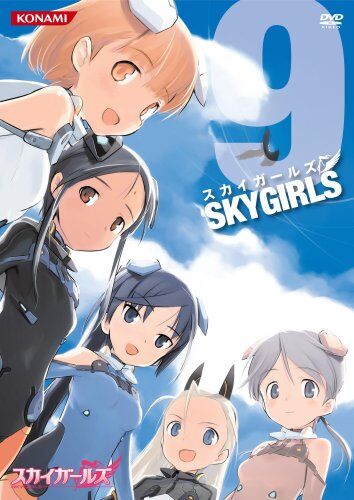 In the latter half of the 21st century earth is threatened by creatures called WORMS, which are huge artificial life forms resembling the first thing they see--usually sea organisms. After a devastating war they seem to have been defeated, only to suddenly appear again.
To fight them, a special unit of Mini-Mecha has been devised: the Sonic Divers. Curiously, these can can only be piloted by young females. The first unit consists of three teenaged girls, one of which is Otoha Sakurano, an avid kendo practicioner. The story focuses primarily on her plight, although the other girls get plenty of attention as well. In the TV series, the team gets expanded by one more girl of German origin.
The series started out with a Fan Service-laden episode, produced by Konami and released as an OVA. It later got adapted into a two-season series in which the service got somewhat toned down, although the girls still have to wear extremely skin-tight uniforms to make them "communicate" with their mecha. Despite the obvious appeal to adolescent males, the series still manages to have an engaging plot and a fair amount of character development.
For a show with a similar concept that began with an OVA and was later turned into an anime, see Strike Witches. Both shows share the same character designer, Humikane Shimada, which may further explain their similarities. For another show and toyline with Shimada's design style, there's Busou Shinki - and yes, there were Sky Girls action figures made with the Busou Shinki MMS2 body-type.
---
This series contains examples of:
 Eika: What about this fruit...?

Otoha: If you serve that, you'll send us all straight to heaven... in a bad way.

Eika: *pales*
Gratuitous English: The opening theme lyrics. However, it's a MELL song, so would you expect anything else from her?
Heroic BSOD: Otoha, after The Reveal
Hair Antennae: Elise. Even if they are three, instead of the more common two.
Hair Decorations: Somehow, the Motion Slit technology requires the pilots to wear some sort of a hair dec. Most of them look vaguely resembling a mechanical version of a droopy dog ears, while Elise's stand upright like rabbit ears. See petting zoo people below.
Improbably-Female Cast: The entire Sonic Diver team is female. The rest of the crew and the Big Viper squadron are much more mixed however.
Ineffectual Loner: Elise has zero concept of teamwork. It takes a good dose of several episodes and character development to mold her.
Kansai Regional Accent: The resident mechanics Haruko and Ranko has them. While Ranko is a stereotypical Genki Girl, Haruko is much more calm, and in a true Red Oni, Blue Oni fashion, they also are red and blue themed.
Luminescent Blush: Virtually the entire cast exhibits this given the proper situation.
Male Gaze: The camera focuses on Eika's rather curvy behind for about one full second as she straddles her Sonic Diver in the opening.
Meaningful Name: The "Rei" in Reijin means "Zero", which is why Otoha called it that. Also an allusion to the famous WWII Zero fighter.

Chief mechanic Oto Seibi is this. "Seibi" is the homophone to a Japanese word meaning "maintenance".

Mini-Mecha: The Sonic Divers kinda straddle the line between Power Armor and Mini-Mecha. They're not much bigger than the girls, and the limbs respond as extensions of the pilots' limbs. But it's hard to call it armor, since the pilots are completely exposed at the front in the interest of Fan Service.

Incidentally, the in-universe documents refer to it as "Powered Exoskeleton". Talk about classification hell.

Mission Control: Takumi Hayami and Nanae Fujieda.
Mundane Utility: Combined with a bit of Chekhov's Skill. When the ship's supply warehouse is damaged, forcing the crew to starve, Otoha uses her genius fishing skills to turn the Sonic Divers into fishing machines. No, they don't fish using a rod, they use nets attached to torpedos.
Mood Whiplash: As a general rule, expect a dark reveal of some sort to any "light" episodes. For example, the same episode that has Otoha running around the base to find the owner of a large bra is also the episode where Elise is introduced

by having her hastily evacuated from the destroyed West Europe base

. Also, the real reason why Sky Girls are formed, during an Onsen Episode.
Mr. Fixit: Tachibana Ryohei. He becomes very passionate about maintaining Otoha's Sonic Diver, which she affectionately call "Zero". His reason? He wants to make sure Otoha can fly, at any costs. Hinted to be Otoha's Love Interest. Also Oto Seibi, maintenance chief who is a Cool Old Guy.
Older Than They Look: Official ages of the pilots: Elise is 15, Karen and Otoha are 16, and Eika is 17. You decide.
Omake: "Fishing Maniac Eika: Sky Girls Dynamite Fishing".
Overprotective Dad: Eika's father opposed her becoming a pilot.

Justified in that, were it not for the Plot Armor, she could very easily have been killed.

Pettanko: Otoha. Don't point it out, though.
Petting Zoo People: Strangely enough, the Motion Slits include hair decorations that vaguely resemble animal ears and has a cable extension connecting their spine to the Sonic Divers resembling tails. This become even more pronounced at the second generation Rescue Sky Girls, whose hair decs are even more varying. Seems Fumikane decided to cut the middleman and made everyone in Strike Witches magically sprout animal ears and tails without any other explanation other than their magic powers did it...
Phenotype Stereotype: Elise, being German, has blond hair and blue eyes. Aisha, being Indian, is dark-skinned and has a mark that resembles a Tilak.
Phlebotinum Overload: Aisha can't pilot for too long, since her 118% synchronization rate is incredibly taxing. Just a few minutes is enough to put her in a coma.
Reasonable Authority Figure: Admiral Kadowaki from Kouryuu. Heck, he even authorized the fishing expedition. At first, he tries to give them a reason to sortie in grounds of "training", but later...
| | | |
| --- | --- | --- |
| |   Admiral: *stomach growls* ...ahem. Sometimes, we must put our principles aside. | |