Jurassic World: Dominion Dominates Fandom Wikis - The Loop
Play Sound

YMMV •

Radar

•

Quotes

• (
Funny •

Heartwarming •

Awesome) •
Fridge •

Characters

•

Fanfic Recs

•

Nightmare Fuel

•
Shout Out

•

Plot

•

Tear Jerker

•
Headscratchers •
Trivia • WMG •

Recap

•
Ho Yay

•
Image Links •

Memes

•

Haiku

• Laconic •
Source

•

Setting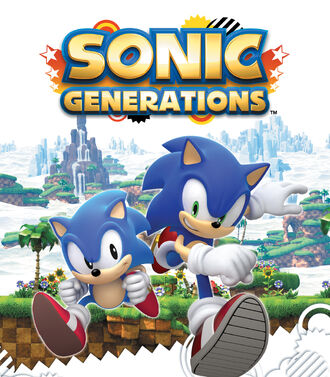 "Double the speed, double the fun!



Celebrate 20 years of Sonic with Sonic Generations.

"

—Sega.com

Sonic Generations is a main series title in the Sonic franchise, released in 2011 for the PlayStation 3, Xbox 360, the PC (via Steam) and the Nintendo 3DS to commemorate Sonic's 20th Anniversary. The 360/PS3/PC versions of the game utilizes both 2.5D (mostly in the "Classic Sonic" sections) and a mix of 2.5D and 3D gameplay in the style of Sonic Colors Wii and Sonic Unleashed HD's daytime stages (in the "Modern Sonic" sections), while the 3DS version's "Modern Sonic" levels are stylistically similar to the Sonic Rush Series series and Sonic Colors DS. Both HD console versions and the 3DS version support stereoscopic 3D, though gamers without a 3D TV aren't required to use one to play the HD console versions as they can be played on any TV and the stereoscopic 3D on the 3DS version is not required to play the game properly and can be turned off, as it is typically used for visual effects on that version.
The story is that Modern Sonic and his friends are celebrating his birthday when a mysterious new enemy named 'Time Eater' crashes the party and sends them back to the past where Sonic meets his younger self, Classic Sonic. They both discover the world is losing its color, their friends have been petrified and the timeline has been disturbed. Both Modern and Classic must team up to stop this mysterious enemy, rescue their friends, restore color to the world, and fix the timeline.
Their journey takes them through three eras: Classic, Dreamcast, and Modern. The 3DS and console versions have different levels, and share only the famous Green Hill Zone from Sonic 1.
The stages are:
Xbox 360/Playstation 3/PC Version
Classic Era:
Dreamcast/Adventure Era:
Modern Era:
Nintendo 3DS Version
Classic Era:
Dreamcast/Adventure Era:
Modern Era

Here's where you can discuss all matters pertaining to this game.
Tropes used in Sonic Generations include:
| | | |
| --- | --- | --- |
| |  Classic Eggman: Wow. Will I really get that crazy? | |
 Voice #1: It looks like a homing shot!

Voice #2: Be careful Sonic!
What makes them even more annoying is that, the one hint you really need, namely "aim at the core and boost" gets drowned out by a dozen repetitions of "that looks like a homing shot".

Taken for Granite: What Time Eater does to Sonic's friends.
Talking to Himself:

Mike Pollock talking to himself as the Eggmen.

Kate Higgins talking to herself as the Classic and Modern Tails.

Taught By Experience: Eggman makes sure the Monster of the Week is completely under its control by mechanizing it, instead of failing to control it like in most previous games.
Temporary Platform: Lots of them. Both stationary and moving ones.
Theme Music Power-Up: In the Rival Battle with Shadow, when either Sonic or Shadow goes on the offensive, the music switches to Live and Learn or All Hail Shadow, respectively.

When

Classic and Modern Super Sonic combine to strike the final blow on the Time Eater

, the music changes to the Sonic 4 invincibility theme.

Took a Level In Badass: The Mad Convoy went from a nearly harmless sloth that could be defeated by a small arch that they could clearly see a mile away to a monstrosity in Generations! It is far larger than the Sonic Adventure 2 counterpart, it can destroy entire buildings without leaving a dent, and is able to contain gigantic saw blades and a rocket that gives it enough power to not only fly, but run up a wall. Not much better in the Classic version of City Escape where it is willing to tear down the city just to flatten a small blue mammal!

Modern Sonic, who can defeat

Perfect Chaos

without

transforming into Super Sonic

.

Also, the final hurdle of Rooftop Run for Classic Sonic is climbing a very tall clock tower fighting off lots of badnicks and performing tricky jumps along the way. Modern Sonic just runs straight up it in a matter of seconds.

Silver's psychic powers

are shown to be considerably more powerful in this game than they've ever been shown to be before. He's also much faster, easily able to keep up with a boosting Sonic.
In the span of two games, Eggman went from enslaving an alien race to power a theme park, to transforming an Eldritch Abomination into a Humongous Mecha that rips apart time and space.
The Trollnado from '06, arguably, which still chucks cars and other rubble at Sonic as though it were sentient. What takes the cake is that it steals the sign post at the "end" of Act 1.

Under the Sea: Chemical Plant, Seaside Hill and Water Palace. The last two double as Underwater Ruins.
The Unexpected: Classic Sonic's appearance in the initial teaser trailer.
Unflinching Walk: After Classic Sonic defeats the Death Egg Robot and it falls over, he lands on his feet in a badass pose.

And then not one second later, he flinches as the robot explodes behind him.

Variable Mix: The BGM in Modern Sonic's Green Hill and Sky Sanctuary stages have a percussion track that changes tempo depending on how fast Sonic is moving. This is also used in Sonic Colors, in which the bass line in that game would vanish while boosting.

The speed shoes return in Classic Sonic's stages, so naturally the tempo picks up while using them.
The Death Egg Robot has two additional drum tracks as the fight progresses.
The Time Eater's theme seamlessly changes styles

according to which Super Sonic is in control; from an orchestral style for Modern Super Sonic to an electronic style for Classic Super Sonic

.
The hub world, which has a mix based on every stage in the game.

Villain Team-Up:

The union between Modern and Classic Eggman.

The Voiceless: Classic Sonic, keeping with the spirit of the Genesis games. Oddly enough, Classic Tails and

Classic Eggman

do talk.
Wall Crawl: The Pink Spike Wisps return in Planet Wisp on the console version. Modern Sonic can also run along (and up and down) walls in Speed Highway and City Escape.
Wall Jump: Can be done on certain surfaces as Modern Sonic.
What Happened to the Mouse?: It's never explained

what happened to Orbot and Cubot when Eggman found the Time Eater. It's assumed he just left them in space

.
White Void Room: It's used as the Hub Level.
Xtreme Kool Letterz: The "Mad Skillz" achievement.

One of the words available to name your Skill Sets with is "Skillz."