YMMV •

Radar

•

Quotes

• (
Funny

•

Heartwarming

•

Awesome

) •
Fridge

•

Characters

•

Fanfic Recs

•

Nightmare Fuel

•
Shout Out

•

Plot

•

Tear Jerker

•
Headscratchers

•
Trivia •

WMG

•

Recap

•
Ho Yay

•
Image Links

•

Memes

•

Haiku

•

Laconic

•
Source

•

Setting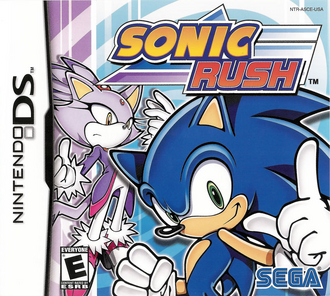 The Sonic Rush series is a pair of games in Sega's Sonic the Hedgehog franchise released for the Nintendo DS: Sonic Rush (2005) and Sonic Rush Adventure (2007). Both games are similar to the Sonic Advance Trilogy in that they are reminiscent of the classic side-scrollers for the Mega Drive/Genesis.
The two games have a storyline involving inter-dimensional travel in one way or another, and thus we are introduced to Sonic and Dr. Eggman's alternate dimension counterparts: Blaze the Cat and Dr. Eggman Nega. The Chaos Emeralds also have alternate dimension counterparts in the form of the Sol Emeralds, which Blaze must protect at all costs.
A gameplay feature introduced in this pair of games is the Sonic Boost; while holding down the X or Y buttons, your character will gain a boost of speed as long as the tension meter is not empty; the meter can be filled up by destroying enemies and performing tricks.
Like the Advance trilogy, the two games received a solid reception despite the Unpleasable Fanbase. Sega have all but admitted that the DS version of Sonic Colors (2010) can be considered an unofficial third installment in the series.
Playable Characters
Sonic the Hedgehog: Slightly faster and can perform the Homing Attack. Compared to Blaze, his running animation has smaller but faster strides.
Blaze the Cat: Superior airtime and distance with R-trigger tricks and can slow her descent by shooting flames from her feet. Her running animation is slower than Sonic's but she takes much larger strides.
Tropes used in Sonic Rush Series include:
| | | |
| --- | --- | --- |
| |  "I shall bring about an age of fear and chaos! And it shall be glorious!" | |