Jurassic World: Dominion Dominates Fandom Wikis - The Loop
Play Sound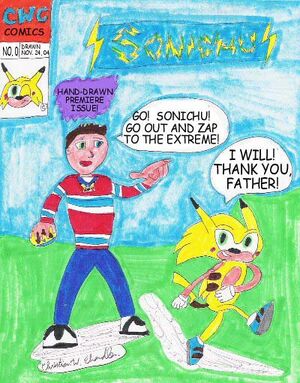 Sonichu is a webcomic created by a guy named Christian Weston Chandler, starring (at least initially) the eponymous Electric Hedgehog Pokémon and his friends.
It's widely considered to be the worst webcomic ever made.
It started as some sort of Pokémon/Sonic the Hedgehog crossover, and the first few issues focused on Sonichu's origin, his meeting with his "heartsweet" Rosechu (based heavily on Amy Rose), and a supporting cast of other Hedgehog Pokémon of various types. But in issue #2 and from issues 4 on, the series crystallizes into its present form, as "Chris-Chan" takes center stage, standing his ground against, among others, evil mall cops who tried to ban him for soliciting sex in real life, a malevolent witch who tried to kick him out of the college she was a dean of in real life, and internet Trolls. The comic is a clusterfuck of woeful writing (with numerous Walls of Text™) in Comic Sans, abominable artwork, and blatant Wish Fulfillment, along with shows of racism, sexism, and homophobia. Also, the creator's autistic, and he tries to use that as an excuse as much as he can, with predictable results. There's a lot of horseshit regarding him, and the comic's a categorical catastrophe.
The comic was initially cancelled in 2010, allegedly due to "stress" from the trolls. A "fan" allegedly paid Chris $1,000 to revive the comic in 2015, but this ultimately didn't pan out... Chris abandoned the comic yet again in early 2016. However, the comic was picked up yet again in 2017 and now updates sporadically.
Feel free to edit, but keep the aforementioned horseshit out as much as possible.
Tropes used in Sonichu include: