YMMV •

Radar

•

Quotes

• (
Funny

•

Heartwarming

•

Awesome

) •
Fridge

•

Characters

•

Fanfic Recs

•

Nightmare Fuel

•
Shout Out

•

Plot

•

Tear Jerker

•
Headscratchers

•
Trivia •

WMG

•

Recap

•
Ho Yay

•
Image Links

•

Memes

•

Haiku

•

Laconic

•
Source

•

Setting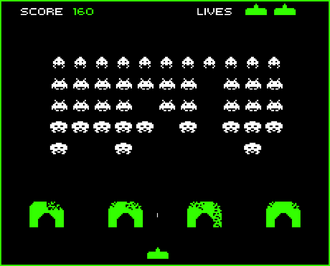 The Trope Maker that spawned a thousand other Shoot Em Ups, Space Invaders debuted in 1978. Although Pong had started the industry, this game revolutionized it, virtually launching The Golden Age of Video Games, establishing or codifying many of the tropes used in later games, such as Video Game Lives, and a separate score counter for high scores.
Essentially, it is a shooting gallery game in which the objects in the gallery shoot back. The player controls a planetary defense laser cannon that can move and hide behind shields, and must confront a moving (and shooting) phalanx of Big Creepy-Crawlies who are attempting to invade the earth.
The game was so popular that it caused a Japan-wide shortage of the 100-yen coins that the game's coin slot demanded, and the home version was largely responsible for the runaway success of the Atari VCS (later 2600) home console system. It also spawned the medical term "Space Invaders wrist." It was the first game in which play could last an open-ended amount of time, given sufficient skill, rather than being timed to a finite clock, and it immediately spawned a host of equally classic imitators, such as Galaxian, Gorf, and the entire top-scrolling rail shooter genre.
And then, in 2008, Taito released Space Invaders Extreme for Nintendo DS, PSP and Xbox 360 as part of the 30th Anniversary. The game turns into a fast paced shooting game, omitting barriers, but adding new varieties of invaders with various weapons and shields, and, most importantly, a complex combo system that rewards players with Power Ups, Bonus Stages and One Ups. A sequel was released for the DS in 2009 featuring even faster gameplay. Additionally, Taito also released Space Invaders Get Even for WiiWare, where the invaders, rendered in pixelated 2D in a 3D environment, become Villain Protagonists and attack Earth's cities.
In 2009, Taito graced the iPhone with Space Invaders Infinity Gene. The game begins with the original classic gameplay, then the infinity gene takes over and the game gradually evolves into a modern Shoot'Em Up, as the player gains selectable ships, powerups, and an unrestricted range of movement, while the Invaders themselves enlist large ships, fleets, armadas, and bosses to take you on. There's also the added threat of terrain Collision Damage. You can also load up your favorite music to generate custom levels, similar to Audiosurf. The game gained crticial praise, and has recently been updated to include achievements. It has been ported to the Playstation Network and Xbox Live Arcade, and befitting its evolution theme, it has addressed the Video Game 3D Leap.
There was also a less-well-known, though quite good fun, version released by Activision in 1999. It would have been In Name Only but for a very similar gameplay mechanic (most of the time, anyway. It had boss monsters, powerups, and a few levels which were more akin to puzzles than straight shooting galleries). It also contained an unlockable version of the original game.
"Space Invaders" was at one point used by many non-gamers (in Small Reference Pools style) as a generic term for any game/console, as with "Atari" and "Nintendo" later on, a testament to the game's cultural impact. There are also many references and ShoutOuts in other media: for example, the Invaders show up (randomly) as Mooks in Battletoads` infamous Terror Tunnel Level, and Terry Pratchett in his novel Only You Can Save Mankind (which is about a contemporary 90s space shooter turning out to be taking place in another dimension) has a wrecked Space Invader ship encountered at one point, suggesting that all space shooters take place in the same dimension and the Space Invaders, from the 1970s, were the first wave of aliens.
Games in the Series
The following games were released in the arcade first unless otherwise noted.
Space Invaders (1978)
Space Invaders Part II (1980)
Space Invaders II (1980; not to be confused with the above)
Return of the Invaders (1985)
Space Invaders 90/91 (1990; Sega Genesis)
Super Space Invaders '91 (1990)
Minivaders (1990, Japan only)
Space Invaders Day of Resurrection (1990; Japanese PC Engine only)
Space Invaders DX (1993)
Space Invaders '95 (1995)
Space Invaders X (1999; Play Station, PC, Nintendo 64, Game Boy Color)
Space Invaders EX (2002; Game Boy Advance)
Space Invaders Revolution (2005; Nintendo DS)
Space Invaders Evolution (2005; PSP)
Space Invaders Extreme (2008; Nintendo DS, PSP)
Space Invaders Get Even (2008, Wii Ware)
Space Invaders Extreme 2 (2009; Nintendo DS)
Space Invaders Infinity Gene (2009; iPhone, iPod Touch, 2010; Xbox 360, Playstation 3)
---
Space Invaders has examples of: