Doctor Strange in The Multiverse o Madness - The Loop
Play Sound

YMMV •

Radar

•

Quotes

• (

Funny •

Heartwarming

•
Awesome

) •

Fridge •

Characters •

Fanfic Recs

•

Nightmare Fuel •
Shout Out

•

Plot

•

Tear Jerker •

Headscratchers •
Trivia

• WMG •

Recap

•

Ho Yay

•

Image Links

•

Memes

•

Haiku

• Laconic •
Source

•

Setting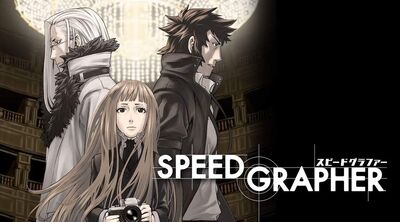 Speed Grapher (スピードグラファー, Supiido Gurafaa) is a 2005 anime series; it's created by GONZO Digimation, directed by Kunihisa Sugishima, and with character designs by Yuusuke Kozaki. It also had some light novels by Minoru Niki (illustrated by Kozaki too), and a 3-volume manga by Tomozo. The series ran for 24 episodes from April to October 2005; it was licensed for release in North America by FUNimation Entertainment in 2006 and was been showing on IFC since March 7, 2008.
It starts when the cynical and jaded Intrepid Reporter Tatsumi Saiga is sent to investigate a fetish club for the richest in Japan, whose "goddess" is a teenager named Kagura. She's an odd, waifish young girl with the power to give people super-powers coming from their desires, obsessions and fetishes; when she kisses Saiga during their first encounter, she grants him the power to destroy anything he takes a photo of, related to the sexual pleasure he gets from photographing something really interesting.
His curiosity piqued AND fueled by his desire to repay Kagura for saving him (since she kissed and empowered him when he was chased around by the Club's goons), Saiga decides to learn more about Kagura and her powers, then vows to free her from the Roppongi Club and the Tennouzu corrupt group (whose head is Kagura's ruthless mother, Shinzen) that cruelly uses the girl for their own purposes...
---
Speed Grapher contains examples of: