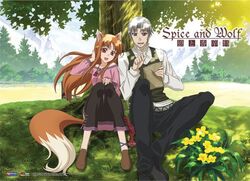 | | | |
| --- | --- | --- |
| |  "Merchant Meats Spicy Wolf" | |

Spice and Wolf is a light novel series eventually made into an anime in 2008, with a second season, animated by a different studio, following a year later. The original name, "Ookami to Koushinryou", literally translates to "Wolf and Spice", but for some reason the official English title has it the other way.
The setting of both the novels and anime is a middle-ages European-esque world. Lawrence, a traveling merchant, accidentally frees the local harvest god, a centuries-old giant wolf named Holo who takes the form of a young girl. She convinces him to let her travel with him and seek out her dimly-remembered homeland.
Interestingly, the main thrust of the anime is centered more on the business of Lawrence than on Holo's supernatural nature. Instead of action or fanservice, Spice and Wolf is far more likely to focus on an in-depth discussion on the currency exchange market, with no notable attempt to make it more interesting by going over the top. Surprisingly, the show does this rather well using character interaction and business intrigue. The romance between Lawrence and Holo is also a major part of the plot.
The light novels concluded in 2011 with the seventeenth volume. Yen Press is translating and releasing both the novels and manga in the United States. Releasing the novels every six months starting in December 2009, it will take them a while to catch up.
This anime has been licensed in North America by Funimation. Both seasons are streaming on their video portal, and are available on DVD and Blu-ray (with season two a DVD/Blu-ray combo set).
---
Spice and Wolf provides examples of:
| | | |
| --- | --- | --- |
| |  Eve: Sounds like the kind of meeting a cheap poet would write about. | |
Will They or Won't They?: It is quite obvious that Holo and Lawrence have something going on between them, and as time goes on they flat out flirt openly but won't admit their feelings for one another. Lawrence is shy and gentlemanly while Holo is just plain stubborn. It eventually becomes clear that they think such a relationship would never work out, and plan on parting ways at Yoitsu before things get too serious. Whether they'll actually do that is unknown. They start a shop and family together. See Babies Ever After above.
Work Off the Debt: Subverted: Holo admits that she owes Lawrence and has to pay him back, but that's mostly just an excuse they give others (and initially themselves) for their companionship. In other words, that's not what's really keeping them together.
Younger Than They Look:

Holo, being a several hundred year old god.
Lawrence is only 25 — the years on the road must really take their toll.