Jurassic World: Dominion Dominates Fandom Wikis - The Loop
Play Sound

YMMV •

Radar

•

Quotes

• (
Funny •

Heartwarming •

Awesome) •
Fridge •

Characters •

Fanfic Recs

•

Nightmare Fuel •
Shout Out

•

Plot

•

Tear Jerker •
Headscratchers •
Trivia • WMG •

Recap •
Ho Yay

•
Image Links

•

Memes

•

Haiku

•

Laconic

•
Source

•

Setting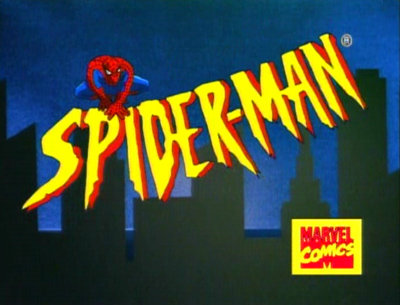 "This is starting to sound like a bad comic book plot!"

—Spider-Man

The Nineties Animated Adaptation of the popular superhero Spider-Man. Premiering in 1994, it ran for five seasons on Fox Kids. The animated series chronicles the story of a single, nineteen-year-old Peter Parker attending his first year at Empire State University, trying to get by through his part-time job as a photographer for the Daily Bugle, adjusting to new relationships, and growing into his newfound alter-ego as the amazing Spider-Man. The production history has it meant to be a tie-in to a James Cameron made Spider-Man movie that was never made.
Being made in the 1990s, and not being Batman the Animated Series, the Saturday-morning cartoon came under heavy censorship - heavier, in fact, than even other Marvel cartoons of the time. Spider-Man almost never threw a punch, most of the action sequences was either Deadly Dodging or swinging kicks. Never Say "Die" was in full force and there was even a joke among the staff that they couldn't even disturb any pigeons on the rooftops for fear one might have been hurt. The corner-cutting animation also left a lot to be desired, featuring static movement, constantly recycled sequences, and all manner of video goofs.
Even while hampered by the vehemently severe censorship and shoddy animation, even while given strict instructions to keep the cartoon as simplistic as possible, story editor John Semper and his writing team managed to "sneak in" everything that made Spider-Man: TAS the series it is, that being compelling character development and story arcs. It condensed the major Spider-Man stories from the comics in a very efficient manner, so much so that it's a good point of reference for future adaptations of other works. There was a great number of recurring characters from all over the Marvel Universe, each of whom have a particular spotlight episode or even story arc the series followed, all the time keeping a strong focus on Spider-Man and his interactions with all of them. This hit the spectrum from obscure minor characters to Captain America, Nick Fury and SHIELD, plus concurrent Marvel animated shows at the time like Iron Man and X-Men.
By the time the higher-ups caught on to what they had been up to, the series had become the number one cartoon in America. In the end, it was vindictive internal strife between Marvel Studios and Fox Kids that led the show to be cancelled. The head of Fox Kids Network at the time, Margaret Loesch, had deep antipathy towards show producer Avi Arad and sought to put him out of business. By refusing to order more episodes after the initial 65, she effectively forced the show to be cancelled and, as she had intended, Marvel Films Animation studio went out of business. And thus, the award-winning, number-one-rated hit show was brought to a close all thanks to petty internal politics.
Nonetheless, the series' legacy lives on. The Saban Entertainment produced Spider-Man Unlimited was an unofficial sequel to this series (they don't really work together, but Unlimited premiered only a few months after this show ended, which led to some viewer confusion). Not only is it one of many 90s cartoons responsible for introducing a new generation of fans into the world of comic books, but several of its plot elements were later integrated into the blockbuster films that followed it. Even after being canceled, it continues to have reruns going to this day in the U.S. and in various other parts of the globe. (Of course, the reruns are even more censored.)
Not to be confused with the similar named Spider-Man: The New Animated Series.
Tropes used in Spider-Man: The Animated Series include:
| | | |
| --- | --- | --- |
| |  "Guess I could say you 'axed' for this, web-man!" | |
| | | |
| --- | --- | --- |
| |  Jonah: The other networks are laughing at me, Brock! Even Fox! Can you imagine the humiliation?! | |
Blood Knight: In the episode "Doctor Strange" featuring the titular sorcerer, his Battle Butler Wong seems to be this. Doctor Strange has shades of it as well:
| | | |
| --- | --- | --- |
| |  "It's always the same! I can save the world ten times over, but when I need help, I'm on my own! Thanks... for nothing." | |
Subverted in "Day of the Chameleon." After saving the peace talks and swinging off, Spidey figures he won't get his due. All of sudden, Nick Fury himself catches up with him to congratulate him.

Earn Your Happy Ending: After Spider-Man stops Spider-Carnage from destroying all reality, and after his meeting with Stan Lee, the series ends with Madame Web promising Spidey that they will find the real Mary Jane Watson.
Enemy Mine: Happens often, usually due to the allied villain's Hidden Depths or the fact that they just hate the other villain more than they hate Spidey. Also of note is that, when the planet itself is in jeopardy, the Kingpin tends to be the first one to step up to deal with the problem. As he himself puts it, "There's no profit to be made in the destruction of the planet. It's bad for business."

In "The Wedding," Kingpin operates a Mega-Slayer robot to aid Spidey and Black Cat against the new Green Goblin and Smythe's robots.

Even Bad Men Love Their Mamas: The Scorpion hates it when people make fun of him, but nobody gets away with talking trash about his mom.
Even Evil Has Loved Ones: The Kingpin loved his wife Vanessa dearly, as well as his son Richard. Smythe was motivated by what happened to his father. Scorpion and Mysterio also had Love Interests. Venom's apparent attachment to his therapist actually lead to his Heroic Sacrifice to keep Carnage from unleashing Dormammu from the Dark Dimension.
Even Evil Has Standards: Though he is willing to make Parker suffer every chance he gets, Green Goblin never harms his Aunt May while she is sleeping.

This was before he goes after Mary Jane.

Who could forget this Gem?
Earlier on, Alistar Smythe disapproves the Hobgoblin. He is even happy when he sees him betraying Kingpin for Osborn.

Evil Albino: The Chameleon, Tombstone.
Evil Costume Switch: Spider-Man after wearing the Symbiote version of the suit. Ironically it was this animated series that created the idea of the Symbiote suit affecting its wearer's mind, which was used in the third live action film, the Spectacular cartoon, and the Ultimate comics line.
Evil Parents Want Good Kids: Felicia's father.
Evolutionary Levels: Invoked between, of all things, two humans when, after revealing to Harry that he was his father, the Green Goblin exclaims, "I am the ultimate evolution of Norman Osborn! Smarter, stronger, able to be more ruthless than he ever was." Wow.

He's the Green Goblin, he doesn't have to make sense!
Although it deserves to be mentioned that "evolution", when not specifically referring to biology, can be defined as synonymous with "growth" or "development" — so the Goblin wasn't speaking nonsense after all.

The Faceless: Shocker is never seen without his mask off - even during his stint in prison. Ditto for the Chameleon.
Fail O'Suckyname: The Whizzer.
Family-Friendly Firearms: Handled somewhat better than the 90s X-Men cartoon — at least the guns actually look futuristic. Plus, with so many other "super-science" type things going on in this series, it's perhaps justified (compared, at least, to the shows where phasers are the only divergence from the present day).
Figure It Out Yourself: Madame Webb was training Spider-Man for some great mission to come, and being generally omniscient she would leave hints as to how he should approach a current situation. A combination of Stealth Mentor and Secret Test of Character.
| | | |
| --- | --- | --- |
| |  Eddie Brock: I'll get even with you! I'll get even with you if its the last thing I do! | |
In "Framed", the Chameleon mentioned something about Peter's parents.

Getting Crap Past the Radar: The closest one would be Peter describing Morbius as "a refugee from the Rocky Horror Picture Show".

In the first episode, Spidey rescues a traumatized sewer worker that keeps repeating "The red eyes are following me!" Because the guy was driving so erratically, Spidey suggests he's just seeing "Pink Elephants."
"This snowjob won't stop me, Mysterio!" Season four, episode 9. 'Nuff said.

Good Parents: Norman Osborn, of all people. The demands of his work caused him to neglect Harry during his childhood, but Norman deeply regrets it and is willing to risk his own life to protect Harry. His desire to protect his son is even part of the reason he becomes the Green Goblin, in a stark contrast with the next animated Osborn.
Gollum Made Me Do It: Norman Osborn/The Green Goblin.
Grand Finale: And quite an amazing one as well, tapping into the comics mythology and just about every incarnation of Spider-Man out there. Stan Lee himself even shows up!
Had to Come to Prison to Be a Crook: This is how The Kingpin came to be — originally sent to prison for larceny, after one of his dad's scams went south, and his bulk prevented him from following his father up a fire escape. Once he comes out,

he's got "connections", and uses what he's learned to begin building his criminal empire

.
Hero Stole My Bike: Spidey and Black Cat.
 Motorcycle owner: "You miserable thieves!"

Spidey: "We're not thieves! Well. Well, I'm not, but — her, I'm not so sure about."
Hidden Depths: Mysterio was just a vindictive jerk, albeit a fairly smart and effective one, for most of the series. Then came the episode where it turned out that he'd been living in the catacombs beneath an old film studio, where he'd fallen in love with a disfigured actress...

The Kingpin was as ruthless as they come, but several later episodes showed he genuinely cared for his wife and son.
The Scorpion seems generally considered dumb muscle, but when the Insidious Six first team-up, he's the one to think of exploiting the known "connection" between Peter Parker and Spider-Man (even before Doc Ock). A later episode also reveals that he's engaged and that his criminal life is to fund a way to return himself to normal.
Jonah Jameson hates Spider-Man and verbally abuses his staff in every episode he appears in, but he loves his son, goes out of his way to prove Robbie innocent of a frame-up and (secretly) pays Peter's legal bills.

Hypocritical Humor: When the Scorpion (who looks like this) meets up with the Vulture, he has this to say.
| | | |
| --- | --- | --- |
| |   Scorpion: "What's with them wings? And how come you're wearin' that dumb green costume? You some kind of a nut?" | |
I Just Want to Be Normal: Peter tries to quit the superhero gig so often his Catch Phrase might as well be "Hello Peter Parker, goodbye Spider-Man."

It's also the Scorpion's motivation for most of the series; he just wants to turn back into regular old Mac Gargan.

Instant Sedation: Knockout gas. Always effective.
 Hobgoblin: (to Landon) "You didn't think I'd fall for that old exploding warehouse trick, did you? What kind of a fool d'you take me for?"

Spider-Man: Personally, I'd never call you a fool. That'd be an insult to fools everywhere!
| | | |
| --- | --- | --- |
| |  Spider-Man: "Another dip in that chemical soup, and your hair might turn green!" | |
A lot of the other characters were Hammy was well (Blade being a good heroic example, as well as mostly anyone with an accent). All the villains, particularly, even The Kingpin, fell into ham at least once in the series, and both Goblins practically ran on the stuff, especially Green Goblin whose voice and extreme performance were an intentional contrast to Norman Osborn's usually even temperament.

The Last Thing You Ever See: Hydro-Man tries this in his first appearance.
 "Did you say 'Hydrant-Man?' The dogs must love you!"

"It's Hydro-Man! And it's the last name you'll ever hear."

"For somebody new to this super-villain gig, you've sure got the cliches down."
Also the Hobgoblin's reason for his mask, explaining it to be the last thing he intends his enemies to see.

Laughing Mad: Harry Osborn, especially during his Villainous Breakdown near the end of the series.
Leaning on the Fourth Wall:

After Robbie has been arrested for apparently masterminding a naval robbery (long story, BIG conspiracy), he tries to explain how he only remembers being restrained and knocked out after getting in a random cab:
When the Insidious Six is first gathered. While agreeing to team up with the other villains, Mysterio has this to say.
| | | |
| --- | --- | --- |
| |   Mysterio: "The plot seems clever enough, the climax ought to be intriguing." | |
Justified by the fact as a former stuntman he thinks in terms of a director.

Lego Genetics: Dr. Curt Connors/The Lizard. He added the DNA of a reptile to himself to grow a new arm when his was severed, and it turned him into a whole reptile.
Leitmotif: Most characters have a recurring theme that plays every time they are onscreen, this is especially noticeable with Morbius and Black Cat.
Let's You and Him Fight: Just about every time Spidey came across another hero. Amusingly, Daredevil believed he had helped frame and kidnap Peter Parker (it was Chameleon, of course).
| | | |
| --- | --- | --- |
| |   "Just my luck. This guy thinks I kidnapped me!" | |
 Punisher: I think I know who you really are Peter Parker. [Peter Parker looks shocked.] The way I figure it, you're really the Green Goblin.

Parker: That tranquilizer must have gotten to your head too.
Mythology Gag: When Peter gets the Symbiote costume, he decides to test his strength by lifting a fire engine. He then remarks "And I used to have trouble lifting a Volkswagen!". In Spidey's origin story in Spider-Man and His Amazing Friends, Peter tests his new spider strength by lifting a Volkswagon, straining a little.

The rich, armored Spider-Man double has a giant spider-robot — a nod to the Japanese Spider-Man Toku series.

The alternate Spider-Men from the Clone Saga actually reference different costumes/situations from the comics; the mainstream Spider-man did have six functional arms at one point (a storyline referenced by this animated series earlier, during the Neogenic Nightmare arc), did once steal and try to use for himself a set of Doctor Octopus's arms, and did once make an armored suit for a particularly tough opponent. And, of course, the

Scarlet Spider

needs no introduction...

In the series, Spider-Man's first public appearance is a TV show called It's Amazing!.

Nerds Are Sexy: Both Peter and Dr. Conners.
Never Say "Die": In spite of the heavy censorship, there were a fair few actual deaths, and at least one spoken aversion.
| | | |
| --- | --- | --- |
| |   "If you work for the Kingpin, why don't you wanna kill me?" | |
Still, the show was pretty infamous for seeking to avoid every variation of "die" or "kill." Sometimes the aversion of the word death would take the dialogue into serious, yet unintentionally hilarious, terrorism. In the episode "Return of Hydro-Man, Part II", Mary Jane says, with all seriousness, "I just can't shake the feeling that when we find out what's wrong with me, it's going to lead to my destruction!" Serious intents or not, try saying that out loud and see what kind of reaction you get.

This Mary Jane was later revealed to be a clone, and did indeed die shortly later.

Nice Job Breaking It, Hero: In "Make a Wish", Spider-Man accidentally caused a new lab building to be destroyed while fighting Doc Oct. Jameson pointed this out (and plans to condemn Spider-Man further). Robbie tried to defend him by saying he was trying to stop Doc Ock, but Jameson countered this by saying no one asked Spider-Man. Peter realized this too, and in his anger, decided to give up Spider-Man (again, but only temporary).
Not So Different: Between Beast and Herbert Landon's assistant Genevieve.
Obnoxious In-Laws: Anna Watson.
Old Shame: In "The Mutant Agenda", Henry McCoy tried to create a cure to eradicate the mutant gene, which would ultimately kill the carrier. It comes back to bite him later on when his former partner Herbert Landon recreate it.
Omnicidal Maniac: Spider-Carnage, the final Big Bad. An alternate Peter Parker, he was at the end of his rope due to his world's Clone Saga (which included the death of Aunt May) before being possessed by the Carnage-Symbiote and acquiring dimension-travel tech. When Spidey goes to one of the alternate universes and brings back a still alive Uncle Ben in tow to try to reach the man inside of Spider-Carnage, that Peter finds his efforts to fight the influence of the Symbiote to be all for naught and subsequently sacrifices himself to save the multiverse.
The Only One Allowed to Defeat You: Venom, in his first full appearance in "The Alien Costume" series. After the symbiote bonds with Eddie Brock, Venom

locates Spider-Man in the midst of losing a two-on-one battle against Rhino and Shocker. Prior to this, both Rhino and Shocker were easily defeated by a black costumed Spider-Man in separate fights, and decided to team up to take Spider-Man out. When Venom arrives, he takes out both villains and goes after Spider-Man himself.

OOC Is Serious Business: Spider-Man, natch. "Turning Point" probably has the best example after Spider-Man fears the worst for Mary Jane:
At the end of that storyline, Kingpin begins to express concern that his son will eventually do this as well.

Sequel Hook: Along with Left Hanging, Madame Webb was going to lead Spider-Man to Mary Jane and it's implied that is what they do. More ambiguous is the end of "The Return of Hydro-Man" where

the doctor responsible for cloning Hydro-Man got a sample of Spider-Man's DNA, supposing they would pick up with the Clone Saga had the series continued.

Shout-Out: "I hate to borrow somebody else's line, but it's clobberin' time!"

Taina asking Spider-Man about his powers has this gem:
 Taina: Where did you get your powers? Timmy says you're from a dying planet and your parents sent you here in a little spaceship.

Spider-Man: I think Timmy has me confused with someone else.
Sins of Our Fathers: A whole arc of episodes featuring Daddy issues.
Small Name, Big Ego: The armored Spider-Man from the Grand Finale. In all fairness, though, he came from a universe where absolutely everything always worked out for him perfectly. He didn't really have any way of knowing he would be much less effective in a universe that wasn't stacked completely in his favor (or even that there was such a thing as a universe that's not stacked in his favor).
Spot the Imposter: "Day of the Chameleon" is built on this trope.

A variant appears in the climax of "The Menace of Mysterio." After saving Terri and Jonah, Spider-Man is confronted by five well-armed Mysterios - one real and four illusions. The real one is certain Spider-Man won't be able to pinpoint him in time, but one Spider Sense-guided jump and kick later...

Spin-Off: A UK comic which followed the continuity of this show, Spectacular Spider-Man Adventures has outlived the show by almost a decade.
Split Personality: "I'm not Osborn! I am the Green Goblin!" Unsurprisingly, leads into Split Personality Takeover.
Spotting the Thread: When Chameleon copies Nick Fury based on his obituary picture he doesn't notice that the picture was accidentally flipped. Spider-Man notices the difference immediately.
Stalker with a Crush: Hydro-Man. The guy only ever shows up to chase Mary-Jane around. He was so obsessed over her that after

his clone heard she may have died he forced Dr. Miles Warren to create a clone of her based upon his abilities.

Didn't really work out for him; as she still loved Peter and

they both died anyway

.
Stock Footage: One of the most infamous examples. It got to the point where upwards of 25 percent of a given episode, especially action scenes, were reused footage. In particular the scene where Spidey does some high speed dodging of Doc Ock's tentacles was reused with nearly every Doc Ock episode.

Particularly funny during "Insidious Six" where Peter had temporarily lost his powers at the time. They try to cover it by shoehorning in the line "At least I still have some of my Spider agility."

Story Arc: Several. Multi-episodes storylines were appropriately titled.
Stuff Blowing Up

Invoked by Spider-Man in regards to the Punisher after barely escaping a suitcase bomb: "I'm getting really tired of that guy blowing stuff up around me!"

Super Wheelchair: Spencer Smythe only worked for Kingpin so he could afford to build one of these for Alistair. He didn't live long enough to see Alistair in it, which in turn drove Alistair to work for Kingpin.
Super-Powered Alter Ego: It's not particularly explicit but Felica's personality appears to change into a more casual, reckless, confidant, slightly more amoral and sexually forward version of herself upon turning into the Black Cat. This is shown best after her inital bank robbery where the Cat is smugly boasts about her sucess but quickly becomes indigant and outraged after turning back into Felica.
Super-Powered Evil Side: While a lot of the villains qualify, Symbiote Spider-Man takes the cake.
| | | |
| --- | --- | --- |
| |  "Ever since that spider bit me, the world has misunderstood me and tormented me! Now, it's my turn. I'm gonna obliterate you all!" | |
The Lizard in "Night of the Lizard" (at least when Curt's mind has control). His ultimate goal is to use the Neogenic Recombinator to transform everyone in the city into creatures like himself, but he honestly believes doing so will spare people suffering and pain. Also, despite his behavior throughout the episode, he still cares for his family.
 Lizard: I can make people well again. And I won't stop for anything!

Margaret: Not even for Billy? You want him to be like you, too?

Lizard: My son. I have a son.
The Scorpion. As mentioned in Body Horror above, he gets turned into a freakish monster and at best he reverts to the usual levels for the character: Stuck in a suit with a giant tail. To make matters worse this version of Mac Gargan didn't really want to become the Scorpion anyway, he was bullied into it by Jameson. Compare this to the comics version, who was perfectly happy to be experimented on with radiation for money.

Xanatos Gambit: The Kingpin uses one of these in his introduction.
 Osborn: "Something occurs to me. Either Spider-Man is destroyed or you get Oscorp. Either way, you win."

Fisk: "That's why I'm the Kingpin."