Doctor Strange in The Multiverse o Madness - The Loop
Play Sound

YMMV •

Radar

•

Quotes

• (

Funny •

Heartwarming •
Awesome) •

Fridge •

Characters •

Fanfic Recs

•

Nightmare Fuel

•
Shout Out

•

Plot

•

Tear Jerker •

Headscratchers •
Trivia • WMG •

Recap

•

Ho Yay

•

Image Links

•

Memes

•

Haiku

• Laconic •
Source

•

Setting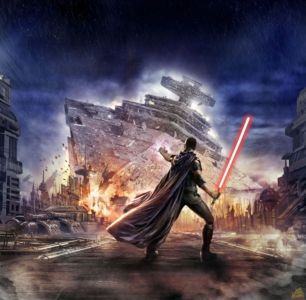 "I bring Darth Vader's enemies to justice, and now so do you."

—Starkiller

A Star Wars-based multimedia project, like Shadows of the Empire eleven years before it. Covers a wide range of mediums including Comic Books, a novel (by Sean Williams), action figures and a Role-Playing Game, but the Video Game has received most of the attention. The new feature that has been paraded around is an advanced graphic and physics engine, allowing visuals and gameplay features that were impossible before. The environments are huge and you are capable of manipulating (and destroying) almost anything. You know some of the things Mace Windu and Yoda do in Star Wars: Clone Wars (flinging around star fighters, ripping apart armies with little trouble)... it's kind of like that.
The basic story of TFU centers around Darth Vader's secret Sith apprentice, born Galen Marek but codenamed "Starkiller", and explores his role in the Star Wars universe. Set during the time period between Revenge of the Sith and A New Hope, he ends up interacting with various canon characters and fills in new details.
Reviews for the game were mixed, with most complaints being a tricky targeting system for flinging objects around and that some of the large creatures were defeated using the exact same methods. Surprisingly the story has been given significant praise, which is unusual for a Star Wars original video game (they are usually an Excuse Plot with some fun action and characters).
A Downloadable Content pack entitled the Ultimate Sith Edition adds a What If story based on the Dark Side ending, that allows the player to screw around with the canon, with Starkiller proceeding to hunt down and destroy characters such as Obi-Wan Kenobi and Luke Skywalker.
A sequel has been released that continues the exploits of Starkiller. Concerning his death in the first game, this character is supposedly a clone. But the game's story revolves around him trying to learn the truth.
That Other Wiki has more information. The other other wiki might help too.
Tropes used in Star Wars: The Force Unleashed include:
All There in the Manual: The real name of your character. While the game refers to him mainly as "Starkiller", the companion novel, towards the end, gives his name as Galen Marek.

The Dark Apprentice from the sequel's Dark Side ending. At no point is he even hinted at during the main storyline, his only appearance coming if the player chooses to kill Vader instead of arrest him. His origin is explained in a series of movies that the player can unlock by completing several challenges

.

All Your Powers Combined: PROXY has the ability to use a hologram to transform into any Jedi he knows of, and is able to copy their lightsaber skills and even their Force powers.
Always a Bigger Fish/Bait and Switch Boss: In the boss fight on Cato Neimoidia in the sequel. It looks like the clone Starkiller is about to face off against a Rancor - and then an even LARGER arm reaches out, grabs the Rancor and pulls it into a darkened opening. Out of that opening comes the real boss, the Gorog.
Ain't Too Proud to Beg: In the second game,

Galen does a Type 2 to Vader when the latter threatens to kill Juno.

And Your Reward Is Clothes: You get a bunch of different outfits to choose from right at the start with more being unlocked as you progress through the game.
Arrogant Kung Fu Guy: If you disarm Maris Brood during one of the quick-time events during the boss fight, Galen will casually toss her lightsabers back to her. Whilst she's defenseless face down in the dirt.
Artificial Brilliance: Suddenly comes out against the last boss. He adapts to your tactics, and punishes any weakness in your style. And if you try to be a cheapass and spam him... HE SPAMS BACK HARDER. Of course, since it's

Darth Vader

if the game gave you any less, people would complain.

Which leads to some (possibly unintentional) Fridge Brilliance: the best way to take him is to act as aggressively as possible, which is a very Dark Side way of fighting (see Luke's final fight with Vader, for example). Another way is to simply duel him, without relying too much on Force spam or buffs (see, well just about any duel in the movies).
Even more brilliant when you consider that the best way to tackle the other final boss is to deflect

Palpatine's

attacks back at him; a more defensive (and therefore Light Side) way of fighting.

Attack of the 50-Foot Whatever

: The Gorog in the sequel.
Awesome but Impractical: The metal claws on the Sith Stalker armor. How, exactly, does one do stunts with a lightsaber with 6-inch spikes coming out of your fingers?
Awesome McCoolname: STARKILLER!!!
Back from the Dead: Starkiller, twice.

Technically, the second time he's still dead. He just got cloned. The novel hints that it may have been the case first time as well.

Who is essentially a continuation of the Starkiller before and there's really no difference between them.

Badass Grandpa / Handicapped Badass: General Kota. He's blind, but can actually in some respects see better as he is used to sensing his environment with the Force, which basically gives him a mental picture of his surroundings, much like sight-only he can see through darkness, fog, smoke, etc.
Badass Cape: The Sith Robe costume. Oh yes.
Bag of Spilling: Either averted or justified in the second game. It's averted if the player character is a clone, and therefore has yet to develop all of the original Starkiller's powers, and justified if the player is the original returned, and therefore still recovering from his death.
Battle in the Rain: The Final Battle in the sequel.
Becoming the Mask: Galen's sent by Vader to

organize the rebellion.

That turns out to be his downfall.
Berserk Button: For Starkiller, it's Juno. Dear God, not even The Force will help you if you harm her in Starkiller's presence, something

Darth Vader finds out when it appears he's killed Juno at the end of the second game

. You DO NOT screw with Love Interests/family members of Star Wars characters. You end up getting squished like a bug, God-like powers or not.
Beyond the Impossible: Carbonite is known for its ability to sever a Jedi's Force connection. However, Starkiller can still use the Force to break out of carbonite with ease.
Bittersweet Ending: Starkiller manages to save his friends, but he

dies while buying them time to escape.

Blind Seer: Rahm Kota, who becomes this after he loses his vision in a lightsaber battle
Bonus Boss: The climax of the Jedi Temple mission[1] is a duel with an evil hallucination of

the Dark Side version of Starkiller

Broad Strokes: While not exactly with a Literary Agent Hypothesis to justify it, but the crazy uses of the force can easily be used in this way. And accounting for the fact that despite how powerful Galen is, Vader and Palpatine still seem to be more powerful.
Bulletproof Human Shield: Appears in the sequel during the "Battle of Endor" DLC level.

Starkiller uses Chewbacca as a shield against Han Solo's blaster.

The Cameo: Jar Jar Binks, who shows up frozen in carbonite in the Kashyyyk level. In addition, R2-D2 shows up in the background in a few cutscenes because... well, he's R2-D2, and the last hologram PROXY uses during his fight with Galen? Darth Maul.

There are loads of film and video game characters available as costumes, from Kit Fisto to Darth Sion to Obi-Wan.

Yoda and Boba Fett

make brief appearances in the second game, with

Wedge Antilles

making a cameo in the novelization.
Guybrush Threepwood is playable in II as an outfit for Starkiller.

Captain Obvious: Kota descends into this sometimes, especially when he's serving as Mission Control in the second game.
Starkiller: (after the lift stops) Do any elevators on this ship work?
PROXY: 6% of lifts are in working order...3%
Starkiller: Thanks for the update...
Starkiller: "You agreed to stay away!"
Vader: "I lied, as I have from the very beginning."
Happens again in the sequel

's Dark Side ending

.
| | | |
| --- | --- | --- |
| | Vader: I lied when I said the cloning process was not yet perfected. | |
Kota: The main cannon is offline. We're dead in the water without it! See what you can do.
Starkiller: Do I look like an engineer, General?
| | | |
| --- | --- | --- |
| | Darth Vader: As long as she lives, I will always control you. | |
| | | |
| --- | --- | --- |
| | PA: Rebel troops have entered the base, Rebel troops have-->static< | |
The databank for the AT-ST has the Empire dismissing outrageous claims that it is prone to "falling over".
One of the database entries in II is written by one Lieutenant Piete, who hopes to transfer off Vader's ship before receiving any more promotions.

Neck Lift: Using his trademarked Force choke, Vader does this to Juno in the second game.

Vader did this in the first game to Kento Marek.

Nerf: The lightsaber, to some degree. The focus on the game is not so much direct combat but environment manipulation and force powers. And many enemies you don't want to get close to.
No-Holds-Barred Beatdown: Meta-Example, as with enough playthroughs (and the powerups you get from New Game+ ) any match of you(the player) vs. any squad of mooks becomes this.
Nubile Savage: Shaak Ti dresses like this. The last 20 years may have been hard for her, but she was a Jedi Master! To be fair though, all those heavy robes probably wouldn't have been very practical in the jungles of Felucia (see Galen's own outfit for the first Felucia level.)

Her padawan, Maris Brood, is not exactly fully dressed either. At least from the waist up.

Old Save Bonus: Having a save file from the first game on the PS3/360 unlocks Galen's initial outfit and the costumes the player receives upon completing the Light & Dark Side Endings in the first game,
Ominous Walk: To emphasize that you're Darth FUCKING Vader you are limited to this in the first level which also serves as a tutorial level.
Our Giants Are Bigger: Force Unleashed II figures the only way to top a fight with a Rancor is to have Starkiller fight a beast big enough to crush a rancor in it's hand. And he still beats it!
Person of Mass Destruction: Galen, at least if the video game is any indication.
Power Creep, Power Seep: More of a meta example really, it is annoying that Starkiller is pulling Star Destroyers out of orbit while in the original trilogy Yoda, generally accepted as one of if the most powerful Jedi struggled to lift an X-Wing out of a bog. It makes the game fun, but it sort of cheapens other characters' accomplishments.

Technically, Starkiller didn't pull one out of orbit but rather nudged it in another direction while it was already falling out of the sky (it was knocked loose when the cannon destroyed its platform). He was a powerful Force user at the peak of his prime, fueled by an adrenaline rush to stay alive since the ship was going to fall on him if he didn't do something. Yoda with Luke's ship, on the other hand, was very close to the end of his life, wasn't in a life threatening situation and probably hadn't used his Force powers like that in years.
Word of God says that, canonically, Starkiller is THE most powerful Force user to have, thus far, entered the Star Wars universe. This is especially impressive when you read the Expanded Universe and see just how insane Luke gets.
Juno: They're fortifying all positions to try to keep you out.
Starkiller: Let them try...
| | | |
| --- | --- | --- |
| | "You're a Jedi, boy! Size means nothing to you!" | |
Starkiller: PROXY!
PROXY: Master?
Starkiller and PROXY in unison: I thought you were dead?!?
Starkiller: You have lured the Emperor to us? When do we strike?
Darth Vader: I did not summon him. [ignites his lightsaber through Starkiller's back] His spies followed you here.
What Happened to the Mouse?: Inverted. In the Dark Side ending from the sequel, Starkiller goes to kill Vader... Only to be stabbed by a clone that Vader had rid of Galen's personality, with several unlockable videos explaining the Dark Apprentice's origin & where he came from. At no point is he even hinted at during the Light Side ending, making the supplementary videos entirely pointless if that's the Canon ending, since we get the origin for a character who canonically doesn't even exist within the game that introduced him.

Not quite.

Notice that when he reveals himself, he has some kind of invisibility gadget or power? In the DS ending he shows himself because Vader is about to get killed. In the LS ending there's no reason for him to do so, but that doesn't mean he's not there. Invisible. Lurking.

What Measure Is a Mook?: Deluges of this trope. The novelization has Juno angrily tell Starkiller that one of the people he just casually massacred was an old friend of hers, but when he apologizes she says it's okay, since she hadn't talked to him in years anyway. Late in the novel Galen - by that point the narration had picked up on his name - is horrified about how Vader's plan involved letting thousands of loyal Imperials get slaughtered, nevermind that he'd done about half of that all by himself, delighting in how easy it was.
When All You Have Is a Hammer: Just use the Force & turn the hammer Up to Eleven. At least, that's Starkiller's reponse in the sequel when The Salvation has it's main cannon knocked offline.
Womb Level: The Sarlacc pit.
The Worf Effect: Heroic, or at least protagonist, inversion - the second-to-last boss fight of the game is the original intergalactic Badass, Darth Vader. The fight ends when Galen picks him up, bashes him all over the room with the Force, and throws him through a wall. This is the black-armored man that haunted kids' nightmares for decades we're talking about here, and Galen throws him around like a ragdoll!

To be fair, the fight is fairly challenging up to that point. Also, if you choose the Dark Side ending by choosing to fight him again (instead of Palpatine), then the second time around he's a lot nastier. Seriously. Whoever said that the Dark Side was the "quicker and easier path" deserves to be shot.

And then in the second game he is back to being ominous Badass throughout the entire final battle no matter which ending you choose. Hmmm.

A Rancor, you know, like Jabba's pet, gets tossed about like a squeaky toy by the Gorog.

World of Cardboard Speech: In the sequel, Starkiller pretty much gives one of these to Vader.
| | | |
| --- | --- | --- |
| | "I let you live. You tell me I'm a clone but I chose to spare you. (*beat*) Maybe Kota's right. Maybe this is all a trick --a way to get me so confused... that I'd forget who I really am and become your slave again. But either way... I. Let. You. Live. I've finally broken your hold over me." | |
Wreaking Havok: See Person of Mass Destruction and Video Game Cruelty Potential above.
Xanatos Gambit: Darth Vader puts in motion a gambit that helps regain much of his intergalactic badass quality he might have lost over the years.

Even if, somehow, the members of the new rebel alliance escape, he still knows who they are.

You Have Failed Me...: Lord Starkiller's response to the bungling of the Hoth assault, to an unsuspecting Captain Keenah.
You Keep Using That Word: The word "destiny" seemed to be used by Darth Vader a whole hell of a lot but it was never consistent at all. Vader just seemed to use it when he wanted Starkiller to do something.

This is lampshaded a couple times in the novelization for the second game, used to highlight just how insane Darth Vader really is.

You Killed My Father: Starkiller shouts this during his final battle with Darth Vader. Disappointingly, Vader does not reply with "No, I AM your father!".

Inverted in the Ultimate Sith Edition where Starkiller tells Luke what happened to Vader.
↑

Included in the Wii version, optional DLC for the PS3, Xbox 360, and PC versions