Spider-Man: No Way Home Trailer Dropped - The Loop
Play Sound

YMMV •

Radar

•

Quotes

• (

Funny

•

Heartwarming

•
Awesome

) •

Fridge

•

Characters •

Fanfic Recs

•

Nightmare Fuel

•
Shout Out

•

Plot

•

Tear Jerker

•

Headscratchers

•
Trivia •

WMG

•

Recap

•

Ho Yay

•

Image Links

•

Memes

•

Haiku

•

Laconic

•
Source

•

Setting
Crew of the Mary Celeste
In General
The Captain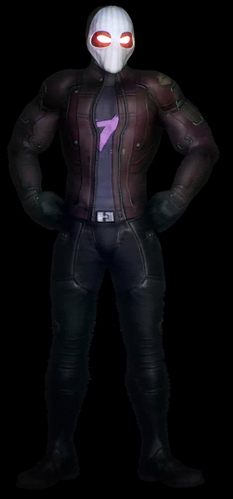 The Captain is an absolute madlad fuckin' unit of a good cunt that leaves a trail of smashed sheilas and tinnies in his wake. Bring him a smuggling contract and he'll put in the hard yakka guaranteed, legless or not. Give him a head to crack and he'll glass the cunt and shout you a coldie on the way out. Just in case you didn't notice, he's pretty Australian.
DEMI (APEX-17 D19M45)

DEMI is a heavily modified APEX-17 series commbot, a prototype line of the most advanced personal assistant androids ever constructed by the now-defunct Apex Industries. She was originally in the service of Dread Lord Tibold, a notorious Teelee pirate warlord, and served as the mainframe for his flagship carrier. DEMI was modified with illegal cyber-ware and the finest black-market add-ons during her tenure, further enhancing her already-potent combat and navigation abilities. Eventually, she was rescued by The Captain and reformatted to serve him aboard the Mary Celeste. DEMI was the last APEX-series model to be made, and one of the few fortunate enough to be smuggled out of Imperium space before the Great AI Purge happened. As a result, DEMI herself is considered to be contraband under current Imperium cyber-law, and would be immediately scrapped if she were to be captured by the government. DEMI is unerringly loyal to The Captain and enthusiastically performs all of her duties to the best of her ability. She is an exceptional navigation and combat pilot, can translate thousands of alien languages and even defend herself in close combat – though she is typically not deployed for such situations. Her asshole also has over 27 different suction settings.
Dr. Lillian "Lily" Margaliss
Dr. Lillian Margaliss is one of the top Solar scientists, highly respected by her peers for her work in both alien biology and ethology that helps to determine sexual compatibility between their species and the rest of those found throughout the Prodigium galaxy. As a result, she often works nights and enjoys taking her work home with her. Not only is she brilliant, but Lily is also no stranger to combat. Like all third generation Solars, she was required to join the military upon entering adulthood and quickly became a respected marksman. Her bravery as a field medic was also notable, though Lily's enthusiasm for battle had more to do with how much it turned her on, rather than any reverence of duty. Responsible for the inception and execution of the MANTICORE (Mantic) program, Lily has no hesitations about breaking the genetic manipulation laws imposed by the Imperium. Her primary duty aboard the Mary Celeste is maintaining the Mantic laboratory and breeding an army for The Captain to be used in the revolution, as well as running "endurance tests" on her creations for quality control. This means sex.
Fortune
Very little is actually known about the teen prodigy hacker and vigilante-for-hire known as Fortune. The Solar military has no record of her enlistment or even birth. The only evidence she exists are the dozens of high-profile cyber attacks against the Imperium for which she has proudly claimed responsibility and the mysterious disappearances of the dozens of bounty hunters that have tried to collect on her contract. Fortune maintains a covert team of operatives throughout the galaxy that she generally blackmails into fueling her espionage tactics. Those that have worked with her and were lucky enough to survive tell stories of a young Solar female with a take-no-shit attitude, zero tolerance for failure and the ability to destroy anything in her path with high-tech plasma discs. Despite having a tumultuous history with The Captain, she reluctantly works with him out of her obsession with overthrowing the Imperium. She collects the intelligence their team needs to fuel the revolution and makes sure to keep the Mary Celeste out of the way of Imperium patrols and traps.
Va'raz "Killi" Killision

Killi's story is a tragic one that has turned her into a sadist perpetually fueled by the need for vengeance and the kind of stress-relief only marathons of fucking can provide. Due to their passion for the latter, her species was eventually doomed by the puritanical Imperium's blockade of her home planet. This forced Killi into a vagrant life of crime that eventually culminated in the honor of being given control of the largest pirate fleet in the galaxy – the Dread Fleet. She wasted no time at all in turning the destructive efficiency of her armadas against the government, causing them to scatter in fear upon her approach. Fortunately for the Imperium, a traitor among her ranks would eventually rise and lead a mutiny overthrowing her rule, destroying the pirate code she devoutly believed in and stealing the majority of her finest panties in the process. Obviously, this could not be forgiven. Killi's endless lust for the blood of dickheads makes her highly effective at her job aboard the Mary Celeste as the primary strike team specialist, though she spends most of her time in the bar making the stiffest drinks imaginable for her fellow crew.
Va'tor Dallick
One of the greatest mechanics to ever live, Dallick's natural talent for handling nuts and bolts is rivaled only by his extreme desire to self-medicate with the finest narcotics. Physically, Dallick is on the very bottom rung of the Vanneran genetic ladder. Most males of his species stand at least twice as tall as he does and have statuesque physiques that make them some of the most desired gigolos in the galaxy. Despite his shortcomings, Dallick takes it in stride and has a cunning stoner charm that allows him to negotiate the absolute best prices with whatever prostitutes he comes across (and all over). He currently resides aboard the almighty Keisterstation – a masterpiece of ingenuity that he designed to avoid any radar system in the galaxy out of necessity. Because of Dallick's tendency to consume copious amounts of outlawed drugs and to design, build and sell whatever infernal machines he wants despite Imperium regulations, he is considered a wanted outlaw.
Elaisha "Ela" Sorn

Ela is a member of the reclusive and powerful Kloi, which are essentially space-elf supremacists that think they are better than everyone else because… well, they pretty much are. However, even when you're dealing with an entire species of near genetic perfection, Ela stands out from them all in two big ways – she's one hell of a warrior and one hell of a porn star. When it comes to battle, she holds numerous military records with the traditional Kloi energy bow, such as most kills in a single skirmish, longest-range confirmed kill, and of course… the coveted dong-assassin medal she earned for demoralizing an entire pirate battalion to the point of surrender with a salvo of consecutive cockshots. Naturally, such an accomplished and admired warrior became the subject of fantasy for much of the galaxy. One of the most aggressive deviants of her species, Ela made those fantasies a reality for her adoring fans when she retired from the Kloi royal legion and entered the adult industry, quickly becoming the most popular starlet of all time. Unfortunately, Imperium law imposes extremely strict rules on pornographic productions, more or less making them glorified modeling sessions. Not only that, Kloi law dictates that mating outside of their species is punishable by death. Despite her success in life, Ela is now looked at as a pariah of sorts for daring to challenge Kloi tradition by suggesting they be allowed to enjoy a variety of alien genitals. As a result, she harbors deep resentment towards both the Imperium and her own species for their close-minded beliefs. She channels that resentment into her job as the ranged specialist of the Mary Celeste.
Sovalin "Sova" Maliana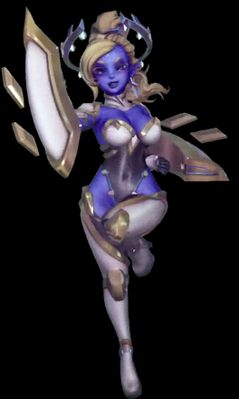 Born into the longest-running royal bloodline in the galaxy, Sova is a genuine Teelee princess. Though her species is known for their adorable features, short stature and diplomatic prowess, Sova despises her noble obligations and the expectations of behavior placed upon her. All she cares about is challenging herself by drinking, fighting and fucking to increasingly intimidating extents. Such behavior is obviously not very princess-like, so she is treated by most of her species like the outcast she's proud to be. Those that respect her do so out of admiration for her accomplishments in the arena. Since the dawn of their society, the Teelee have been paying other species to come to their planet and beat each other to death under the pretense of good old-fashioned friendly competition. Before Sova, no other Teelee (especially a woman) had ever risen high enough to compete in the Teelee Fighting Championship. Though she is next in line to rule, she and her elite team of warriors aspire to take the title… that is as long as she can stay sober enough for the fight, which is a long shot. Sova's combat and leadership qualities make her an excellent addition to the Mary Celeste's crew, and her time in the arena has made her well-versed in all kinds of weapons. Naturally, she serves as the armaments maintenance officer.
Taron Kraask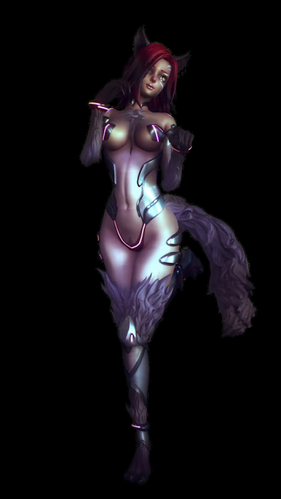 Taron is a Nikith, aka catgirl, which of course means she's a scantily-clad, short-haired and slim bombshell. Although her people mock the very idea of progressing beyond their nomadic hunting traditions, she has always held an affinity for technology and hitched a ride off her home world in search of it. In particular, this kitty loves her toys – especially those that vibrate. Not long ago, the Imperium decided to outlaw and confiscate all sex toys deemed too dangerously potent for the public to use. These fuck relics are now stored in massive, secured super-vaults where they can be reverse engineered into weapons of mass destruction. Unfortunately for the Imperium, with a sophisticated stealth suit and immensely effective lock-breaking tools of her own design, there is no facility in the galaxy that Taron cannot infiltrate given ample planning and horniness. Known for leaving a calling card of cum trails left from ninja-fapping above the heads of unsuspecting guards during her high-stakes raids, Taron is a wanted woman with a high bounty on her head. Luckily for The Captain, they share a common enemy, and she's happy to serve as the Mary Celeste's number-one spy and thief. Also lucky for The Captain, Solar males are like catnip for Nikith females, which inevitably leads to the two of them needing to take a lot of breaks during their tactical meetings.
Mantics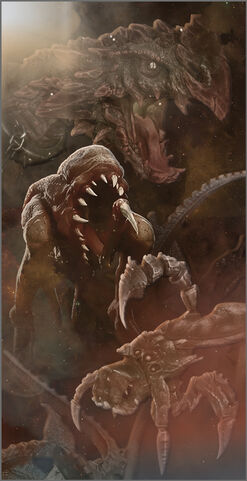 Horrible freaks of nature to some, loveable fucksticks to others, Mantics are genetic mutations created by Dr. Lillian Margaliss under her top secret MANTICORE program. After Lily's defection to the Mary Celeste, these circus freaks were adapted to act as meat-shields for the resistance campaign. An unfortunate mixture of various alien DNA strands and extremely tight deadlines, Mantics are less-than-stellar representations of genetic splicing… or as Lily calls them, "works in progress." However, they are still effective combatants and can also perform simple tasks on the ship like sweeping the floors, standing guard and railing your waifus over and over again. Mantics are created in the lab and can grow in strength alongside your waifus – provided you can keep them alive. 
The Imperium
In General
Empress Celestina

The current ruler of the Imperium, and thereby pretty much the entire Prodigium Galaxy, Empress Celestina is the latest in a long line of Senu overlords. As one of only a handful of Senu in existence, Celestina is uniquely equipped with immense psychic potential, having been handpicked by the former Empress, Kasidora, to succeed her. Despite the fearsome potential of her race, Celestina is somewhat of a reluctant ruler. Being only 18 years old by Senu standards, her lack of experience in dealing with galactic matters sometimes shows. Her dislike of politics and youthful naivete, combined with an unusually docile demeanor has made her popular among the populace. Mind you, after Kasidora's iron-fisted regime, the relatively lax Celestina is a welcome sigh of relief for the oppressed many. That's not to say she will always be a benevolent ruler, as the Coven of Nine still holds Celestina's strings, seeking to manipulate her from the shadows for their own gain. Only one of pure heart can withstand their machinations and lead Prodigium into a new era of prosperity.
Lady Kasidora

Lady Kasidora is the former Empress of the Imperium, having abdicated the throne to Celestina only a few years ago due to Senu tradition – not because she wanted to, of course. Kasidora's rule ushered in a new era of stability for the Imperium, but also came at a heavy cost. Her hard-line stance against pretty much anything fun pissed off the vast majority of the populace. She was responsible for the Great AI Purge, the outlawing of designer drugs, the destruction of the Vanneran home-world (among many others) and also the decommissioning of Nü Vegas and the resulting pornography bans. She currently acts as Celestina's advisor and confidant, manipulating the young Empress behind-the-scenes.
Lord Azzorion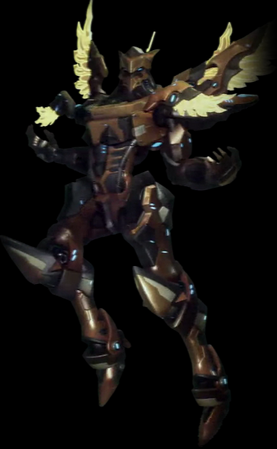 A Senu of significant power, Azzorion is an accomplished warrior and adept politician. He serves the Empress unflinchingly, and is usually only dispatched to handle matters of a critical nature. Like all Senu, he possesses psychic potential, and like all Senu, he's not shy about using it to influence others. Rumors in the Imperium Senate are abound that Azzorion has very particular "desires" that would cause a massive scandal if they were to be made public. For this reason, he has been more reclusive as of late, rarely making any public appearances alongside Celestina.
Other Characters
Fowchan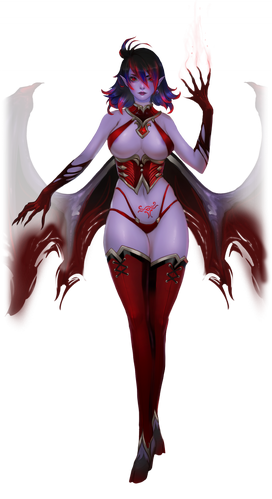 Legends tell of an ancient infernal succubus capable of carnal destruction on a cataclysmic scale, bending reality itself as she literally sucks it out of her victims. Though these were dismissed as foolish fap tales for centuries, the newly established cult of FOW have taken it upon themselves to free the demon, hoping she will bring with her the greatest fuckathon of all time. However, they have no idea of the true power they will unleash upon the Prodigium Galaxy.
The Huntress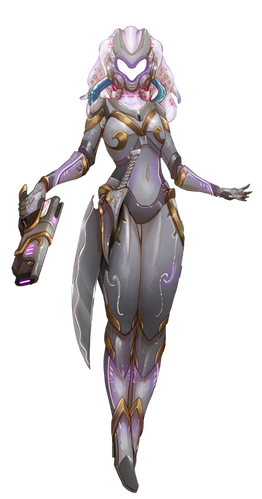 Known only as "The Huntress" this terrifying cephalopod is the confirmed #1 ranked bounty hunter in the Prodigium Galaxy with more than 70 confirmed collections. Her rates are higher than Dallick after a night of shore leave. She will work for anyone that has a potential mark dangerous enough to satisfy her primal urge to hunt. Her combat suit, weapons, and ship are all one-of-a-kind instruments of destruction, and she is practically unstoppable with all of them at her disposal. Not only has she never failed to complete a mission, she seems to revel in pursuing targets that others would consider suicidal to even attempt. Though she is shrouded in mystery, it has been observed that she follows the honor code of her species. Should she ever be defeated in combat, she would be required to swear a life debt to the one that bests her. Some say that she actually pursues these challenges in hopes of finding the one that will bring an end to her reign of terror. Others think the thrill of the hunt itself is what gives her pleasure. Unfortunately, the crew of the Mary Celeste will soon find the answer.
General Elizabeth Blythe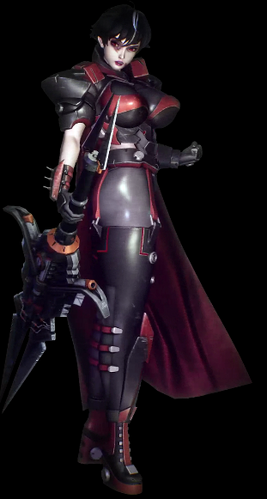 General Elizabeth Blythe is the undisputed greatest military mind (and body) that the Solar Military Academy ever managed to produce. Devout in the belief that her species deserves their place in Prodigium and should never bend to the will of the Imperium, she earned a terrifying reputation for herself as the guardian angel of the Solar civilization. Blythe's meticulous and brutal efficiency in battle as both a warrior and leader made her legendary throughout the galaxy. However, her passion for combat and uncompromising nature eventually caused her downfall, as she was betrayed by those that feared her power. Though she survived, it was not unscathed. Reborn in cybernetic augmentation and fueled by immense hatred, she believes the Imperium must be eradicated along with the weakness in her own species. Rumor has it that Blythe now seeks to use highly illegal research in order to create super weapons that will be the instruments of her revenge. Just how far she is willing to take her campaign of vengeance remains to be seen.
HARR-E
Blythe's sarcastic, but loyal robot companion who assists his general on her crusade against the Imperium.
Senator Erark
A high-ranking, well-connected Laancunian politician with a hedonistic past.
Dread Lord Tibold
The notorious Teelee pirate warlord and commander of the Dread Fleet, the largest formation of pirate ships in the Prodigium Galaxy. He was able to successfully wrestle command of the Dread Fleet from its previous commander, Pirate Queen Va'raz Killision the Red. Tibold was the previous owner of DEMI and his prized ship, the Phoenix, until both of them were stolen by The Captain. He has since vowed to get his revenge on the crew of the Mary Celeste.