YMMV •

Radar

•

Quotes

• (
Funny

•

Heartwarming

•

Awesome

) •
Fridge

•

Characters

•

Fanfic Recs

•

Nightmare Fuel

•
Shout Out

•

Plot

•

Tear Jerker

•
Headscratchers

•
Trivia •

WMG

•

Recap

•
Ho Yay

•
Image Links

•

Memes

•

Haiku

•

Laconic

•
Source

•

Setting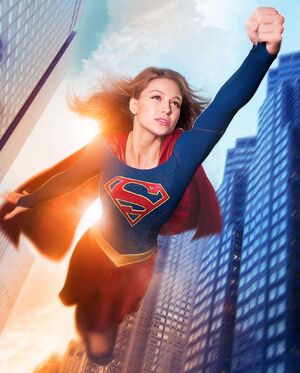 Supergirl is a 2015 live-action television series which debuted on CBS and has run on The CW since its second season.
In the vast DC Comics Universe of superheroes, the rich mythology of Superman and the planet Krypton is perhaps the most famous and instantly recognizable. Enter Supergirl! Born on the doomed planet Krypton, the preteen Kara escaped at the same time as the infant Kal-El, but didn't arrive on Earth until many years later after being lost in the Phantom Zone. Now at age 24, living in National City and working as an assistant for Catco Worldwide Media mogul Cat Grant (Calista Flockhart), Kara (Melissa Benoist) has spent so many years trying to fit in that she forgot to ever stand out. All that changes when she decides to embrace her superhuman abilities and become the hero she was always destined to be. With the help of Daily Planet photographer James Olsen (Mehcad Brooks), her foster sister Alex (Chyler Leigh), and the research of the super-secret, off-the-grid Department of Extra-Normal Operations (DEO) and its head, Hank Henshaw (David Harewood), who are tasked with keeping the Earth safe from aliens, Kara takes to the skies to protect her world.[1]
Originally airing on CBS in 2015, Supergirl was conceived as separate from the rest of the Arrowverse but confirmed, via a crossover with The Flash, to be set in the same multiverse, with Kara living on Earth-38. When the show moved to The CW for its second season, starting with Invasion!, it began participating in the Arrowverse's yearly Crisis Crossovers (though Invasion! was a Red Skies Crossover for this show). In Crisis on Infinite Earths, both Earth-1 and Earth-38 were destroyed, merged into a new reality called Earth-Prime.
A Spin-Off, Superman & Lois, premiered in Feburary 2021. It focuses on... well guess, its first season airing alongside Supergirl‍'‍s sixth and final season. After 126 episodes, the show came to an end on November 9th 2021.
Tropes used in Supergirl include: