Wiki Targeted (Entertainment)
Play Sound
Villains
Oboro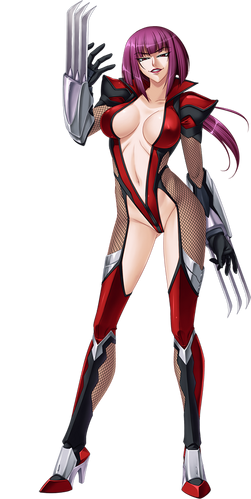 Oboro is the Arch Enemy of Asagi, subordinate to Edwin Black who is also her creator in a sense, and serves as the Big Bad of the series, though she's but one link in the evildoer chain.
You!: Gives one to Furst when he

attempts to double-cross her.
Edwin Black

Edwin Black is the main, overarching series antagonist, with deep ties to Oboro and the criminal underworld (particularly the supernatural side). He is also a vampire, and while he bears many classic traits of one, his powers are hinted to be much broader.
Ingrid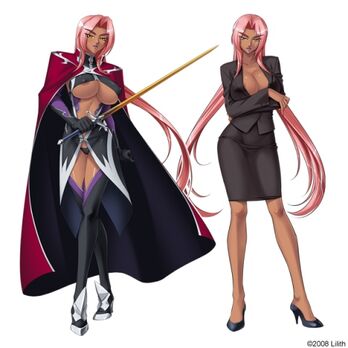 Edwin Black's right hand woman, the Makai Kishin Ingrid, or "Hell Knight" Ingrid is utterly loyal to her master, not to mention has barely concealed feelings for her boss. Ingrid serves as the aid of Edwin Black, and is almost always by his side as a secretary and a guard. She is cold to everyone apart from Edwin Black and is not on good terms with Oboro, one of Nomad's executives.
She's a descendant of a royal class demon known as hell knights. She looks no different to a human being but boasts strength that far outweighs a human's. Her weapon of choice is long-sword that has the ability to ignite her foes on fire if they are cut by it.
Kiryuu Sabato

The Chief-Scientist for Edwin Black's organization, NOMAD. Originally a human scientist who study the "dark arts", he was killed by Murasaki, but was revived as a demon thanks to his underlings. Kiryuu now plans to overthrow Black for leadership.
Nabelius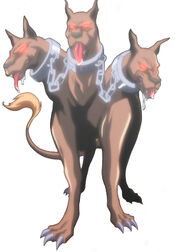 A Cerberus-like demon bio-weapon created by Kiryuu using Edwin Black's DNA.The creature only appears exclusively in the Hell Knight Ingrid OVA. Is most likely the only one of its kind produced, due to having no other appearances in the canon.
Saya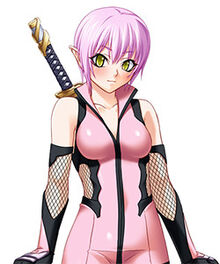 Originally one of several Taimanins that went missing while investigating Tokyo Kingdom, she was apparently captured and turned into a Super Soldier by Oboro's clone. She now serves the clone, and helps Oboro in her plans to mentally break Asagi and Sakura so they can turn them into living weapons just like her.
Power Lady
The muscle-bound champion of the Chaos Arena.
Kaliya/Snake Lady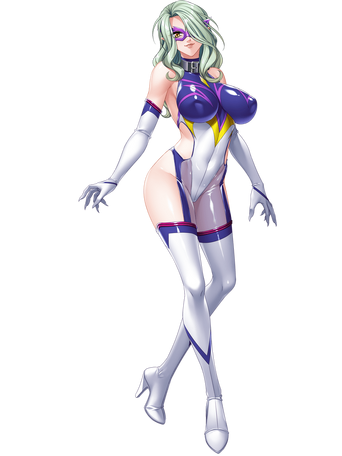 Another fighteress from the Chaos Arena and a henchwoman for Oboro.
In the Taimanin Asagi ZERO timeline, she is the proprietress of the Chaos Arena and is one of Edwin Black's lieutenants. Additionally, her human appearance is only a disguise and she is actually one of the three chiefs of the Naga (snake demons) with powers that rival Edwin Black's.
Fukumen Sugata no Onna Senshi
A cat-themed fighter from the Chaos Arena.
Furst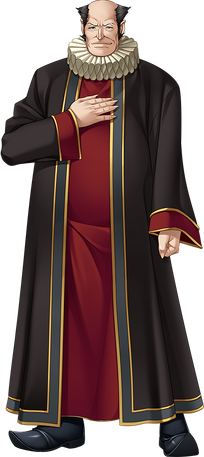 A Mad Scientist and former mentor to Kiryuu. In Taimanin Asagi 3, he takes over his former student's position as the chief scientist of NOMAD after Kiryuu's capture in Taimanin Murasaki. Like Kiryuu, Furst plans to overthrow Black for leadership.
Dogle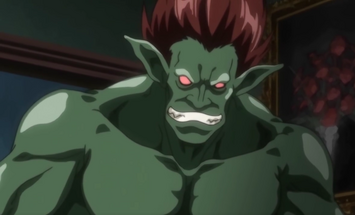 An orc who works for NOMAD. He is the leader to a horde of orcs that acts as NOMAD's "muscle". In one of the Bad Endings of Taimanin Asagi 3 and its anime OVA, Asagi was forced to marry him after she becomes a mind broken Sex Slave for the evil organization, and together the two have an orc child name Big.
Real

The operator of the most popular brothel in Yomihara, Under Eden. He is also the leader of a major prostitution ring, that is also named Under Eden. His brothel specializes in slave prostitutes, where the woman are forced to undergo body modifications to increase sexual pleasure and have magical brands placed on their tongues (lower abdominal in the OVA) that force them to obey his orders. These brands can cause pain, or in the worse case scenario, can cause the branded's limbs to exploded. He is also the one responsible for the disappearance of Shiranui Mizuki. In the bad ending routes it is revealed that he is Yazaki's brother.
Muneichi Yazaki

The Chief Secretary of Civilian Affairs of the political party in control of the country. Influential in the criminal underground world of humans and demons. A corrupt politician that has been known to do secret under-the-table dealings with the demons. He is also a VIP customer for the Under Eden brothel. It is later revealed that Real is his brother.
Abusive Parents:

In a non-canon bad ending of TY1, the guy is perfectly fine with selling his own daughter(s) that he had with Shiranui and Yukikaze into sex slavery once they become of age.

Adapted Out: Of the manga adaptation of Taimanin Yukikaze. In the manga's story, his brother was the sole mastermind to the False-Flag Operation to lured Yukikaze and Rinko into a trap.
Arch Enemy: To Yukikaze. Although he see himself as one for Asagi.
Batman Gambit:

Although he can be rather incompetent in the canon route of TY, there is no denying that he was able to effectively pull this off against the Taimanin. All he had to do was to leak info on Shiranui's whereabouts in order to lure Yukikaze and Rinko specifically to Yomihara. He also seem to be aware that Asagi and other Taimanin would overestimate Yukikaze and Rinko's abilities to not personally check up on the two. His plan only really failed because Only Sane Man Tatsurou was able to convince Asagi to take a deeper look into the sketchy mission.

Big Bad Ensemble: Along with Real, his brother, in Taimanin Yukikaze.
Big Bad Wannabe: See himself main villain toward the Taimanin, however it was only through Real's manipulation were Yukikaze and Rinko captured. He later pales in comparison to the villains of Taimanin Yukikaze 2, and he gets killed in the sequel's Action Prologue.
Corrupt Politician: Pretty much his entire shtick.
Cyborg: His jaw is replaced with a mechanical one after Yukikaze kicked his original so hard that it did permanent damage.
Demoted to Extra: Goes from being the secondary antagonist of TY1, to being only an extremely minor villain in its sequel. He is also completely removed from the manga adaptation of Taimanin Yukikaze.
Dirty Coward: Was only willing to confront Yukikaze, after Real placed a Slave Brand on Yukikaze, forcing Yukikaze to obey all of Real's orders.
Even Evil Has Loved Ones: If nothing else, he get along with his brother, Real, even if both them are complete bastards.
Fat Bastard: Like his brother, he has a noticeable pot belly.
Gonk: The guy is arguably uglier than the demon villains on this list.
Harmless Villain: Even with all his political power, he is no real threat to the Taimanins. Yukikaze and Rinko chose to spare him in the Action Prologue because of this. The only reason he was able to have his way with Yukikaze in the Bad Ending Route(s) and in the OVA was because of Real.

Not-So-Harmless Villain: That being said, he still does many deplorable things to Yukikaze when she was forced to work for Under Eden. In the Bad Ending Route(s) it revealed that he arranged for Yukikaze and Rinko to be sent to Under Eden. However, in the canon route, his plan failed before it even began.

I Have You Now, My Pretty: Yukikaze tends to be his favorite target.
Mayfly–December Romance:

In the non-canon Fallen Yukikaze, where he formed a relationship with the high-school aged Yukikaze after she has mind broken by her experience at Under Eden. The age gap is even wider than Real and Rinko.

Non-Action Guy: Justified, seeing as he is a normal human.
Polyamory:

In the Fallen Yukikaze route in TY, both Shiranui and Yukikaze becomes his mistresses/slaves.

Revenge: Wants revenge on Yukikaze, and to a lesser extend Rinko and Tatsurou, for ruining the meeting he was having with a group of demons during the prologue of the story.
Smug Snake: Sees himself as Asagi's Arch Enemy, even though that position belongs to

the Fake

Oboro and Edwin Black.
Starter Villain: While he was part of a Big Bad Ensemble with Real in TY1, he only serves as the opening villain in TY2.
Sudden Sequel Death Syndrome: In TY2, after finding out that Yazaki was the one who set them up in TY1 on a False-Flag Operation, Yukikaze and Rinko track him down at an airport and assassinate him in the game's Action Prologue.
Ugly Guy, Hot Wife: He is a Gonk

and his potential mistresses, Shiranui and Yukikaze, are much more attractive than him. Remember, he had to have these two women brainwashed to be with them, and those "relationships" are non-canon anyways.

Unholy Matrimony:

Forced Shiranui to be his brainwashed mistress and Yukikaze can also suffer the same fate if the non-canon Fallen Yukikaze ending is achieved in TY1.

Villainous Crush: On Yukikaze.
Villains Want Mercy: After Yukikaze and Rinko corner him in TY2's Action Prologue, Yazaki desperately begs for his life, first offering the millions of dollars that he was trying to run away with, and then information about Shiranui's whereabouts. Yukikaze responds by shooting him dead.
Slaver Zokuto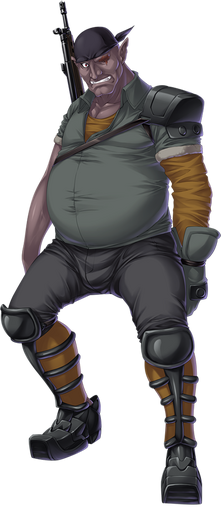 A slaver who engages in human trafficking. A member of the demon race who cooperates with the Taimanin in exchange for not being persecuted. He was commissioned by Asagi to smuggle Yukikaze and Rinko past the borders of Yomihara, and have the young Taimanins disguise themselves as prostitutes. However, he planned to betray them by selling them out to Real.
Unnamed Female Slaver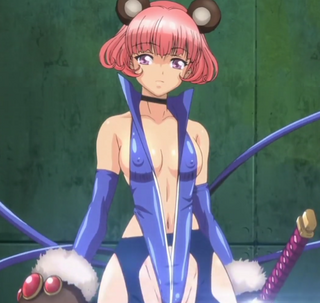 Another Slaver like Zokuto who engages in human trafficking. She is the person who ultimately subdue and captured Shiranui during her mission in Yomihara. After capturing the Taimanin, she sold Shiranui to Under Eden, thus kick starting the events of Taimanin Yukikaze 1 and 2. So far she has only appeared in the Taimanin Yukikaze OVA bonus episode.
Shigeru Washizu

The headmaster of Seishuu Academy and uncle to Muneichi and Real. He is a secretly demon that forces both unsuspecting students and staff into sex slavery. He has some connection to Shiranui's disappearance.
Ryuji Kuroi

He was introduced as a third year student at Seishuu Academy who is a part of the scholarship department. He is stated to be a delinquent and is apparently related to the school's headmaster, Shigeru Washizu. During the advent of Taimanin Yukikaze 2, Rinko (who was undercover at time) was assigned to be his maid, as students from the scholarship department are given a maid or a butler. It is later revealed that he is in fact an extremely powerful demon and the true main antagonist in the Yukikaze series.
Kazuma Tendo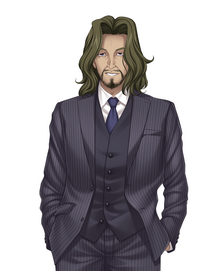 The leader of the House of Greed, a criminal organization that specializes in human trafficking.
Felicia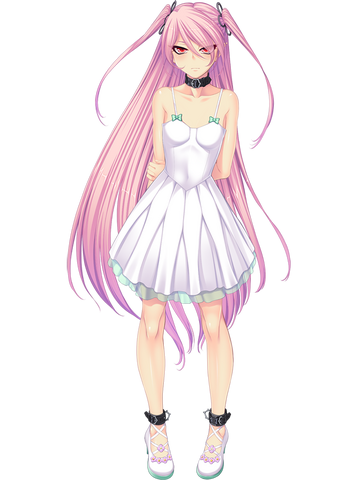 A scythe-wielding demon girl that works for the House of Greed. It would later be revealed in Taimanin Kurenai that she is the daughter of Edwin Black and the biological sister of Kurenai.
The Mysterious Man
The ringleader to group of demons responsible for the disappearances of many married ex-Taimanin. In Mama wa Taimanin it is revealed that he has been kidnapping former Taimanin to use them as part his Super Breeding Program. His plan is to turn the women he captured into mind broken Baby Factories due to their Superpowerful Genetics. He believe he can use these retired Taimanin as mean to create a new generation of powerful demons.
Byg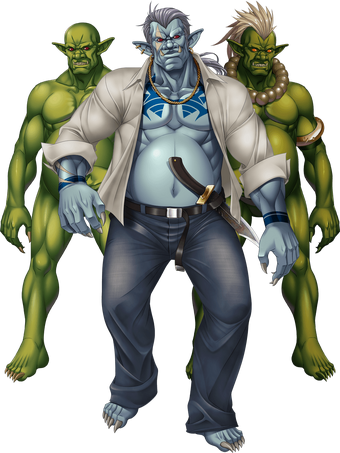 An orc who is the head of a group of criminals headquartered in Shinminato-ku. After Asagi gives him and his gang a good hiding in ZERO's Action Prologue, they become her underlings, with Byg working as her information dealer.
Big Gogo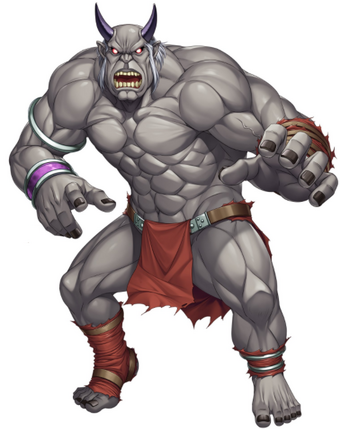 Big Gogo, or just Gogo for short, is an ogre bondsman who fights in the Chaos Arena. Until facing Sakura, he boasted four straight wins and later became well-known for defeating female contestants.
Toyo Momochi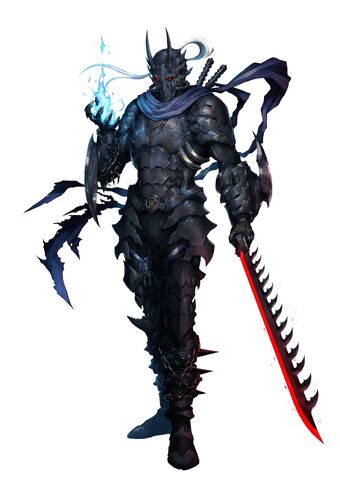 Toyo was a former Taimanin of the Igawa clan turned traitor who actually mentored Asagi in her younger days in melee combat. His exact Ninja Art is unknown. He's an Asian supremacist terrorist in league with NOMAD (mostly because they share the same foes). His main goal seem to be that he wants to humiliate the Chinese Federation and United Federal States and break their influence over Japan and other Asian countries. He also has ambitions of being their new overlord of Asia. Toyo is clad in all-black ninja armor with spikes on it. He wields steel chains and a long sword named "Abara".
Ou-chan 
Giant Mook: When introduced, he is almost twice as tall as Oboro and other orcs.
A Worldwide Punomenon: Oboro refers to him as a "big" fan of Asagi, referring to him being a literal giant.
Your Size May Vary: He is a giant, but how giant usually varies. When he is introduced he is almost twice as tall as Oboro, but when he fucks Asagi the difference does not seem to be that great.