YMMV •

Radar

•

Quotes

• (
Funny •

Heartwarming •

Awesome) •
Fridge •

Characters

•

Fanfic Recs

•

Nightmare Fuel

•
Shout Out

•

Plot

•

Tear Jerker

•
Headscratchers

•
Trivia •

WMG

•

Recap

•
Ho Yay

•
Image Links

•

Memes

•

Haiku

•

Laconic

•
Source

•

Setting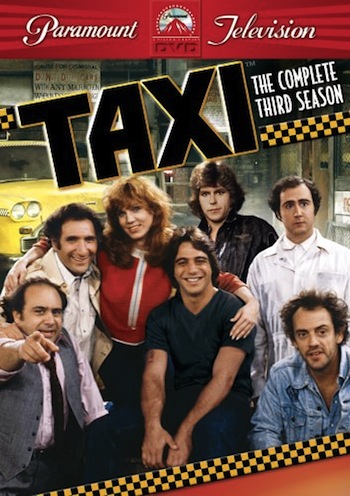 Elaine Nardo: I'm only going to be working here part-time. I'm not really a taxi driver.



Alex Rieger

: Oh yeah, I know. We're all part-time here. You see that guy over there? He's an actor. The guy on the phone, he's a prize fighter. This lady over here, she's a beautician. The man behind her, he's a writer. Me? I'm a cab driver. I'm the only cab driver in this place.

This seminal Work Com, which was co-created by James L. Brooks and ran from 1978-83, was set in the grungy headquarters of the New York City-based Sunshine Cab Company.
The cast included:
Divorced everyman Alex Reiger (Judd Hirsch).
Bombshell single-mom/art-gallery receptionist Elaine Nardo (Marilu Henner).
Would-be actor Bobby Wheeler (Jeff Conaway).
Perennially losing (and possibly brain-damaged) boxer Tony Banta (Tony Danza).
Wide-eyed immigrant mechanic Latka Gravas (Andy Kaufman).
60's uber-burnout "Reverend" Jim Ignatowski (Christopher Lloyd).
Their vile toad of a dispatcher Louie De Palma (Danny DeVito).
Extremely well-acted and written, the show remains a high point in American sitcom history. As listed below, if you want to see just about any standard sitcom Trope done right, this is the place to come.
If you're looking for the Luc Besson film, you'd want this link.
---
This Show Provides Examples Of:
 Alex: Jim, why do you carry a styptic pencil behind your ear?

Jim: In light of what just happened, the question is: why don't you?
| | | |
| --- | --- | --- |
| |  Louie: Only one guy ever escaped this garage.....and that's James Caan! And he'll be back! | |
 Alex: Hey, hey, hey, I saw that! What did you put in his coffee?

Jim: Well... it's either a tranqualizer or a chiclet.

(In the middle of giving out cab assignments, Louie falls asleep, snoring loudly.)

Alex: I think we can rule out a chiclet.
 Alex: Latka, what your mother and I did was indiscreet.

Latka: You mean not even indoors?
| | | |
| --- | --- | --- |
| |  Did you see it, Reiger!? It was hideous!! | |
---
"Goodnight Mr. Walters!" Grumble