YMMV •

Radar

•

Quotes

• (
Funny

•

Heartwarming

•

Awesome

) •
Fridge

•

Characters •

Fanfic Recs

•

Nightmare Fuel

•
Shout Out

•

Plot

•

Tear Jerker

•
Headscratchers

•
Trivia

•

WMG

•

Recap

•
Ho Yay

•
Image Links

•

Memes

•

Haiku

•

Laconic

•
Source

•

Setting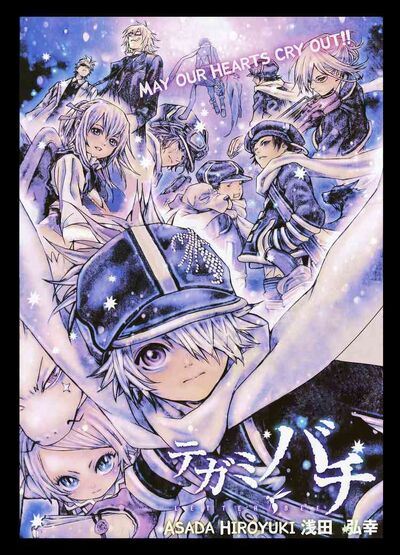 | | | |
| --- | --- | --- |
| |  English Title: Letter Bee | |

A manga by Hiroyuki Asada, Tegami Bachi is set in the world of Amberground, a land where dozens of diverse and scattered towns are connected by the Letter Bees, an elite cadre of men and women who deliver letters, packages, and occasionally even people from town to town. Based in the shining capital city of Akatsuki, the Bees tirelessly work to deliver the mail... and with it, the 'hearts' of their loved ones... to all the citizens of Amberground.
If you're an optimist, you probably think that sounds really nice.
If you're Genre Savvy, you're probably wondering why an elite cadre is needed to deliver the mail.
You see, while the above description is all technically correct, it neglects to mention that Amberground is a truly awful place to live, perpetually shrouded in darkness except for a small artificial sun over the capital and infested by gigantic, Nigh Invulnerable killer insects called Gaichuu. Gaichuu feed on the 'Hearts' of humans (not the literal organ, more like a sort of Life Force), and since a person's letters contain fragments of their 'Heart', Gaichuu are naturally drawn to large concentrations of mail. As a result, the Letter Bees have to be elite; they have the single most dangerous job in the world. To aid them, they are equipped with special weapons that allow them to harness the power of their Heart to destroy Gaichuu, and travel with partners/bodyguards called 'Dingoes' that assist them in their work, but they still don't have a terrific life expectancy.
The main story follows the adventures of Lag Seeing, a rookie Letter Bee (and former Letter) as he seeks out Gauche Suede, the Bee who saved him after his mother disappeared... and who has since disappeared himself. With his Dingo, a somewhat... unusual young lady given the name of Niche, Lag delivers letters, battles Gaichuu, hunts for the missing Gauche, and slowly but surely begins to find himself drawn into a hidden conflict that threatens to rip apart the already troubled land of Amberground.
The second season of the anime Overtook the Manga, leading to several events to play out a bit different while still telling the same story.
The Character Page can be viewed here.
---
This series shows examples of:
 "The stars... ...twinkle. But dawn never comes... ...here in the land known as Amberground. There is a government service... ...whose agents travel to the darkest lands... ...regions where the light of the man-made sun that shines on the capital... ...never reaches... It is into their care... that the people... entrust their heart. Their job is... to deliver. To deliver... ...letters."

Special Chapter: A Bee and His Dingo