Jurassic World: Dominion Dominates Fandom Wikis - The Loop
Play Sound

YMMV •

Radar

•

Quotes • (
Funny •

Heartwarming •

Awesome) •
Fridge •

Characters •

Fanfic Recs •

Nightmare Fuel

•
Shout Out

•

Plot

•

Tear Jerker •
Headscratchers •
Trivia

• WMG •

Recap

•
Ho Yay

•
Image Links

•

Memes

•

Haiku

• Laconic •
Source

•

Setting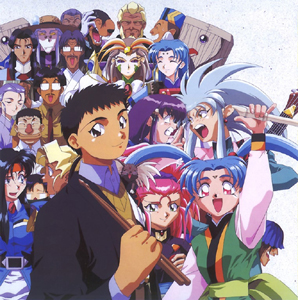 The OVA series Tenchi Muyo Ryo Ohki (simply Tenchi Muyo! in the United States) follows the life of Tenchi Masaki, the grandson of a Shinto priest who has been teaching him an ancient form of swordplay. When Tenchi steals the keys to — and intrudes upon — a sealed cave on the shrine grounds that is reputed to hold a sleeping demon, he accidentally releases Ryoko, a Space Pirate who has been kept in suspended animation there for seven centuries. This act begins a cascade of events that results in Tenchi moving from Kurashiki to the Okayama countryside, acquiring a half-dozen alien girls in an Unwanted Harem, discovering his own secret heritage, and becoming involved in events of literally cosmic proportions.
Tenchi Muyo! is a classic "harem" anime of the 90's during the second Anime wave; the franchise is an action/comedy science-fiction story that started in 1992 as a six-episode OVA series. The OVA proved so popular that an additional seven episodes were quickly added, although these ended the OVA's story on something of a Cliff Hanger.
Viewers did not lack for Tenchi material in the decade-plus between OVAs, however. In addition to the OVA, Tenchi Muyo! spawned:
Two TV series (Tenchi Universe and Tenchi in Tokyo, both of which are independent alternate continuities that share many of the same characters)
Three motion pictures (Tenchi The Movie: Tenchi Muyo in Love, Tenchi the Movie 2: The Daughter of Darkness, and Tenchi Forever: The Movie)
Several spin-off series:
At least two lines of manga by Hitoshi Okuda
Some Light Novels
Several books were also published in Japan that revealed otherwise-undisclosed background information on the original OVA timeline.
A third OVA series, which continued the original OVA's plot — and unveiled a lot of new surprises in the process — was produced in 2004. It is available in the United States (as Tenchi Muyo Ryo-Oh-Ki) thanks to Funimation, who managed to reunite most of the original North American dub cast from Tenchi in Tokyo on.
Throughout the majority of the franchise, the story revolves around the same basic core cast:
Tenchi Masaki, the Ordinary High School Student
Ryoko, the uninhibited space pirate who was defeated and imprisoned by the alien prince Yosho 700 years earlier
Ayeka, Royal Princess of Jurai
Aeka's little sister, Sasami
Ryo-Ohki, a hybrid rabbit-cat creature that turns into Ryoko's starship
Genius Ditz Mihoshi Kuramitsu of the Galaxy Police

And her partner Kiyone Makibi, in the Universe and Tokyo continuities

Washu Hakubi, The Greatest Scientific Genius in the Universe
Tenchi's grandfather Katsuhito
Tenchi's somewhat perverted widower father Nobuyuki
The characters and the exact relationships between them may vary from show to show (in the OVAs, Washu is Ryoko's mother; in the TV shows, she's a simply a partner in crime; in Pretty Sammy, she's her high school teacher), but one thing never changes — Tenchi is always getting chased by far more girls than he can handle.
---
Tropes used in Tenchi Muyo! include:
| | | |
| --- | --- | --- |
| |   Ryoko: I'm lonely. [dies] Hey Ryo-oh-ki! Where shall we go next? | |
 Ayeka: Scumbag

Kagato: Is that a term of affection, Princess, or do you just not like me?
 Ayeka (in English): Yes, but I have no money! Okay? Thank you! Yay!

Sasami (in Japanese): What's with the English all of a sudden?
↑

Or at least, the Masaki and Kamiki houses; the Tatsuki and Amaki houses don't seem to be doing anything productive.