YMMV •

Radar

•

Quotes

• (
Funny •

Heartwarming •

Awesome) •
Fridge •

Characters

•

Fanfic Recs

•

Nightmare Fuel

•
Shout Out

•

Plot

•

Tear Jerker

•
Headscratchers

•
Trivia

• WMG •

Recap

•
Ho Yay

•
Image Links

•

Memes

•

Haiku

• Laconic •
Source

•

Setting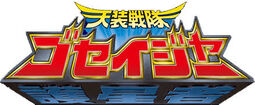 | | | |
| --- | --- | --- |
| |  "Guarding the Planet is an Angel's mission!" | |

Tensō Sentai Goseiger [1] is the 34th program in the Super Sentai series, airing from 2010 to 2011.
Long ago, humanity split off into a new group that called themselves the Gosei Angels. These Angels reside in the Gosei World, and can travel between our world and the Gosei World via an upside down spire called the Tower of Heaven. Through the power of the Gosei Cards, these Angels protect mankind in secret. One day, the Tower of Heaven is destroyed by the Warstar, leaving five young angels trapped on Earth. They are Alata and Eri, a pair of Childhood Friends from the Skick Tribe; a pair of siblings, Agri and Moune from the Landick Tribe; and Hyde, the lone member of the Seaick Tribe after fellow member Magis died.
When Alata befriends a young boy named Nozomu, the Goseiger gain a friend and a Secret Keeper. This begins their mission to keep up defending the planet from the Warstar and 2 other villain groups (the Yuumajuu and the Matrintis), and finally, a fallen Gosei Angel in Burajira in while trying to find a way home.
This is the first Sentai team to debut somewhere that wasn't their own series. This is also the first Super Sentai series since Kyoryu Sentai Zyuranger to not air along side a new[2] Power Rangers series (RPM had ended the previous December and Samurai's premiere aired the day after Goseiger's finale aired.) The series is also similar to Kamen Rider Decade in terms of its main gimmick; just like Decade, the cards are an obvious tie-in to a new trading card arcade game, Super Sentai Battle Dice O.
---
The Goseigers
Warstar
Yumaju
Matrintis
Brajira
---
 Alata: "Skick Power of the Storms: Gosei Red!"

Eri: "Skick Power of the Breeze[5]: Gosei Pink!"

Agri: "Landick Power of the Stone: Gosei Black!"

Moune: "Landick Power of the Fertility[6]: Gosei Yellow!"

Hyde: "Seaick Power of the (Surging) Waves: Gosei Blue!"

Alata: "Protecting the planet is an Angel's mission!"

All: "Tensou Sentai Goseiger!"

Knight: "Cleansing the Earth, the Knight of Destiny: Gosei Knight!"
Alata: "Miraculous Storm: Super Gosei Red!"

Eri:: "Miraculous Breeze [7]: Super Gosei Pink!"

Agri:: "Miraculous Stone: Super Gosei Black!"

Moune: "Miraculous Fertility [8]: Super Gosei Yellow!



Hyde:

: "Miraculous (Surging) Wave: Super Gosei Blue!"

—All: "The Gosei feeling is like a hot crystal! Super Goseigers!"
Tropes specific to Tensou Sentai Goseiger:
Actor Allusion: Appearing in The Movie is Sayaka Isoyama of Chouseishin Gransazer fame, whose costume already sports a large gold coin with a symbol on it, as all Sazers have.

An indirect example in Epic 26 when Alata tries to get Hyde to loosen up by doing one comedy act after another, including a Louis Yamada impression.
Both Gosei Knight (in his Groundion form) and Metal-Alice have had drill-like equipment. Maybe because they were ex-drillmates?
If Magis had survived, he would've become this Sentai's green warrior, just like his actor did six years before...

Alien Blood: Warstar members have green blood.
Ambiguously Gay: Alata during the Warstar arc up until the beginning of the Matorintis arc. He engages in many feminine tendencies, not limited to planting, house decoration, and cooking. (Though to be fair, Hyde cooks, too) He has a very cheerful disposition unlike Agri and Hyde, who are rather quiet and prideful. The show simply explains it off as a Plot Device by saying that all Skick Tribe members are naturally cheerful and bubbly. Of course, by the time the Matorintis arrived, he had made his transition to The Hero, and was changed into more of a battle-ready combatant compared to his formerly carefree attitude. (He still retained his cheerfulness, however.)
Animal Motifs: Everything centered around Gosei Knight has a lion motif, including himself
Anticlimax: Your Mileage May Vary on this one though: In Epic 15, the Goseigers finally face off against Mons Drake, who wipes the floor with them in less than a minute. Not very soon afterwards, they were able to take him down through... Heroic Resolve. In the same episode. What gives, Drake?

That's not the only thing; in the ensuing giant battle against Mons Drake, they were able to take him down, along with his spaceship, Indevader. The problem? The team's strongest mecha up to that point, Hyper Gosei Great was introduced a couple of episodes ago, against Dereputa, which makes this a case of misplaced climax rather than anti-climax.

Audible Gleam: The first Epic alone spammed it throughout.
Barrier Warrior: The Defenstorm, Defenstone and Defenstream Expand Cards.
Batman in My Basement: the entire series has our heroes living in a spare room in Nozomu's house.
BLAM Episode: Epic 7. Fits the trope to a T.
The Blind Leading the Blind: a stunning three-level affair in Epic 20. Nozomu convinces a schoolmate to approach the Gosei teens for love advice (since apparently Cupid is kind of like an Angel), and they in turn look to Prof. Amachi of all people. (Yes, he has a son and is obviously qualified, but you really wouldn't think so otherwise...)
Blu-ray: Although the Shinkenger and the Gokaiger share the team-up with them, the Goseiger are the first Sentai to appear on Blu-ray, thanks to the movies. However, TV episodes won't make it to Blu-ray until Kaizoku Sentai Gokaiger.
Body Horror: Gosei Knight's transformation into the Groundion Header.

Although, given he was originally the Groundion Header, it's more like a smaller scale case of Transforming Mecha, sorta like Datas.

Boke and Tsukkomi Routine: The Goseigers watch a pair of comedians perform such an act in Epic 26. Hyde fails to see the appeal.
Brother-Sister Team: Agri and Moune.
Brown Note: Used by a rock-music-themed Monster of the Week. It doesn't sound that bad, but it seems to affect the Skicks even more than anyone else, since sound travels through air.

Epic 23's MotW lets out mosquito noises to invoke this trope (it's the beginning of summer, when mosquito buzzing can reach maddening levels), but thanks to some additional distortion effects, it sounds like farting at times.

Bumbling Dad: Professor Amachi is a textbook example.
Bunny Ears Lawyer: Prof. Amachi is a borderline case. Ep 10 introduces Prof. Sakana, a Fish Headed Professor, who is an actual personality in Japan. Imagine if Bill Nye guest-starred on Power Rangers as "himself," using his Bill Nye the Science Guy TV persona. Uh... kinda-sorta.
Butt Monkey: Alata. What with his being sacrificed by teammates to their friends zany episodic plans every other week and all.
Catch Phrase: Eri's "It'll work out somehow~!".
Chekhov's Skill: Eri's singing and Alata's practice in using the CompreThunder card resurface in Epic 48.
Chest Blaster: Gosei Dragon on Gosei Great, the core five on Hyper Gosei Great and, most prominently, the Miracle Headers on Gosei Ultimate which, when folded in, resemble Master Head's face. Metal Alice has a rather ... suggestive variant.
Childhood Friends: Alata and Eri
Clip Show: Epic 45. Though a normal occurrence in any Sentai season, this one served a particular purpose beyond reflecting on how the heroes had grown:

Finding out the true identity of Buredoran.

Compressed Vice: In Epic 9, Eri is shown to be very messy and lazy, annoying Neat Freak Moune. This is used to set up a bonding moment that drives them to rescue the boys together, and then (even though they agree to disagree) Eri's laziness and untidiness never crop up again.
Dance Battler: Moune's fight in episode 11 combines her cheerleading with a Sparquake card to effectively short-circuit a monster.
Dancing Theme: The ending theme, "Gotcha* Goseiger", subverted this despite initial guesses. While the melody does sound like a Dancing Theme, there's very little dancing footage... if you count the Goseigers doing a Ring-Around-the-Rosie for a couple of seconds as "dancing".

It only subverted it until Epic 8, at which point the ending played it straight with "Gotcha* Goseiger TYPE 2 REMIX", which includes new visuals and the Goseigers singing and dancing with the incoming microphone toy. Though Version 1 pops up again every so often.

Dawson Casting: A tie-in booklet for Shinkenger vs Go-onger gives the Goseigers' ages, which leaves 18-year-old Kyousuke Hamao playing 21-year-old Agri and 20-year-old Kento Ono playing 24-year-old Hyde. However, the trope is played straight with 20-year-old Mikiho Niwa as 17-year-old Moune.
Dead Sidekick:

Hyde's partner, Magis, who would have been the sixth (green) member of the team but was killed in action against Kurasunīgo of 5000°C in a suicidal attack off a cliff, while at the same time Heaven's Tower was destroyed by Dereputa.

Determinator: Alata and Hyde are this, especially the former. See Epic 49.
Disc One Final Boss: The War Star are the major driving force for the first quarter of the show, with Mons Drake presenting himself as a serious threat. He's still offed by Epic 15, clearing the way for the Goseiger to move up the Sorting Algorithm of Evil.

Soon after which they're replaced by the Yumaju [12].

Which are finished off in Epic 32, just in time to be replaced by the Matrintis, effectively making them a rare case of a Disc Two Final Boss.

Even then the Matrintis are destroyed in Epic 44, making them the Disc Three Final Boss and leaving

Buredoran

as the final Big Bad.

Does This Remind You of Anything?: The "Yuumatick Power" Combination Attack in Epic 31 is basically Kinggon and Makuin in... a rather unfortunate position.
Do-It-Yourself Theme Tune: Since midway through the Warstar arc, the end theme has been sung accompanied by the Goseigers on the GoseiMic, though occasionally they go back to the old one.
Dual-Wielding: Alata's final decisive battle against D'reptor in Epic 16, where after getting serious, he pulls out both the Skick Sword and the Gosei Blaster.

Gosei Ultimate wields a pair of swords.

Early-Bird Cameo: The Goseiger appeared in Shinkenger vs. Go-onger before their series aired. Rather like Double in All Riders vs. Dai-Shocker.
Elemental Powers: Depending on what tribe a Gosei Angel is born into, he or she is born with the following powers.
Engrish: "Plasuma wave mesurment system is working now..."[13]

Not to mention the tribe names and some of the card names. While generally spelled correctly, they're made from English words (or suffixes) but go together in ways no English-speaker would ever combine them. "Skick" is first and foremost on this list.

Everything Is an iPod In The Future: Metal Alice carries around what looks like an iPad, which turns into a sword in battle.
Everything's Better with Dinosaurs: The Landick and Skick Brothers Headers include two Stock Dinosaurs, Tyranno and Ptera Headers, which are brought together for their own Finishing Move when the Skick Brothers debut in ep 9.

Although Eri and Moune don't take kindly to being associated with dinosaurs...

Everything's Better with Spinning: Toramizu uses this tactic against Gosei Knight in the latter's inaugural battle. It manages to knock him against a wall, but that was the most successful attack it really got off against him... which wasn't saying much.

There was also an earlier episode during the Warstar arc where Hyde used a spinning attack against the Warstar monster who

killed his partner

.

Evil Counterpart: Epic 42's Saroge-DT is this to Datas.
Evil Genius: Buredoran

/Brajira. He manipulated each group he was part of to gain knowledge from them (martial tactics from Warstar, magic from the Yūmajū and technology from Matrinits) in order to gain more power.

Expository Hairstyle Change: Eri, Moune and Agri, on the week Gosei Knight debuted.
Eyepatch of Power: Seaick Gosei Great.
The Fair Folk: The basis for Epic 25's Monster of the Week. Moune is nearly abducted by one.
Fan Service: Epic 11 begins Moune and several other girls doing a cheerleading sequence, including a Panty Shot. Epic 23 contains a scene where Moune and Eri lose their bikini tops while being shot into mid-air, although they're rescued by Datas and we don't see anything.
Feather Motif: Oh, so very much.
Flaming Sword: "Victory Charge" card used for Gosei Great's Finishing Move, Great Strike, ignites the Dragon Sword.
Foreshadowing: Watch the original ED sequence, with the ring-around-the-tree and the running across the bridge, then watch the finale.
Freudian Trio: While the team themselves aren't a trio, the tribes they come from fit this.

Ego: Skick Tribe
Id: Landick Tribe
Superego: Seaick Tribe

Get a Hold of Yourself, Man!: Alata punches Knight back to the side of good.

However, it made sense: Alata was trying to use good Gosei Power to drive the Dark Gosei Power out of him, one attack at a time, until it worked and GK's brainwashing was undone.

The Ghost: Nozomu's mother in episode 38.
Gratuitous English: Skick/Landick/Seaick Power, Datas Hyper, Headers, Tensouder... That's just from the premiere, mind.

The Ten Souders. Period. Gosei Knight's Leon Cellular does not apply.
| | | |
| --- | --- | --- |
| | | |