Jurassic World: Dominion Dominates Fandom Wikis - The Loop
Play Sound

YMMV •

Radar

•

Quotes

• (
Funny

•

Heartwarming •

Awesome) •
Fridge •

Characters

•

Fanfic Recs

•

Nightmare Fuel

•
Shout Out

•

Plot

•

Tear Jerker

•
Headscratchers

•
Trivia

• WMG •

Recap

•
Ho Yay

•
Image Links

•

Memes

•

Haiku

• Laconic •
Source

•

Setting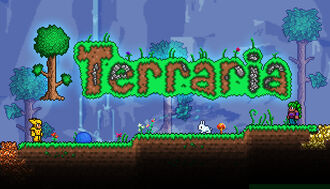 | | | |
| --- | --- | --- |
| |   Terraria is a land of adventure! A land of mystery! A land that's yours to shape, to defend and to enjoy. Your options in Terraria are limitless, are you an action gamer with an itchy trigger finger? A master builder? A collector? An explorer? There's something for everyone here. | |

Terraria (pronounced similar to "Terrarium") is a very detailed 2D Wide Open Sandbox indie game, created by Andrew "Redigit" Spinks and Jeremy "Blue" Guerrette. It was made available on Steam on May 16, 2011. As of 02/21/2012 Redigit had ceased development of the game, and version 1.1 came out on the 1st of December, 2011, making the game at least thrice as complex at it previously was. A trailer for the latest version can be found here.
Terraria focuses on exploring the gorgeous randomly generated world you're stranded in, to find resources to build a cozy home, equip yourself with armor and potions, befriend merchants, and defend your town from monsters. You start from scratch with little more than a pickaxe and some trees — and end up crafting epic-level equipment to fight massive demons, dig cave systems throughout the land, and build a fortress that can withstand full-on goblin army invasions. You can share every world you create with your friends in single-player and multiplayer, and freely visit any map with any character.
Sounds a bit familiar? Absolutely! Terraria is meant as a wonderful item-based RPG variation on some of the most popular randomly generated exploration games, particularly Minecraft. It's different in many ways, though: true to classic Metroidvanias, a strong focus is on finding upgrades to help you move around in the world better (such as accessories to let you breathe underwater) and increase your life and Mana pools. You can also end up with multiple helpful NPCs living in your homes that will sell things to you, heal you, and otherwise enhance your base through their services. Terraria features boss monsters that will challenge players who dare to summon them, and murder those who aren't ready. Finally, Terraria features a streamlined crafting system as well as many, many decorations so that you can truly make your home your own.
With the latest updates, the player now has the option of entering Hard Mode after clearing the first few basic quests. Hard Mode is triggered by challenging the boss of the Underworld, and spawns many new monsters, items, materials, bosses and a new, spreading biome into the world.
Redigit's YouTube page can be found here, which includes a teaser, a trailer, and a Let's Play of the alpha done by the creators themselves.
As of Feburary 21, 2012 Terraria is no longer in active development, although most of the development team has moved on to work on Starbound, which can be best described as Terraria In Space.
Tropes used in Terraria include:
| | | |
| --- | --- | --- |
| |   Tinkerer: I thought you'd be taller. | |
| | | |
| --- | --- | --- |
| |  Nurse:"Why are you even here? If you aren't bleeding, you don't need to be here. Get out." | |
The Arms Dealer in particular seems to be the embodiment of the trope.