Wiki Targeted (Entertainment)
Play Sound

YMMV •

Radar

•

Quotes

• (

Funny

•

Heartwarming

•
Awesome) •

Fridge

•

Characters

•

Fanfic Recs

•

Nightmare Fuel

•
Shout Out

•

Plot

•

Tear Jerker

•

Headscratchers

•
Trivia

•

WMG

•

Recap

•

Ho Yay

•

Image Links

•

Memes

•

Haiku

•

Laconic

•
Source

•

Setting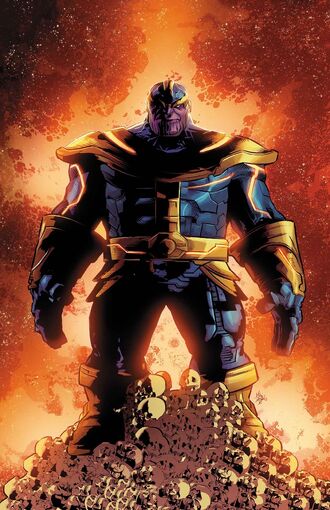 | | | |
| --- | --- | --- |
| | Am I not Thanos?! Did I not butcher the woman who gave me birth, who forced me into this hell called life? Is not the wake of my passing crimson with the blood of my enemies and allies alike?! Death is with me every second of the day! | |
| | | |
| --- | --- | --- |
| | Going out the week of San Diego Comic-Con and telling a bunch of Superhero aficionados that Thanos is Badass is kind of like walking into a Star Trek convention and announcing that Vulcans have pointy ears. No shit, Professor X, why don't you tell us something we didn't already infer telepathically just by looking at a comic book panel depicting a giant, beady-eyed muscle-bound behemoth backhanding Captain America to the turn with one hand while simultaneously head-butting a structural tear in the fabric of the universe with his wrinkly purple forehead? | |
Greetings, Terran.
As I have anticipated, you came to this article, seeking knowledge about Thanos of Titan. How predictable. As you probably have noticed, I implanted several memetic viruses that will make you browse through this website, refusing to stop, eat or sleep, until your demise or I find a use for you. But do not despair, as I, Thanos, am not without mercy. To ease your suffering, I will grant your desire and share my secrets with you. You will know the story of Thanos, the Mad Titan, servant of Mistress Death and one of the most threatening villains in Marvel Universe, as well as one of the most iconic, comparable perhaps only to Doctor Doom and Magneto.
I was born on Titan, moon of planet Saturn, home to the Titans, fraction of Eternals that left the Earth thousands of years ago. I was one of two sons of wise ruler Alars, also known as Mentor, and his wife, Sui-San. Unfortunately I was born a mutant, which condemned me with appearance closer to Deviants, the Eternals' sister race and sworn enemies. That made my life miserable, giving others reason to bully me, while my brother, Eros, was loved by all. It was some small mercy that my mutation granted me vast strength and durability, far greater than any of my kin; my ability to wield cosmic energy was likewise second-to-none.
Alone and bored, one day, at the age of eight, I killed my first victim. This was the moment that I saw my love, Mistress Death, for the first time. It became my obsession to see her again and I discovered new ways to kill and perfected already known ones, in order to achieve this goal and win her black heart. When it was finally discovered by others, I tried to kill my father and usurp his throne, but I was defeated and forced to exile.
For many years I traveled through the Universe, claiming all power within my reach. I had finally returned to Titan after my exile, and let it taste my nuclear revenge, claiming the lives of all but a bare few Titans; my mother was not one of the survivors.
When I had built a base on the Insignificant Little Blue Planet called Earth, my ship was possibly spotted by a human family, which I killed. But my father saved the still living human child and asked the god of time, Chronos, (also our ancestor) to create a weapon to fight me. The girl grew up to become known as Moondragon, and Chronos has reanimated her father into Drax The Destroyer, both of whom became my sworn enemies.
It was because of Drax that I encountered heroes of planet Earth for the first time – when I imprisoned him in my hideout on Earth, Iron Man has answered his calls for rescue. That was when Jim Starlin introduced me to the fans of Marvel Comics. In the pages of Iron Man vol. 1 #55 (February, 1973). Since then the name of Thanos, The Mad Titan, has been known and feared among Terran superheroes. It was also Earth that had created Adam Warlock, one of my greatest enemies and yet perhaps my only true friend, and had acted as a sanctuary for the Silver Surfer and Captain Marvel (not that one, mind you). It was Mar-Vell who stopped me from claiming the power of the Cosmic Cube and it was he and the Avengers who stopped me from using six the Soul Gems to destroy all of the stars in the galaxy, as a gift to Mistress Death. And it was Warlock who briefly returned from the death. I granted him to slay me in return.
I was not dead for long, however (from 1977 to 1990, as your universe measures time; mine, as you may be aware, measures time rather more slowly). I was resurrected by Mistress Death as her thrall, with increased power, on a mission to kill half of the sentient life on the Universe, in order to keep the balance between life and death, which she felt had recently tilted too far in life's direction.
Let none say that my mistress is not kind; she sought this goal so that those who remained would live lives that were not haunted by the spectres of overpopulation, starvation, and extreme environmental damage. This also guaranteed that some would survive to give her more souls under her power. The imminent universal population crash that she feared would leave none alive to die.
However, I did not want to be her mere servant, but equal. I gathered the six Soul Gems again, renaming them the Infinity Gems, as I realized they have the power to grant one omnipotence. As wielder of such power however, I found myself superior to Death, who rejected me out of spite for surpassing her, and claimed that showing affection to me would be rising above her station. Driven obsessed to impress her, I used my new Infinity Gauntlet to prove myself worthy of her love and defeating all, who tried to stop me, including the strongest forces in the Universe; even her counterpart, the embodiment of the universe's life force known as Eternity. Alas, she at last openly attacked me, and I was forced to defeat her too. I then usurped Eternity's place as personification of the Universe. It was a fatal mistake on my part, as I gave up my body to do so; I did not pay proper attention to it, and that allowed the Gauntlet to be stolen.
After that I gave up my old ways, seeking peace and even aided Adam Warlock against his evil and good sides – Magus and Goddess. For years I have been both hero and villain, until my second death, this time at the hands of Drax, when I joined Annihilus in his war against the Universe, just out of intellectual curiosity to see what would happen. I was brought back to life yet again, this time to save Death from threat of Many-Angled Ones, gods of the corrupted world known as the Cancerverse, where nothing can die. When I managed to kill all life in this Universe, Death--whom I had just saved--rejected me yet again. Enraged, I then battled Nova and Star-Lord who sacrificed themselves to keep me in this dying dimension. But I assure you, Thanos had not said his final word. They have already announced my return in the near future.
I am aware that my fame has preceded me with the Terrans' dramatizations such as in the animated series, The Silver Surfer and The Superhero Squad Show. However, while I am above being annoyed by a children's parody with the latter, the sight of my love being Bowdlerized as Lady Chaos in the former is quite irritating.
However, I am pleased that the Terran Joseph Whedon has created a supremely successful entertainment recording that has me as the true power behind that self-important fool, Loki, for his little tantrum/errand on Earth. Following this rather unexpected appearance, I quickly made a name for myself as the Bigger Bad of the first three Phases of Marvel Cinematic Universe, dubbed the Infinity Saga due to my goal of seeking the Infinity Stones. After I succeeded in acquiring all six of the Stones in Avengers: Infinity War, I was beheaded by that Asgardian brute, unable to understand the necessity of the Snap or the need to destroy the Infinity Stones. A past version of me assumed the title of the True Final Boss in Avengers: Endgame, rightfully furious at the Avengers' desire to subvert my life's work, but alas, his underestimation of the Terrans proved his undoing, dying via the power of the Stones. Alas, it seems that Earth-199999 was not worthy of understanding the gift I had given them, though my posthumous influence is still felt.
My actions in the Marvel Cinematic Universe have led to me being the Trope Namer for Thanos Ensues, though I will note that the acts of my Earth-199999 self, while ensuring that Nothing Is the Same Anymore, do not neatly fit into how you define this. Ah the ignorance of the Terran race.
Notable comics with Thanos:
Thanos Quest
The Infinity Saga:

Infinity War
Infinity Crusade
Infinity Abyss
Marvel Universe: The End

Celestial Quest
Thanos (12-issues limited series)
Thanos provides examples of: