She-Hulk Trailer Dropped - The Loop
Play Sound

YMMV •

Radar

•

Quotes • (
Funny •

Heartwarming •

Awesome) •
Fridge

•

Characters •

Fanfic Recs

•

Nightmare Fuel

•
Shout Out

•

Plot

•

Tear Jerker

•
Headscratchers •
Trivia • WMG •

Recap

•
Ho Yay

•
Image Links

•

Memes

•

Haiku

• Laconic •
Source

•

Setting
"My name is Cleveland Brown, and I am proud to be

Right back in my hometown, with my new family

There's old friends and new friends, and even a bear

Through good times and bad times, it's true love we share

And so I found a place, where everyone will know



My happy mustached face,

this is the Cleveland show

!"

*giggle*

—The Cleveland Show Theme Song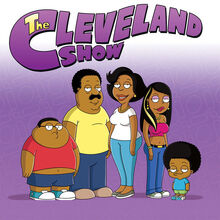 The Cleveland Show is a Family Guy Spin-Off starring bit character Cleveland Brown. The show follows Cleveland's new life in his hometown in Virginia as he remarries his old flame Donna and settles down to raise his own child, Cleveland Jr., now a morbidly obese, shy boy, and his two stepchildren, teenager Roberta and toddler Rallo.
It still takes place in the same universe as Family Guy and the characters have even crossed paths in his show on occasion. But like American Dad!, the series gradually stepped out of the shadow of its predecessors to find its own brand of humor, developing the title character as far more sympathetic than the other leads and using a more subtle comic style throughout. It has fewer cutaways, but they are still there.
The series was launched in September 2009 and ran until May of 2013 for four seasons and eighty-eight episodes. A year after it had its last episode, the Brown family moved to Quahog in Family Guy‍'‍s twelfth season.
---
Tropes used in The Cleveland Show include:
 Holt: Cool nickname. Why do they call you Freight Train?

Freight Train: 'cause I destroyed your mama on the train tracks.

Holt: (o.o)'...
 Mr. Waterman: Where's my beard?

Mrs. Waterman: Right here, dear. (Beat) (lifts the beard for his Santa suit into view)
| | | |
| --- | --- | --- |
| |  "All You Can Eat my furry ass!" | |
Also Cleveland Jr. and Kendra, Lester's morbidly obese wife.

Big Damn Movie: Parodied. See it high, or else you won't enjoy it.
Bitch in Sheep's Clothing: Arianna.
Black and Nerdy: Cleveland Junior, who is even nerdy by white standards.
Black Gal on White Guy Drama: Roberta dates Federline, a white man. Rollo (during a black supremacist phase) asks his sister why she's going out with a white guy, she answers with "Do I look like a white girl? Or an Asian girl, or a..."
Blatant Lies: "I fought off six Al Qaedas."
Brick Joke: The show has pretty good writers, and these do crop up. There's a couple in the pilot, including this gem.
 "I've never seen a black man cry before."

"I thought they just got more pissed off!"
| | | |
| --- | --- | --- |
| |  Comic Book Guy: Worst. Cameo. Ever. | |
| | | |
| --- | --- | --- |
| |  Cleveland: I've got to stop taking baths during Peter's shenanigans! | |
| | | |
| --- | --- | --- |
| |  Cleveland: Cartoon bears NEVER wear pants! | |
Also used in two jokes where Tim is sitting a strip club. He mentions that being in one is (pause) awkward since he wears no pants when Cleveland asks him why he's sitting all alone. Of course, this ties into the follow up joke where Tim gets up to give Cleveland a hug.

Hair of Gold: Kendra.
Hooker with a Heart of Gold: The escort who helped cash Junior and Rallo's Vegas winnings. She could have easily stolen the money, but she didn't.
Hypocritical Humor: The show is riddled with this style of comedy.
Idiot Savant: Junior.
I Want My Beloved to Be Happy: Rallo, after an episode of trying to supplant Cleveland out of the matrimonial bed.
I Was Quite a Looker: Kendra
Incredibly Lame Pun: Cleveland suggests that he and Donna work through an argument through roll-playing. With dinner rolls.
| | | |
| --- | --- | --- |
| |  "What the hell? He's getting his own show?!" | |
 Donna: "Cleveland, we're not Jewish."

Cleveland: (looks at camera) "No, but my writers are."
The third season premiere has a couple examples. When Cleveland visits the Griffin house, Stewie asks if his show had been cancelled. In the end, after stopping the rednecks, Peter pointed out that they would've showed the rape on his show and then did a song about it. Cleveland adds that in that case he would've "just been the black guy."
In one episode Cleveland goes into the basement and finds the writers and animators working on that very show. In a nod to the Daffy Duck cartoon "Duck Amuck", one animator briefly gives Cleveland a tail.

Missing Mom: Donna's mother, Dee Dee Tubbs.

she was a singer in a 60s girl group who gave birth to Donna at 19. Wanting to maintain her singing career, she gave Donna to her brother Kevin, aka Auntie Momma.

Mysterious Past: Kendra, apparently. She has started a few flashbacks about her past life, which looks quite glamorous (at one point she was married to a nobleman), but before she can elaborate someone always tells her to shut up.
Mythology Gag: Jr. Has a Cleveland R2-D2 toy in his room.
Negative Continuity: In "Brown History Month" it was implied Lester and Kendra are related, but in "To Live and Die in VA" the very next season, it was revealed Kendra was a guidance counselor in Lester's school and she made him drop out so they could be together.
Nerds Are Virgins: When Jr. swore to remain a virgin until marriage, Cleveland tried to scare him straight by taking him to a sci-fi convention. It backfired when Cleveland bough a ton of Worf merchandise.

According to a DVD Commentary, that episode was actually shown at a comic-con, and when Cleveland talked about where virginity would lead, and it cut to the convention hall, the audience was laughing so hard, they couldn't hear the rest of the scene.

No Celebrities Were Harmed: Federline Jones, Roberta's boyfriend, is quite similar to Kevin Federline. There is also

Uncle Kevin

/Auntie Momma, who is quite obviously an expy for Tyler Perry / Madea.
No Periods, Period: Averted with Roberta which Rallo finds this out the hard way. It then leads to a Mistaken for Dying plot until Donna explains to Rollo that women are supposed to do that.
N-Word Privileges: When rescuing Lester from an angry mob of black people in Harlem, who were using him as a pinata because he referred to one of them as "that word you [Cleveland] call Rallo all the time", Cleveland says that white guys with at least one black friend get one free use of the N-word (which was a bluff, but it did save Lester's neck).

When Rallo fell down the stairs, he accuses Cleveland of calling him "the N-word," with Cleveland saying, "What? I'm allowed to say it. Right?"

Obnoxious In-Laws: Cookie to Donna.
Obfuscating Stupidity: One of the show's recurring gags is Cleveland trying to figure out if Junior is doing this.
Older Than They Look: Kendra. During one of her flashbacks she talks about being a twenty-something in 1962. When Cleveland questions how old she is, she smugly says "Fat don't crack!"
Old Shame: In universe example; "Hot Cocoa Bang-Bang" is apparently this to Donna.
One Dialogue, Two Conversations: Cleveland attempts to pay a young boy to play with Cleveland Jr. in the car. He gets arrested for attempting to solicit sex from a minor.
Out of Character: When Terry is revealed to be gay. He's not sure himself, but Paul claims he is. Terry is the polar opposite of his former self — caring, not a sexual deviant... You can see his relations with those women as him showing off, but the sudden change is jarring as hell.
Out of Focus: Roberta, who seems to be following in the footsteps of Meg and Hayley in terms of screen time. Lampshaded on the "Cleveland Show Live" episode in which a drunken Roberta crashes the performance several times after her debate team B-story was cut.

Still in full force by the end of season 2. You could make the argument that Meg or Hayley have more screentime in half a season than Roberta has had throughout the entire series so far.
Lampshaded again at the end of "Ain't Nothin' But Mutton Bustin". After the plot, which revolved mainly around Rallo and Junior going missing, is resolved, and Cleveland remarks how glad he is that all of his kids are home, Roberta walks in for her first appearance all episode.
| | | |
| --- | --- | --- |
| |   Cleveland: Oh yeah, I have three kids... | |
Painting the Fourth Wall: The first act of the pilot takes place in Quahog, where everything is fullscreen. The rest of the Cleveland show takes place in Stoolbend, where everything is widescreen.

In Our Gang, Cleveland is told by

the leader of the Stoolbloods that if he doesn't get the cocaine, he'll kill Cleveland Jr.

in ten minutes. Guess how much running time is left.

A commercial break later, everyone took two off-screen minutes to go to the bathroom.

Parody Episode: The episode "Die Semi-Hard" is a parody of the first Die Hard movie with Cleveland in the John McClane role and the regular and supporting cast of the show filling out the rest.
Ping-Pong Naivete: Similar to Stewie, Rallo frequently switches back and forth between toddler intelligence and adult intelligence depending on the joke.
Pre-Ass-Kicking One-Liner: In the season three opener

before Peter and the Evil Monkey rescue Cleveland and friends from the rednecks

: "Leggo my negro."
Pretty Fly for a White Guy: Gabriel Friedman, AKA Federline Jones.
Pretty in Mink: A few furs, including Donna having worn one for a Blaxploitation film she did years before, and then we Rallo sees her getup, complains that he got in trouble for wearing a mink coat and underwear for a school photo.
Recycled in Space: The promo for the show features Cleveland saying his show is "Family Guy with an afro".
Refuge in Vulgarity: Rallo's second rap in "Your Show of Shows". It really says something when more than half of the song is bleeped out.
Religious Stereotype: Surprisingly averted in a MacFarlane work. Tim is a devout Christian and not a single joke has been a Take That against the Church.

Might be a subtle play on God-less Killing Machines
Played somewhat straighter with Tim's wife, Arianna, who makes a comment that Rallo cursing Santa and Christmas at a pageant is what happens "when you put a Jew in charge of a Christmas pageant."

Arianna criticizes Donna for being a single mother (something that she despises), even though her husband walked out on HER. Ironically and hypocritically, she cheated on Tim on "Cleveland Show Lived" and Donna criticizes her.

Running Gag: Usually whenever Quagmire makes a brief appearance, he's always complaining about how he never got a spin off.
 Quagmire: Wow. They really made it through the whole season. Hey Peter, can I have my own series, now?

Peter: Quagmire, you're a rapist.