YMMV •

Radar

•

Quotes

• (
Funny

•

Heartwarming

•

Awesome

) •
Fridge

•

Characters

•

Fanfic Recs

•

Nightmare Fuel

•
Shout Out

•

Plot

•

Tear Jerker

•
Headscratchers

•
Trivia •

WMG

•

Recap

•
Ho Yay

•
Image Links

•

Memes

•

Haiku

•

Laconic

•
Source

•

Setting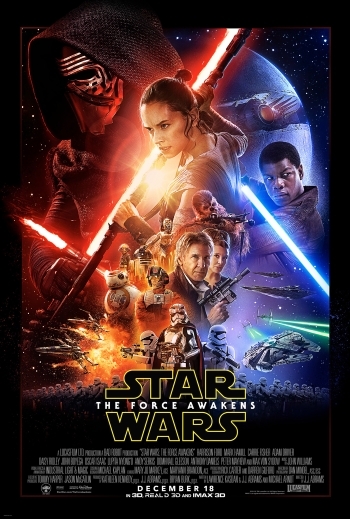 Chewie...we're home.

—Han Solo
| | | |
| --- | --- | --- |
| | Luke Skywalker has vanished. In his absence, the sinister FIRST ORDER has risen from the ashes of the Empire and will not rest until Skywalker, the last Jedi, has been destroyed. | |
| | | |
| --- | --- | --- |
| | With the support of the REPUBLIC, General Leia Organa leads a brave RESISTANCE. She is desperate to find her brother Luke and gain his help in restoring peace and justice to the galaxy. . . | |
| | | |
| --- | --- | --- |
| | Leia has sent her most daring pilot on a secret mission to Jakku, where an old ally has discovered a clue to Luke's whereabouts . . . . | |

The Force Awakens (also known as Star Wars Episode VII: The Force Awakens) is the seventh film in the Star Wars saga and the first to be released after Disney bought out LucasFilm.
Tragically, it was also the last to feature Kenny Baker as R2-D2 and Erik Bauersfield as Admiral Gial Ackbar.
Set 30 years after Return of the Jedi, the galaxy has come under siege from an Imperial remnant, the First Order. This order, led a mysterious masked man named Kylo Ren, has begun a cold war with the Resistance, competing for a map that says where to find the legendary Luke Skywalker. . . while the defected Stormtrooper Finn, the pilot Poe Dameron and the scavenger girl Rey find themselves caught in the middle of all of this mess.
Released in December of 2015, The Force Awakens was followed by The Last Jedi in 2017 and The Rise of Skywalker in 2019.
Tropes used in The Force Awakens include: