Doctor Strange in The Multiverse o Madness - The Loop
Play Sound

YMMV

•

Radar

•

Quotes

• (

Funny

•

Heartwarming

•
Awesome

) •

Fridge

•

Characters

•

Fanfic Recs

•

Nightmare Fuel

•
Shout Out

•

Plot

•

Tear Jerker

•

Headscratchers

•
Trivia

•

WMG

•

Recap •

Ho Yay

•

Image Links

•

Memes

•

Haiku

•

Laconic

•
Source

•

Setting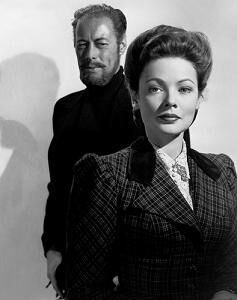 The Ghost and Mrs. Muir is a 1947 20th Century Fox film directed by Joseph Manckiewicz, adapted from the 1945 book by R. A. Dick (the pseudonym of Josephine Leslie), and starring Rex Harrison and Gene Tierney. Perhaps most notable for the score, written by Bernard Herrmann.
The Ghost And Mrs. Muir is hard to categorize: part romance, part tragedy, part supernatural, part drama, part comedy. There's loads of room for Alternative Character Interpretation, but the plot is a permutation on a common story: boy meets girl, and they fall in love.
The film was adapted as a Fantastic Comedy TV sitcom in the '60s, shifting the setting to then-contemporary Maine. Edward Mulhare starred as Captain Gregg, with Hope Lange as his mortal love interest (renamed "Carolyn Muir"). Much was made of the comedic hijinks of Captain Gregg's surviving great-nephew, the venal and cowardly Claymore Gregg (Charles Nelson Reilly). Popular character actress Reta Shaw played the part of Martha.
---
Tropes used in The Ghost and Mrs. Muir include:
Alternative Character Interpretation: Lucy may have imagined Daniel

though the ending sort of disproves this line of thought

Bittersweet Ending: Lucy finally ends up with Daniel, but she had to die first.
Cultured Badass: Daniel quotes Keats and is quite eloquent while dictating his memoirs.
Distressed Damsel: Subverted. Lucy's not helpless, but Daniel thinks she is.
Handsome Lech: Miles Fairley. Also turns out to be something of a Jerkass, considering

he's already married

. Ironically, after this secret is revealed he comes off as much more pathetic, perhaps a Casanova Wannabe
I Will Wait for You: Subverted. Oh so subverted. Though Lucy has forgotten Daniel's existence, in her later years she appears to be waiting for him. Then, on her death, he does reappear — so this may be a rare case of I Will Wait for You from a man
Jacob Marley Apparel: Subverted. Daniel appears as Lucy sees him in the portrait, though that may well have been what he was wearing when he died.

Also Lucy, who dies an old woman in her nightgown and appears thereafter a young woman in one of the dresses of her youth.

Ladykiller in Love: Daniel mentions three women mourning his death. And then he meets Lucy.
Love Before First Sight: Lucy, if one subscribes to her Alternative Character Interpretation
Mentor Occupational Hazard: The mentor's already dead!
The Mourning After: Invoked, averted, subverted.
Never Suicide: It's a point of honor with Daniel that he didn't kill himself. Not that what actually killed him is more noble.
Raven Hair, Ivory Skin: Lucy (though she does still have three freckles). This was the favored beauty-type of The Edwardian Era and the late 1940s.