Jurassic World: Dominion Dominates Fandom Wikis - The Loop
Play Sound

YMMV •

Radar

•

Quotes

• (
Funny

•

Heartwarming

•

Awesome

) •
Fridge

•

Characters •

Fanfic Recs

•

Nightmare Fuel •
Shout Out

•

Plot

•

Tear Jerker

•
Headscratchers

•
Trivia • WMG •

Recap

•
Ho Yay

•
Image Links

•

Memes

•

Haiku

•

Laconic

•
Source

•

Setting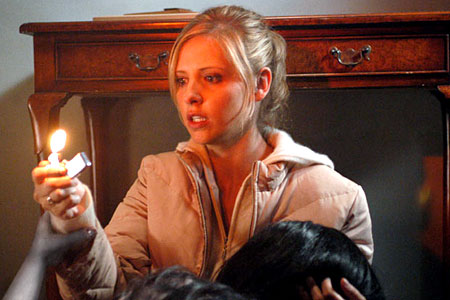 Note: This page is for the American series of films only. For the Japanese series of films, see Juon.
The Grudge is the 2004 American remake of the Japanese film Juon: The Grudge (although it contains references to other films in the Ju-on series). The film is the first installment in the American horror film series The Grudge. The film was released in North America on October 22, 2004 by Columbia Pictures, and is directed by Takashi Shimizu (director of the original series) while Sam Raimi produced and Stephen Susco scripted. In the same tradition as the original series, the plot of the film is told through a non-linear sequence of events and includes several intersecting subplots. The film has spawned two sequels: The Grudge 2 (which was released on October 13, 2006) and The Grudge 3 (released direct-to-DVD on May 12, 2009, after having the original release date pushed back), this time directed by Toby Wilkins with Shimizu as executive producer. Also, a fourth film is planned (with Shimizu supervising), possibly to be released in cinemas in 2012, and may be shot in 3D.
There is also a collection of short films, entitled Tales of the Grudge, which were used to promote the second film. These shorts are included on the Director's Cut edition of The Grudge 2 DVD.
---
These movies contain examples of:
 Lisa: You should have said something.

Max: Gee, I wish I had. Oh, wait, I did, but you were too busy fucking Andy all over the goddamn building to listen to me.