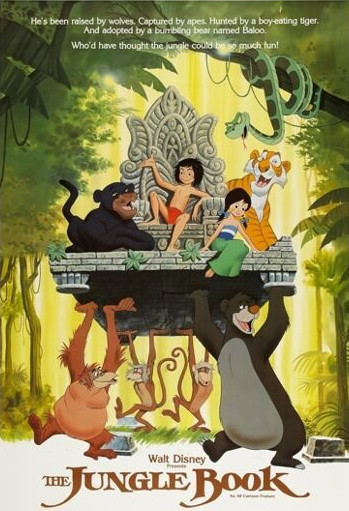 "Here's the novel. Now the first thing I want you to do is not read it."

—Walt Disney to his writing staff

A 1967 Disney Animated Canon feature film.
Based on a collection of stories of the same name published around 1893 by Rudyard Kipling, Disney found The Jungle Book and loved at least some of its ideas, so they chose it for one of their Animated Adaptations. The result was and is widely considered a great Disney film, the best and perhaps most original animated Disney film of the 1960s. That said, this adaptation of The Jungle Book was one of the greatest cases of Adaptation Displacement in history, so great a case that Disney felt free to use some of Mowgli's friends and foes and rivals far, far away from the books and jungles where they were conceived, and so it considers them its own.
One of Disney's most publicized features, the film spawned two Animated Series Spin-Offs: Tale Spin, an Anthropomorphic Shift Animated Series that puts three of the main characters from Disney's version of The Jungle Book into an Alternate Continuity, and Jungle Cubs, which focuses on the infant lives of the animal residents of the film. The Jungle Book also received its inevitable sequel titled The Jungle Book 2.
Also notable for being the last Disney film made while Walt Disney was alive (although not the last he worked on; that would be The Aristocats.)
---
 Bagheera: The jungle is not the place for him.

Baloo: I grew up in the jungle. Take a look at me!

Bagheera: Yes, just look at yourself! Look at that eye!
 Bagheera: But Shere Khan the tiger! He's sure to pick up the boy's trail!

Hathi: Shere Khan? Nonsense, old boy. Shere Khan isn't within miles of here!

Shere Khan: (in the brush behind them) (laughs)
| | | |
| --- | --- | --- |
| |  Shere Khan: I'll kill you for this! | |
Also implied again in the sequel, this time on heckling vulture Lucky:
 Baloo: (furious) She did that on purpose!

Bagheera: (smiling) Obviously.
 Baloo: I'll learn him all I know!

Bagheera: Well, that shouldn't take too long.
Stock Footage: The scene where Mowgli is licked by the two wolves uses the same animation sequence from The Sword in the Stone where Wart gets licked by Tiger and Talbot, the castle dogs. Shere Khan also spends some time sneakily stalking a deer whose death had already traumatized a generation of Disney Kids. (Thanks again, Bambi). Various shots were also recycled within the movie, chiefly those involving the elephants and Kaa.
Super-Persistent Predator: Played with and averted. Shere Khan tracks Mowgli all throughout the jungle in both movies, but both times he is out to kill him for being human rather than hunting him for food. Meanwhile, Kaa (who is hunting for food) only chances upon the main characters and quits pursuing them once they prove to be more trouble than they're worth.
| | | |
| --- | --- | --- |
| |  Kaa: If I never seen that skinny little shrimp, it'll be too soon. | |
Tempting Fate: Mowgli does this a lot. The most obvious example: Kaa first appears immediately after Mowgli tells Bagheera "I can take care of myself", and he nearly gets himself (and Bagheera) killed.
| | | |
| --- | --- | --- |
| |  Baloo: Yessir, nothin' or nobody's gonna come between us again! (Cue Shanti) | |
Tickle Torture: First Mowgli on Baloo. Later, when King Louie is holding up a section of the ruins, Baloo tickles him. An accidental example occurs when Shere Khan tries to pat Kaa down.
Too Dumb to Live: Mowgli to an extent for aforementioned reasons.

Lucky in the sequel is a brainless Screwy Squirrel who spends the majority of his role taunting Shere Khan over his defeat at the hands of Mowgli as up close as possible inadvertently giving him directions to the mancub's location in the process (before falling victim to a rather nasty beating).

Tranquil Fury: Disney picked George Sanders specifically for his ability to give Shere Khan a sinister yet simultaneously swave and gentlemanly demeanor. He finally loses his cool during the climax, if still more in the form of a haughty snit fit than an outright Villainous Breakdown.
Villain Ball: Kaa twice over was nearly successful in making a snack out of Mowgli, his tendancy for aloud and attention grabbing Evil Gloating or catchy Villain Songs always foils his plans however.
Villain Song: "Trust in Me (The Python's Song)".
Weak-Willed: Mowgli and Shanti are both easy victims for Kaa (this is ironically in contrast to the original novel where Mowgli was the only one resistant to Kaa's hypnotic dance).
What Song Was This Again?: "Bear Necessities", having a pun-based title, really doesn't translate well. In the Swedish version, the gist of the song is the same, but the pun is replaced by a different bear-related pun. The French version is entirely punless, as is the German version, whose title translates as something like "Let's try it the cozy way".
With Catlike Tread: The elephants searching for the lost man-cub.
| | | |
| --- | --- | --- |
| |   Shere Khan: Element of surprise? Oh, I say... (laughs) | |
 Bagheera: And just how do you think he (Mowgli) will survive?

Baloo: How do you think he will... What do you mean how do you think he... He's with me, ain't he? And I'll learn him all I know.

Bagheera: Oh? That shouldn't take long.
---
Affably Evil: Emphasized even more so with the show, where both Shere Khan and Kaa were friends with Baloo and the others in their early life (if still somewhat antagonistic). This is emphasized in a darkly comic moment in which young Kaa snatches a small bird, seemingly set on devouring it, instead pleasantly greeting it good morning before letting it go, having already had a large meal (revealing a large bulge in his tail as he slithers off).
| | | |
| --- | --- | --- |
| |  Kaa: 'Tis good to eat, but 'tis better to have eaten. | |
Butt Monkey / The Chew Toy / The Woobie: Kaa.
Continuity Nod: Several, including a few in the intro. Most obvious are the ruins where the cubs hang out, which are the same ruins Louie and the monkeys rule over in the movie - the biggest one might be an episode where Louie finds out he's destined to be king of the jungle, and learns he has what it takes to be the just, kind ruler that everyone needs someday. Ironically...

It should be mentioned that Louie is often referred to as a "Prince" in the first season, which seemed to imply that he was meant to be king from the beginning. However, in the second season this is completely ignored in favor of the whole monkey prophecy thing.

Foregone Conclusion: The main characters' friendship peters out and dies - they all end up being not-so-close, while Shere Khan and Kaa take places as more menacing predators in the jungle and become entirely estranged from the rest.
Four-Temperament Ensemble: Baloo is phlegmatic, Bagheera is melancholic, Shere Khan is choleric, Louie is sanguine. Hathi and Kaa qualify as supine.
Jerkass/Jerk with a Heart of Gold: Shere Khan, depending on the episode.
Not Even Bothering with the Accent: Bagheera, Shere Khan and Hathi all have American accents in the show, this is made all the more jarring due to "Born To Be Wild" replicating their original British voices for their adult forms.
Only Sane Man / Closer to Earth: Bagheera, as the voice of reason possibly even more so than in the movies.
Running Gag: While he does so once in the first movie, this show really started the "Bagheera falls into a body of water" gag, which happens almost Once an Episode, that was used three times in the sequel.

The two ever-hungry vultures Arthur and Cecil always end up beaten up, crushed, mauled etc while attempting to make a meal out of the main characters.

Spinoff Babies: Natch.
"Well Done, Son" Guy: Judging by the episode where Shere Khan's reaction to his (off-screen) parents is shown, Shere Khan is one of these. May also be a Freudian Excuse for some of his later villainy.