YMMV •

Radar

•

Quotes

• (
Funny

•

Heartwarming

•

Awesome

) •
Fridge

•

Characters

•

Fanfic Recs

•

Nightmare Fuel

•
Shout Out

•

Plot

•

Tear Jerker

•
Headscratchers

•
Trivia •

WMG

•

Recap

•
Ho Yay

•
Image Links

•

Memes

•

Haiku

•

Laconic

•
Source

•

Setting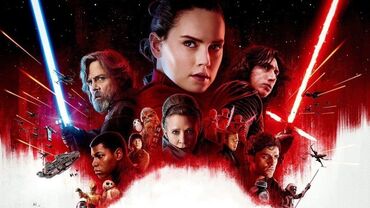 The Last Jedi (also known as Star Wars Episode VIII: The Last Jedi) is the eighth film in the Star Wars saga.
Picking up right after The Force Awakens, the First Order has openly declared war on the rest of the galaxy, relentlessly pursuing the Resistance to try and wipe them out forever. Meanwhile, on the distant planet of Ahch-To, Rey tries to convince the broken Luke Skywalker to return to galactic society and lead the fight.
Released in December of 2017, it was followed by The Rise of Skywalker in 2019.
Tropes used in The Last Jedi include: