Spider-Man: No Way Home Trailer Dropped - The Loop
Play Sound

YMMV •

Radar

•

Quotes

• (

Funny •

Heartwarming

•
Awesome

) •

Fridge

•

Characters

•

Fanfic Recs

•

Nightmare Fuel

•
Shout Out

•

Plot

•

Tear Jerker

•

Headscratchers

•
Trivia

•

WMG

•

Recap

•

Ho Yay

•

Image Links

•

Memes

•

Haiku

•

Laconic

•
Source

•

Setting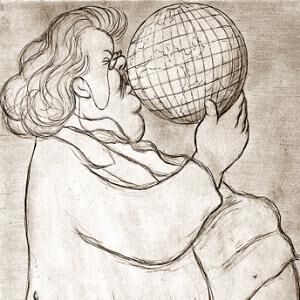 "First of all, what is it really all about? What is it you object to? You want to abolish Government?"



"To abolish God!" said Gregory, opening the eyes of a fanatic. "We do not only want to upset a few despotisms and police regulations; that sort of anarchism does exist, but it is a mere branch of the Nonconformists. We dig deeper and we blow you higher. We wish to deny all those arbitrary distinctions of vice and virtue, honour and treachery, upon which mere rebels base themselves. The silly sentimentalists of the French Revolution talked of the Rights of Man! We hate Rights as we hate Wrongs. We have abolished Right and Wrong."



"And Right and Left," said Syme with a simple eagerness, "I hope you will abolish them too. They are much more troublesome to me."

The Man Who Was Thursday: A Nightmare is a metaphysical Thriller by famed author G. K. Chesterton, and stands alongside his Father Brown stories as his most famous work.
The story concerns special detective Gabriel Syme, a member of a secret police force dedicated to fighting the forces of Anarchy, who encounters a self-professed anarchist poet by the name of Lucian Gregory. After a spirited debate on the subject of Order Versus Chaos, Gregory invites Syme to a secret meeting of the anarchist force to which he belongs. There, Syme manages to get himself elected as the new Thursday on the anarchists' supreme council, the Council of Days, where each member is named for a different day of the week, in order to penetrate the anarchist organization and bring it down. The council is led by the terrifyingly cheerful and enigmatic figure of Sunday, and what follows is Syme's attempt to stay sane in the face of what seems to be true evil, and to answer the maddening question: "Who is Sunday?"
The book deals with the conflict of Order and Chaos, and serves to deconstruct the concept of the Bomb Throwing Anarchist (which was popular at the time) in favour of dealing with philosophical anarchism, that Chesterton felt to be actual nihilism that seeks to abolish not just government and authority, but the very concepts of good, evil, and God. It contains elements of the spy novel, Mystery Fiction, Satire, humour, and horror, and has also had a rather eclectic variety of fans in the literary world, including Michael Collins, Jorge Luis Borges, and Franz Kafka.
You can read it online here.
---
The novel contains examples of:
| | | |
| --- | --- | --- |
| |  Being surrounded with every conceivable kind of revolt from infancy, Gabriel had to revolt into something, so he revolted into the only thing left — sanity. | |
| | | |
| --- | --- | --- |
| |   "My red hair, like red flames, shall burn up the world ... " | |
Flock of Wolves: Used to the point of hilarity, as well as one the novel's major twists.
God:

No, Sunday is not He

, though it was a popular interpretation. Chesterton Jossed this view by Word of God in the aforementioned Fan Dumb article.

Further Word of God on the subject, from two different articles:
 "...I think you can take him to stand for Nature as distinguished from God. Huge, boisterous, full of vitality, dancing with a hundred legs, bright with the glare of the sun, and at first sight, somewhat regardless of us and our desires."

"But you will note that I hold that when the mask of Nature is lifted you find God behind."
| | | |
| --- | --- | --- |
| |   "The history of the thing might amuse you," he said. "When first I became one of the New Anarchists I tried all kinds of respectable disguises. I dressed up as a bishop. I read up all about bishops in our anarchist pamphlets, in Superstition the Vampire and Priests of Prey. I certainly understood from them that bishops are strange and terrible old men keeping a cruel secret from mankind. I was misinformed. When on my first appearing in episcopal gaiters in a drawing-room I cried out in a voice of thunder, 'Down! down! presumptuous human reason!' they found out in some way that I was not a bishop at all. I was nabbed at once. Then I made up as a millionaire; but I defended Capital with so much intelligence that a fool could see that I was quite poor. Then I tried being a major. Now I am a humanitarian myself, but I have, I hope, enough intellectual breadth to understand the position of those who, like Nietzsche, admire violence — the proud, mad war of Nature and all that, you know. I threw myself into the major. I drew my sword and waved it constantly. I called out 'Blood!' abstractedly, like a man calling for wine. I often said, 'Let the weak perish; it is the Law.' Well, well, it seems majors don't do this. I was nabbed again." | |