Doctor Strange in The Multiverse o Madness - The Loop
Play Sound

YMMV •

Radar

•

Quotes

• (

Funny •

Heartwarming •
Awesome) •

Fridge

•

Characters

•

Fanfic Recs

•

Nightmare Fuel

•
Shout Out

•

Plot

•

Tear Jerker •

Headscratchers

•
Trivia •

WMG

•

Recap

•

Ho Yay

•

Image Links

•

Memes

•

Haiku

•

Laconic

•
Source

•

Setting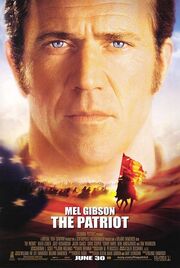 2000 war epic starring Mel Gibson and Heath Ledger, set during The American Revolution. The movie isn't about the actual founding fathers (ie Washington) but is instead about some of the biggest and most brutal engagements that were waged in the southern colonies, as seen through an Officer turned Farmer turned Officer again. Mel Gibson is Benjamin Martin, a veteran of the French And Indian War who was changed by the horrors he has seen (and committed). South Carolina had just voted to join the war, but Ben said he would not. His eldest son Gabriel decides to go anyway. He isn't seen again until two years later, when he staggers home, wounded and carrying dispatches between two rebel leaders.
This is where Colonel Tavington comes in. The commander of the elite Green Dragoon forces, Tavington orders the deaths of the rebel wounded, has the Martins' house burned down, and takes Gabriel in as a spy to be hanged. Thomas, his next oldest son, tries to intervene, and gets a bullet in the back for his trouble. This sparks Benjamin Martin's decision to join the Revolution to fight the Redcoats (and to ambush and slaughter the British detachment).
The rest of the film is spent with Martin and his militia harassing Tavington (and by extension, Cornwallis) throughout South Carolina, holding out until The French arrive to reinforce the Colonials.
Nominated for three Academy Awards, the film is known for its gruesome battles and the hit-and-run tactics employed by the militia. It's also noted for its score, which Barack Obama had playing in the background during his Presidential acceptance speech.
Is also known, however, for it extreme cases of Politically-Correct History, having plenty of (partly blatant) Historical Villain Upgrades for the British and Historical Hero Upgrades for the rebels, to make the conflict more justified.
Tropes used in The Patriot include:
| | | |
| --- | --- | --- |
| |  "A shepherd must tend his flock...(snatches off wig and puts on black, broad-brimmed hat) and at times, fight off the wolves." | |
 Mrs. Howard: Don't worry, I'm a better seamstress than my mother was.

Mr. Howard: [mortified] I hope so!
Justified in that if Ann's mother had gotten pregnant, they could have just bumped up the wedding. Ann's fiancee is at war and could be killed, not to mention a pregnant girl living with her parents with no husband in sight would probably attract the attention of the British looking for rebel sympathizers.

Pet the Dog: Ben was kind enough to take care of the two Great Danes he captured.
Playing Against Type: Adam Baldwin as a pro-British anti-American Independence man? Impossible!
Poisonous Friend: Gen. Cornwallis wants to fight the war honorably, as do most of the other British soldiers encountered in the film. However, Tavington attempts to prove his worthiness/dedication to the cause by taking actions that Cornwallis expressly forbids, until Tavington finally manages to corrupt Cornwallis at the end of the film and he gives Tavington permission to capture Martin using brutal tactics.
Pyrrhic Victory: (With shades of Heroic Sacrifice and Was It Really Worth It?.) By the end, Benjamin Martin has

violently lost his home, his two eldest sons, his daughter-in-law and her family and her entire village, his sister-in-law's home, and at some points his own self-respect. Many of his friends and comrades made similar sacrifices; he watches as a longtime friend shoots himself in the head after finding his own family slain

.

And his younger sons have lost their innocence when he enlisted them to rescue Gabriel.

Ragtag Bunch of Misfits: Martin's militia.
Red Shirt Armies

Don't you mean Red Coat Armies?

Retirony: Occam, the black slave subverts this trope, Ben's son who comes back to kill the man who killed his newly wedded wife? Not so much.
Roaring Rampage of Revenge: Benjamin Martin does this twice: the first time,

he ambushes the British detachment that captured his oldest son after Tavington shot his second oldest in the back

. The second time,

Martin keeps his promise to kill Tavington by the war's end

.

Gabriel also attempts this after Tavington corrals a bunch of innocent townspeople — including his new bride (who was also his Unlucky Childhood Friend) — into their town's church and burns it down, killing everyone inside. His didn't work.
Also, the ambush can be considered as both a Roaring Rampage of Rescue to save Gabriel and a Roaring Rampage of Revenge as mentioned above.

Running Gag: Gabriel and Anne have — and continue to — slip ink into one another's tea. Both are seen at one point or another smiling with ink-stained teeth)
Screw the Rules, I Have a Nuke: Col. Tavington in his introductory scene. When Martin tries to reason with him about his brutal conduct by citing the Rules of War, Tavington responds by aiming a pistol at his head (an unarmed civilian, natch) and asks him if he would "like a lesson in the rules of war". Then he points it at Martin's children.
 General Lord Cornwallis: (referring to a replacement formal coat) It is a horse blanket.
Colonel William Tavington: Oh, I don't know, my Lord. It's really...quite nice.
General O'Hara: Very nice, my Lord.
General Lord Cornwallis: Very well, it is a nice horse blanket.
Then later on in the same scene:
| | | |
| --- | --- | --- |
| |  General Lord Cornwallis:...give me the horse blanket... | |