Doctor Strange in The Multiverse o Madness - The Loop
Play Sound

YMMV •

Radar

•

Quotes • (

Funny •

Heartwarming

•
Awesome) •

Fridge

•

Characters

•

Fanfic Recs

•

Nightmare Fuel

•
Shout Out

•

Plot

•

Tear Jerker

•

Headscratchers •
Trivia • WMG •

Recap

•

Ho Yay

•

Image Links

•

Memes

•

Haiku • Laconic •
Source

•

Setting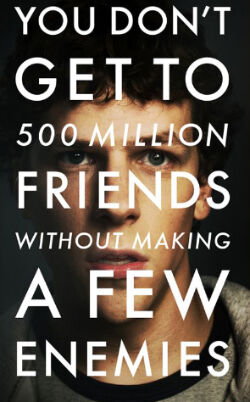 | | | |
| --- | --- | --- |
| | "I don't want friends." | |
"You are probably going to be a very successful computer person. But you're going to go through life

thinking that girls don't like you because you're a nerd.

And I want you to know, from the bottom of my heart, that that won't be true. It'll be because you're an asshole."

—Erica Albright

The Social Network is a 2010 film by David Fincher. Largely in flashback, it tells the story of the founding of the phenomenally successful Friending Network Facebook and the rise of its founder, Mark Zuckerberg, to the status of youngest billionaire in history (with some artistic liberties).
Set at Harvard, in the winter of 2003 Mark develops a student "hotness" rating website (using illegally obtained pictures) that becomes so popular it crashes Harvard servers. His resulting publicity catches the attention of the Winklevoss brothers (twins), who conscribe him to develop a Harvard exclusive networking website. Mark takes that idea and works out a related networking website with his close friend Eduardo, who fronts the money for the start-up costs.
The Facebook becomes an instant hit, with neither Mark nor Eduardo knowing exactly where to go from there. Along comes Napster legend Sean Parker who wiggles himself into the business and outlines how big this project is going to end up. Mark is enraptured by Parker's vision but Eduardo is constantly worried that it's growing too big too fast. On another front the Winklevoss twins are enraged that Mark effectively "stole" their idea, which raises the question of how closely The Facebook matches their original idea and the validity of Intellectual Property.
Jesse Eisenberg stars as Zuckerberg, Andrew Garfield as Eduardo Saverin, Brenda Song as Christy Lee and pop singer Justin Timberlake as Sean Parker. The script was written by Aaron Sorkin, adapted from Ben Mezrich's 2009 book The Accidental Billionaires. None of the Facebook staff, including founder Mark Zuckerberg, were involved with the project. One of the co-founders, Eduardo Saverin, was a consultant for Mezrich's book.
Film critics praised it to high heaven; among its accolades is declaration that this film is "the Citizen Kane of the 21st century." Among the frequently-mentioned strengths include the well-written script, beautiful visuals, and its tackling of the question of what it really means to be "connected" (or rather disconnected) in modern society. The general consensus seems to be that the film is one of those rare milestones that captures the spirit of the time it was made.
It won three Oscars: Best Adapted Screenplay (for Aaron Sorkin), Best Film Editing, and Best Original Score (Trent Reznor and Atticus Ross), but lost Best Picture and Director to ~The King's Speech~.
---
This film includes examples of:
| | | |
| --- | --- | --- |
| |  Mark: [after the opposing lawyer asks if he has Mark's full attention] I think if your clients want to sit on my shoulders and call themselves tall, they have a right to give it a try, but there's no requirement I enjoy sitting here listening to people lie. You have part of my attention. You have the minimum amount. The rest of my attention is back at the offices of Facebook, where my colleagues and I are doing something no one in this room, including and especially your clients, are intellectually or creatively capable of doing. Did I adequately answer your condescending question? | |
| | | |
| --- | --- | --- |
| |   Erica: You write your snide bullshit in a dark room because that's what the angry do nowadays. | |
| | | |
| --- | --- | --- |
| |  Eduardo: It's not that guys like me are generally attracted to Asian girls. It's that Asian girls are generally attracted to guys like me. | |
Meta Casting: The co-founder of Napster, a site specializing in illegal downloading of music, is played by pop star Justin Timberlake; also, Parker is Famed in Story, and Timberlake is the biggest name in the cast.

Also, several members of the cast, including Armie Hammer, Max Minghella, and (ironically) Rooney Mara, come from the type of wealthy families the film's Mark Zuckerberg resents.
 Sean: Ah ha. The shoe's on the other...

Amy: Foot?

Sean: ... table, which has turned.
| | | |
| --- | --- | --- |
| |  Every minute this site is up HarvardConnection becomes less valuable. I want an injunction, I want damages, I want punitive relief and I want him dead. | |
Pet the Dog: No matter what happened, Mark seemed to genuinely appreciate Eduardo for his contributions ("I need you!") and even after their schism would apparently defended him on reputation destroying evidence his lawyers dug up. The biggest moment was Mark telling Sean that he went too far

whilst kicking out Eduardo from the company

. It's pretty much the only time in the film that he shows any sign of regret.
Playing Against Type: Jesse Eisenberg, previously known for playing Adorkable characters plays an antisocial jerk.
Pragmatic Adaptation: The film deviates from what actually happened in Real Life (see Very Loosely Based on a True Story), but the overall film is more of a interpative look at the events & people behind Facebook.
Precision F-Strike: Swear words are frequently put in a sentence by some characters.
Power Trio: Tyler Winklevoss (Id), Cameron Winklevoss (Superego), and Divya Narendra (Ego)
Rashomon Style: Sorkin specifically mentions this movie as the way he wrote the screenplay, though we never see the same events twice. Instead, it's subtly implied that segments of the film may be from the viewpoint of whichever party (Mark, Eduardo, or the Winklevoss twins) is currently testifying in the deposition Framing Device. To wit, this exchange after the Eduardo deposition:
 Mark: I'm not a bad guy.

Marilyn: I know. Any time there's emotional testimony, I assume 85% of it is exaggerated.

Mark: And the other 15%?

Marilyn: Perjury.
| | | |
| --- | --- | --- |
| |  Erica: Listen, Mark. You're probably going to be a very successful person in computers, but you're going to go through life thinking that girls don't like you because you're a nerd. And I want you to know, from the bottom of my heart, that that won't be true. It'll be because you're an asshole." | |
 Dustin: I'm developing an algorithm to define the connection between Jewish guys and Asian girls.

Eduardo: I don't think it's that complicated. They're hot, they're smart, they're not Jewish and they can't dance.
| | | |
| --- | --- | --- |
| |  Cameron Winklevoss: Like my brother and I are in skeleton costumes chasing The Karate Kid around a high school gym. | |
The unidentified movie star at Harvard in 2003 was Natalie Portman, who was a consultant on the film.

Sidetracked by the Analogy: Sean Parker uses the metaphor of a fisherman having his photo taken with one big Marlin instead of 15 trout. Eduardo goes into all the technical details, like how much a Marlin could weigh in real life and how strong the fisherman would have to be, while an irate Mark tells him that he's missing the point.
Shown Their Work: Yes, this film does run on Rule of Drama, but the filmmakers do get a good amount of real-life details in there.

Once David Fincher discovered in his own research that Mark was actually drinking a specific brand of beer when he created Facemash, Fincher insisted on changing the drink for the movie (over Sorkin's protests). Of course, given Fincher's reputation as a perfectionist, this is to be expected.
Also, for a completely different campus dressed up using set decoration (a majority of filming for the Harvard scenes took place at Johns Hopkins University, due to Harvard's refusal to allow much filming on campus), they spent much care in trying to replicate the look and feel of Harvard.
The real Mark Zuckerberg, although he's been understandably quiet about his portrayal or the film's plot in general, has seen the film and has publicly expressed only a single comment about the movie's content: it was extremely accurate in its depiction of his wardrobe — Every pullover or t-shirt Zuckerberg is seen wearing is something that the real Mark Zuckerberg actually wore in college.

Shout-Out: During the scene where Eduardo finds out he's been accused of animal cruelty, Mark tells him he's created an alias account on Facebook to help him cheat on his final. Looking at Mark's computer shows the name he has decided on: Tyler Durden.
Smug Snake: Eduardo very clearly considers Sean to be this. Sean seems to be a subversion of the trope though, as despite being a jerkass who does himself in eventually, his ideas about what direction to take Facebook are all correct from a business sense. To this end, Dustin Moskovitz said the following about the real-life Parker: "He deserves less credit for making Facebook what it is than he thinks he does, but more than anyone else thinks he does."
Sorkin Relationship Moment: This time in a non-romantic friendship. Eduardo cutting off funds was framed in the film as him trying to get Mark to cut the crap and pay attention. (A little bit of a stretch, but possibly worth mentioning since the screenwriter is the Trope Namer.)
Spell My Name with a "The": The Facebook, which was what it was actually called back in the day.
Spiritual Successor: To Fight Club, possibly. Essentially, The Social Network could be interpeted as Fight Club for nerds.
Tag-Team Twins: The Winklevosses.
| | | |
| --- | --- | --- |
| |  Tyler Winklevoss: I'm 6'5, 220 [pounds], and there's TWO of me. | |