Jurassic World: Dominion Dominates Fandom Wikis - The Loop
Play Sound
This page needs some cleaning up to be presentable.


The individual works need to be broken out into their own pages, with a franchise page organizing them.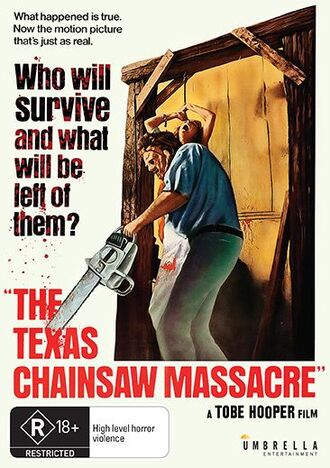 Seminal slasher film by Tobe Hooper, based on the "true" story about a group of teenagers traveling through rural Texas, who happen upon a secluded old house inhabited by the world's most horrifying family — in particular a disturbed young man with an interest in leather masks and amateur butchery.
Hooper initially took his inspiration from the real-life serial killer Ed Gein (who was also the inspiration for Psycho‍'‍s Norman Bates, and later for The Silence of the Lambs‍'‍ Buffalo Bill) and based the character Leatherface on him. It was produced on a budget of $140,000, and Hooper cast mainly unknown actors from the local Texan population. When it was completed, Hooper struggled to find a distributor, due to the graphic depictions of violence (although the film is not nearly as bloody as its reputation suggests.) The movie was ultimately rated R, instead of the PG rating Hooper had intended.
Followed by three sequels and a remake, which had a prequel. A seventh movie is currently in production.
The chainsaw as a murder weapon was iconic enough to be part of the Hockey Mask and Chainsaw trope.
The following tropes are common to many or all entries in the Texas Chainsaw Massacre franchise.
For tropes specific to individual installments, visit their respective work pages.
Original 1974 film
Follow the Leader: The first film is often viewed as being a "proto-slasher"

Likewise the reboot is often credited as starting the recent trend of remaking classic horror films.

Gory Discretion Shot: Purposefully invoked by Tobe Hooper in the first movie for when Pam is hung on the meathook. He was seeking to cut down violent content to try to get a better rating, so he opted not to show the impalement. Instead, he established her wearing a shirt with no back, emphasized the hook and showed splatters of blood in the room. As he said, "The mind fills in the gaps for you." Other scenes in the film, such as Franklin's murder, make use of this as well.
No Name Given: No members of the cannibalistic family are named, Leatherface only identified as such in the end credits.
Slasher Smile: The original Leatherface pulled this one. It's little hard to see thanks to the mask but if you look closely when he licks his teeth, you can see that he smirks while doing it.
Very Loosely Based on a True Story: This story is actually an amalgamation of three different elements. The famed necrophile/not-quite-Serial Killer Ed Gein, the legendary Scottish cannibal Sawney Bean and his clan (who probably never really existed) and Tobe Hooper's fantasies of mowing down shoppers at K-Mart with a chainsaw while he was trapped in the hardware department by the crush of the holiday crowds.
TCSM II
Leatherface
The Next Generation
Remake
| | | |
| --- | --- | --- |
| | Pepper: "Well, I'll tell you this much. There is no possible way I'm ever getting back in that van." | |
TCSM: The Beginning
An Arm and a Leg: When Monty's leg has to be amputated, Hoyt orders Leatherface to cut off both of his legs.
Luda Mae: "What on earth didya do that for?"
Sheriff Hoyt: "You know, jus' to balance things out."
The Bad Guy Wins: No survivors among the good guys here, even the Final Girl dies. Strangely, however, Leatherface doesn't seem very happy at the end after killing her, sadly trudging down the highway dragging his chainsaw behind him.
Biker Babe: Alex.
Wildstorm comics
Attempted Rape: The Avatar Press comics apparently liked this trope. In Special a serial rapist tries to have his way with the main character, but is killed mid-attempt when Leatherface impales him through the back with his chainsaw. In The Grind, the main character is tied to a bed so Monty can have his way with her, but she gets an arm loose, punches him unconscious, and escapes.
---