Jurassic World: Dominion Dominates Fandom Wikis - The Loop
Play Sound

YMMV •

Radar

•

Quotes

• (
Funny •

Heartwarming •

Awesome) •
Fridge •

Characters

•

Fanfic Recs

•

Nightmare Fuel •
Shout Out

•

Plot

•

Tear Jerker •
Headscratchers

•
Trivia •

WMG

•

Recap •
Ho Yay

•
Image Links

•

Memes

•

Haiku

•

Laconic

•
Source

•

Setting
This page needs some cleaning up to be presentable.


We need a Twilight Zone franchise page as well as separate pages for the movie, the revival, the ride at the Disney Theme parks...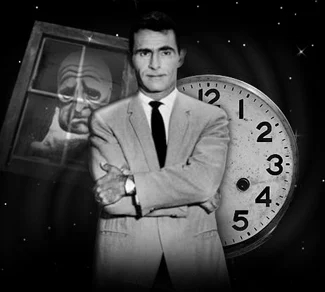 | | | |
| --- | --- | --- |
| | "There is a fifth dimension, beyond that which is known to Man. It is a dimension as vast as space, and as timeless as infinity. It is the middleground between light and shadow, between science and superstition; and it lies between the pit of Man's fears, and the summit of his knowledge. This is the dimension of imagination. It is an area which we call... the Twilight Zone." | |

One of television's most revered series, The Twilight Zone (CBS, 1959–64) stands as the role model for TV anthologies. Its trenchant sci-fi/fantasy parables explore humanity's hopes, despairs, prides, and prejudices in metaphoric ways conventional drama cannot.
Creator Rod Serling wrote the majority of the scripts, and produced those of such now-legendary writers as Richard Matheson and Charles Beaumont. The series featured such soon-to-be-famous actors as Robert Redford, William Shatner, Burt Reynolds, Robert Duvall, Dennis Hopper, Carol Burnett, James Coburn, Charles Bronson, Lee Marvin, Peter Falk, Donald Pleasence and Bill Mumy, as well as such established stars as silent-film giant Buster Keaton, Art Carney, Mickey Rooney, Ida Lupino, and John Carradine.
Twilight Zone: The Movie, a big-screen adaptation that featured individual segments produced by Steven Spielberg, Joe Dante, John Landis and George Miller was released in 1983. Tragically, the movie is better remembered for a horrible accident in which three actors (two of them children) were killed during shooting of an action scene in Landis' segment.
An often worthy revival series ran on CBS from 1985–87, and another in first-run syndication in 1988. Another ran on UPN in 2002, which reunited Bill Mumy and Cloris Leachman in a sequel to the classic TZ chiller "It's a Good Life". But it's the daring original series that shows every sign of lasting the ages as the literature that it is.
Description from: SyFy
The Twilight Zone had a rather remarkable ability to take silly story concepts, combine them with preachy, moralistic writing, and produce some truly outstanding episodes (seriously, you think The West Wing was heavy-handed? Take a gander at one of the original TZ episodes). The ghost of Adolf Hitler travels to the United States and teaches Dennis Hopper to become an effective demagogue ("He's Alive")? It works. A former concentration camp commander travels back to Dachau after World War Two and is put on trial by the ghosts of his victims ("Death's Head Revisited")? It works. William Shatner hams it up and yells about the monster on the wing of the plane ("Nightmare at 20,000 Feet")? It works.
Almost all episodes ended with Aesops; "Beauty is in the eye of the beholder", "Be tolerant", "Democracy is good", "Nazis are bad", etc (those last two work better on screen than they do in print, really). Occasionally, however, you'd get a Family-Unfriendly Aesop. Perhaps the most notorious example was the episode "Time Enough at Last", which starred Burgess Meredith and seemed to tell the viewer, "Even if you are a good and decent man, you can still have horrible things continually happen to you and end up with no hope at all", and became one of the most famous episodes of the original series. Other notorious examples are episodes that use recycled scripting employing a family unfriendly Aesop version of the original episode's end in order to force a (rather disturbing, especially in the context of the original episode) twist. Other times, aesops conflict with one another. "The Gift" tells you not to be bigots toward aliens, because they might just be bringing you the cure for cancer. But "To Serve Man" has all of humanity accepting and tolerant of aliens, which turns out to be a bad thing.
Many television shows have borrowed liberally from the Twilight Zone, especially The Simpsons Treehouse of Horror and Futurama's "The Scary Door" and "Anthology of Interest".
See also the episode Recap page.
Do not confuse with the part of the ocean from 200 to 1000 meters below the surface. Or with the band on the Earth's surface that's on the far side of the sun but close enough to the lit side to receive some light.
---
---
The original Twilight Zone provides examples of:
| | | |
| --- | --- | --- |
| | "I believe you're going my way..." | |
Dead All Along: Episodes

"Judgment Night", "The Hitch-Hiker", "The Passersby", "The Hunt", (one possible interpretation of) "The Thirty-Fathom Grave", and "Death Ship"

.
Dead to Begin With: "A Nice Place to Visit", "A Game of Pool".
Deal with the Devil:

"Escape Clause", "Printer's Devil", "Of Late I Think of Cliffordville".
Surprisingly subverted

in "Still Valley"

.

Death Trap: "The Jeopardy Room".
Deliberate Values Dissonance: "No Time Like the Past".
Devil in Disguise: The Devil usually appears in the guise of a regular person. In "The Howling Man", he appears to be some poor guy who's been imprisoned by a madman, but when someone takes pity and releases him his horns and tail reappear.
Disproportionate Retribution: "Time Enough at Last".
Divide and Conquer/A House Divided:

"The Monsters Are Due on Maple Street"

.
Divine Intervention: Possibly in "I Am the Night - Color Me Black". The Sun fails to rise on the day of a man's execution, and,

once Jagger's been hanged, the darkness starts spreading everywhere

.
Diving Save: The robot grandmother near the end of "I Sing the Body Electric".
Does Not Like Shoes: Norma in "The Midnight Sun" is barefoot for the entire episode.
Don't Fear the Reaper: "Nothing in the Dark",

"The Hitch-Hiker"

.
Doppelganger: "Mirror Image", "Nervous Man in a Four Dollar Room", "In His Image".
Dream Apocalypse:

"Shadow Play"

.
Dripping Disturbance: This is one of the ordinary noises played with in "Sounds and Silences".
Dropped Glasses:

"Time Enough at Last"

.
Earth All Along:

"I Shot an Arrow into the Air", "Probe 7, Over and Out". Inverted in "Third from the Sun" and "The Invaders"

.
Empty Piles of Clothing: The fate of two characters in "Long Live Walter Jameson" and "Queen of the Nile".
Enfant Terrible: Anthony Fremont in "It's a Good Life," Susan in "Caesar and Me".
Episode on a Plane: Most famously in "Nightmare at 20,000 Feet." Also in "The Odyssey of Flight 33".
Every Episode Ending: Nearly every episode ends with a short commentary from Rod Serling, usually to deliver An Aesop, almost always ending with "...in the Twilight Zone."
Evil-Detecting Dog: In the episode "The Hunt". "A man will walk into hell with both eyes open, but even the Devil can't fool a dog."
Evil Cannot Comprehend Good: Mr. Radin in "One More Pallbearer" sets up a fake bomb scare scenario and expects three people who once humiliated him in the past to make them apologize to him, and he seems mystified that they would rather spend their last moments with their loved ones than try to save themselves.
Exposition of Immortality: In the episode "Long Live Walter Jameson", the titular character is a history professor who knows his stuff, has a retiring colleague who comments on his appearance and who is seen in a American Civil War period picture, revealing just how he knows that period so very well.
False Innocence Trick: "The Howling Man" is basically one of these from start to end.
Fantastic Anthropologist: "Mr. Dingle the Strong".
Fish Out of Temporal Water: The lead characters of the Time Travel episodes, especially "Execution".
Fortune Teller: A little coin-operated fortune-telling machine in a diner, that answers yes-or-no questions, in "Nick of Time". A superstitious William Shatner starts to think it's giving out accurate answers and gets obsessed, and his wife tries to talk sense into him.
Future Me Scares Me:

"Spur of the Moment" and "Walking Distance". Inverted in "Nightmare as a Child".

Genre Blind: Some of the protagonists are a bit slow to realize they're in a paranormal situation. For instance, Hector spends half an episode reading people's minds in "A Penny for Your Thoughts" before realizing that no, they're not talking out loud while somehow keeping their mouths closed.
Get a Hold of Yourself, Man!: Captain Ross to Lieutenant Mason in "Death Ship".
Get Back to the Future: "The Odyssey of Flight 33".
Getting Crap Past the Radar: Not "crap" per see, but let's just say that Mr. Serling was often a bit more progressive than TV censors felt comfortable with. Wrapping what he wanted to say up in sci-fi allowed him to get more powerful messages on public television.
A God Am I: "The Little People", "On Thursday We Leave for Home".
Government Drug Enforcement: Several episodes.
The Grim Reaper: "One for the Angels," "Nothing in the Dark", "

The Hitch-Hiker

".
Guardian Angel: J. Hardy Hempstead in "Mr. Bevis".
Guinea Pig Family: "Mute".
Hair-Trigger Temper: Simon and Barbara in "Uncle Simon", especially to each other.
Haunted Technology: "The Fever", "A Thing About Machines", "Living Doll".
Heads-Tails-Edge: "A Penny for Your Thoughts".
Hell of a Heaven: "The Hunt" plays with this trope.
Henpecked Husband: Henry Bemis, in "Time Enough at Last".
Here We Go Again:

"Judgment Night", "Mr. Dingle the Strong", "Shadow Play", "Dead Man's Shoes", "Person or Persons Unknown", "Death Ship", "Uncle Simon", "Spur of the Moment", "Queen of the Nile", "The Time Element"

.

Implied in "The Monsters Are Due on Maple Street", as the aliens state that this will happen again, and again on other streets, much like the first

.
Rod Serling states the oh-so-familiar Big Bad of "He's Alive" will continue to "offer advice" again and again indefinitely in his closing speech.

Hijacked by Ganon: "He's Alive" has Adolf Hitler hijacking a neo-Nazi campaign.
Historical Domain Character:
Hitler's Time Travel Exemption Act: "No Time Like the Past".
Honest John's Dealership: "The Whole Truth".
Hope Spot: "Five Characters in Search of an Exit" ends with one.
Hot as Hell: "Of Late I Think of Cliffordville", starring Julie Newmar as Satan.
How We Got Here: "To Serve Man".
Human Aliens: Part of the plot of "People Are Alike All Over".

The protagonists of "Third from the Sun"

.
Human Ladder: "Five Characters in Search of an Exit".
Human Popsicle: "The Rip Van Winkle Caper", "The Long Morrow".
Humans Are the Real Monsters:

"I Shot an Arrow into the Air", "The Invaders", "The Gift", "The Shelter", "I Am the Night - Color Me Black", and most famously "The Monsters Are Due on Maple Street".

Humans Are Cthulhu: "The Little People".
I'm a Humanitarian:

"To Serve Man"

.
Immortality Immorality: "Love Live Walter Jameson", "Queen of the Nile".
Instrumental Theme Tune: There were actually two of them. The first season featured a haunting, string-laden theme composed by Bernard Herrmann; this was replaced in Season 2 with a different and much more familiar theme (featuring the iconic high-pitched four-note guitar riff) composed by Marius Constant.
Interactive Narrator: At the end of "A World of His Own", Rod Serling appears to give his closing speech, only to be interrupted and then erased by Gregory's Reality Warper powers (complete with a This Is Gonna Suck remark from Rod before he vanishes). This was actually his very first onscreen appearance: it proved so popular that it set the tradition of him appearing onscreen to give the episode narration.
Ironic Death: "A Most Unusual Camera". After the

main characters

die, the waiter smugly counts the number of bodies: "One... two... three... FOUR?! Cue screaming.

The

Chancellor

in "The Obsolete Man".

Ironic Hell: "A Game of Pool" and "A Nice Place to Visit".
Is This a Joke?: Standard Explanation for anything unusual and unexplainable.
It's Always Mardi Gras in New Orleans: "The Masks".
Kafka Komedy: "Time Enough at Last".
Karma Houdini: This trope is Averted through most of the series, but shows up in some fifth season episodes (such as

"What's in the Box?" and "Caesar and Me"

). In his book The Twilight Zone Companion, Marc Scott Zicree identifies this as a symptom of Seasonal Rot.
Karmic Twist Ending: Former Trope Namer as Twilight Zone Twist.
Large Ham: More often than not, an episode will have at least one.
Laser-Guided Karma: "Death's Head Revisited".
Life Drinker:

One episode featured a man who found that he could obtain abstract or otherwise normally non-transferable attributes from other people by simply making the deal with them. Among other attributes, he restored his youth by "buying" it from younger men who thought him to be a kook giving them money for nothing. He only took a year from each man, but was able to become young again. Incidentally, he was only an old man because he had previously sold his own youth to an elderly millionaire (he came out financially ahead after the exchanges were complete).
Another episode involves a movie queen who retains her youthful appearance by stealing the life force of others.
"Queen of the Nile". A woman uses a scarab beetle to drain the life force of men so she can maintain her eternal youth. It's implied that she's the actual Cleopatra of Egypt.

Lilliputians: "The Little People".
Look Ma, No Plane: "Nightmare at 20,000 Feet".
Love Potion: "The Chaser".
Mandatory Twist Ending: The Twist Ending was a major staple of the series that earned the show a reputation for this, though it wasn't quite as "mandatory" as it's remembered as being.
Matter of Life and Death: "Perchance to Dream".
Maybe Magic, Maybe Mundane: "The Thirty-Fathom Grave".
A Mind Is a Terrible Thing to Read: "A Penny for Your Thoughts" has the hero discovering how petty and self-centered the people around him can be when he becomes inexplicably psychic. It's not as bad as some cases

(and it helps him get the girl)

, but he's still relieved when his new-found power vanishes.
Mobile Kiosk: "One for the Angels". Lew Bookman has a mobile pitch: a suitcase with extendable legs. When he finishes a pitch, he collapses the legs back into the suitcase and moves on.
Motor Mouth: McNulty, the main character of the episode "A Kind of Stop Watch".
Mundane Wish: Appears in "The Man in the Bottle". The couples' first wish (out of four) is to have a pane of glass in their shop repaired, in order to test the genie's power first. The couple then proceed to waste their remaining wishes, but in the end console themselves with the thought that at least the glass got repaired. Guess what happens next.
Murder Ballad: Used as a Plot Device in "Come Wander with Me".
Murderous Mannequin: Subverted in "The After Hours"; Marsha is, at first, understandably terrified when the mannequins come to life, but it soon becomes apparent that they are friendly, and only want her to remember that she is also a mannequin.
My Car Hates Me: "You Drive", "The Hitch-Hiker".
Never Sleep Again: "Perchance to Dream", "Ninety Years Without Slumbering"
The Night That Never Ends: "I Am the Night – Color Me Black".
No Dialogue Episode: "The Invaders". Throughout the episode, the main character makes plenty of noises as she fends off tiny aliens, but none of it is dialogue. Aside from Serling's narrations, the only spoken dialogue comes when the last and soon-to-be-killed invader sends a distress call back home.

The tiny invaders are then revealed to be humans from Earth. This revelation subsequently justifies the trope, as the woman is a (giant) alien and wouldn't know English or any other language from Earth

.
Nostalgia Ain't Like It Used to Be: "The Incredible World of Horace Ford".
Not-So-Imaginary Friend: "Nightmare at 20,000 Feet", "Mirror Image".
No Time to Explain: "Passage on the Lady Anne".

As it turns out, it's a ship only meant for dying/wanting to die people

.
On One Condition: "The Masks", "Still Valley".
Ontological Inertia: "The 7th Is Made Up of Phantoms".
Ontological Mystery: "Where Is Everybody?", "Five Characters in Search of an Exit," "Stopover in a Quiet Town."
Orson Welles: The main reason Serling ultimately became the Narrator. CBS and the Sponsers wanted Welles to do it, but he was too expensive.
Panthera Awesome: "

The Jungle

".
Peggy Sue: "Of Late I Think of Cliffordville".
Pilot Movie: In 1958, Rod Serling wrote a teleplay ("The Time Element") which he hoped to turn into a weekly anthology series. It's often included in the series' canon as its lost pilot episode.
Pound of Flesh Twist: In "The Rip Van Winkle Caper", a group of gold thieves put themselves to sleep for 100 years to escape the cops, only to awaken to a future where gold is worthless.
Pow Zap Wham Cam: Used in episodes such as "Third from the Sun" and "The Howling Man"
Pragmatic Adaptation: Episodes adapted from short stories were often massaged a bit. In Damon Knight's short story "To Serve Man", the alien representatives are described as looking like pigs. The producers thought the audience would find this too silly, so the alien makeup is the more conventional tall-head variety.
Reality Warper: Anthony Fremont in "It's a Good Life", and Gregory West in "A World of His Own", though the latter needs a dictation machine.
"The Reason You Suck" Speech: "The Masks".
Replacement Scrappy: In-Universe example with "I Sing the Body Electric." A widowed husband gets a robot granny to help raise his children, but the oldest child rejects her for not being her deceased mother.
Ret-Gone: "And When the Sky Was Opened".
Ridiculously-Human Robots: "The Lateness of the Hour", "The Lonely".
Rule of Three: In "Will the Real Martian Please Stand Up?", said Martian has three arms.

The Venusian has three eyes

.
Satan: Popular character. Played by Julie Newmar (in "Of Late I Think of Cliffordville") and Burgess Meredith (in "Printer's Devil") among others.
Screw Politeness, I'm a Senior!: Jason Foster in "The Masks", though this is both a subversion and a Justified Trope. Jason's cranky and crotchety because he knows he's going to die soon and he's surrounded by family members waiting for him to die like vultures. However, while certainly cranky, he never comes off as needlessly cruel to his doctor or his servants and shares a sort-of rapport with them. They're also quite understanding of why he's cranky, and share his contempt for his so-called "family".
Sealed Evil in a Can: "The Howling Man."
| | | |
| --- | --- | --- |
| | Rod Serling: Ancient folk saying - you can catch the Devil, but you can't hold him long. | |
| | | |
| --- | --- | --- |
| | Paradine: Now you stay here. If you hear a shot, you get back to the lieutenant at a fast gallop... If you haven't heard from me in 15 minutes, you get back there anyway. | |
The Twilight Zone Movie, '80s revival, and 2002 revival provide examples of:
---
Guess what? Your whole life has been a dream, one of your family members is a robot, and that nice man that just moved into town is a Martian. Welcome to the Twilight Zone.
↑

"Death's-Head Revisited" excepted this as well, though just barely. To hammer in the message of never forgetting about the Holocaust, the narration closed saying that it must be remembered not in the Twilight Zone but in our real world, making "The Twilight Zone" the second to last phrase.
TV Guide‍'‍s 50 Greatest TV Shows of All Time
More accurately, "TV Guide‍'‍s 50 Greatest TV Shows Produced in the USA before April 2002"

#

Seinfeld

Nightline

The Twilight Zone

Donahue

Your Show of Shows

The Defenders

An American Family

Playhouse 90

Taxi