Boba Fett Returns - The Loop
Play Sound

YMMV •

Radar

•

Quotes

• (

Funny •

Heartwarming •
Awesome) •

Fridge •

Characters •

Fanfic Recs •

Nightmare Fuel •
Shout Out

•

Plot

•

Tear Jerker •

Headscratchers •
Trivia

• WMG •

Recap

•

Ho Yay

•

Image Links

•

Memes

•

Haiku

• Laconic •
Source

•

Setting
Note that, due to the Loads and Loads of Characters nature of this series, this list is nowhere near complete or comprehensive, and is nowhere near enough to allow you to actually understand the plot.
As always, this page is still under construction. If you have the time and inclination, feel free to contribute.
---
Ta'veren
Rand al'Thor
A farm boy from a village so remote that they didn't even know they were technically part of a kingdom, Rand had no idea he was adopted until one fateful Winternight when Trollocs attacked his home town. Thereafter he was told by the story's Obi-Wan that The Dark One was trying to find him (or perhaps one of his two friends, Mat Cauthon and Perrin Aybara), and convinced to flee. This was just the first step in Rand's journey into discovering that he is a male channeler, The Dragon Reborn, and fated by the Wheel of Time to lead the fight against Shai'tan...
| | | |
| --- | --- | --- |
| |   Jasin Natael: "I would not take your place for all the world, not with the fate that accompanies it. Death or madness, or both. 'His blood on the rocks of Shayol Ghul... ' That is what The Karaethon Cycle, the Prophecies of the Dragon, says, is it not? That you must die to save fools who will heave a sigh of relief at your death. No, I would not accept that for all your power and more." | |
---
Matrim Cauthon
A troublemaker with a penchant for jokes, women, wine and gambling, Mat was stolen away on Winternight at the same time Rand was. Figuring he was just being swept along on an adventure, Mat had no idea that he too was a ta'veren, almost as important to the Light as Rand is. While he can't channel, Mat has developed an impressive array of Badass powers and has become The General in a lot of ways. He also has more Crowning Moment of Funny to his name than the whole rest of the cast combined.
| | | |
| --- | --- | --- |
| |   The Amyrlin gave an exasperated sigh. "You remind me of my uncle Huan. No one could ever pin him down. He liked to gamble, too, and he'd much rather have fun than work. He died pulling children out of a burning house. He wouldn't stop going back as long as there was one left inside. Are you like him, Mat? Will you be there when the flames are high?" | |
| | | |
| --- | --- | --- |
| |  Mat: When Thom puts this all into song, he better remember my hat. It really is a nice hat. | |
---
Perrin Aybara
An apprentice blacksmith and son of farmers, careful with his strength, Perrin is the quiet one. He thinks, he's careful, he's spare with words. He is also, like his childhood friends Rand and Mat, a ta'veren, and uniquely talented in his own right. He is the closest to the Farm Boy archetype of the Power Trio, being close with his parents and mustering most of his followers and resources from their hometown of The Two Rivers.
---
Others from the Two Rivers
Egwene al'Vere
A girl who grew up in Emond's Field with Rand, to whom she has a Childhood Marriage Promise. Being a Plucky Girl, she insists on going on the adventure with Rand, and eventually finds out that she can channel. She then spends exactly half a book at Wizarding School before getting Idiot Ball'd into various adventures and misadventures. As with many (seemingly) secondary characters, she has become a leading character in her own right as the books progress.
The Ace: Is quite strong in all five elements, can split her flows fourteen ways and is a very strong dreamer. Also manages to reinvent the weave to create cuendillar with only Moghedien's limited knoweledge.

Of course, she's like a drop in the ocean compared to Rand. (This is not meant to indicate that Egwene is weak; to the fandom's knowledge, she's one of the top 20 female channelers in the world. It's simply to point out that, where Rand is concerned, Readings Are Off the Scale.)

Berserk Button: During the second book, Egwene is tricked into being captured by the Seanchan, who chain her up and, as is their custom with channelers, start treating her like a dehumanized pet. Specifically, a device called an a'dam is used to let other people control her channeling. Don't show Egwene one unless you want the crap beat out of you.
Bitch in Sheep's Clothing: In-universe, other characters tend to regard her as the most likeable and least annoying of the female Power Trio of herself, Nyneave, and Elayne. Which means that she can be just as bitchy as they are (and sometimes even worse) without anyone in-universe noticing or calling her out on it.
Childhood Marriage Promise: With Rand. Eventually broken with no ill feelings on either side. She is still good friends with Rand, and serves as an Honest Advisor to him at times. Which he often needs.
Dream Land: Tel'aran'rhiod, the World of Dreams. Egwene is a "dreamwalker" and can visit this place naturally, whereas most people just sort of flit in and out randomly. Eventually she goes to visit the local Proud Warrior Race, the Aiel, who have people who specialize in dreamwalking.
Dreaming of Things to Come: Egwene also has this ability, including an Either/Or Prophecy where one character will either kneel to her or kill her. It was her Love Interest Gawyn.

He knelt.

Dream Within a Dream: One of the mechanics of T'A'R is that you can visit other people's dreams. If that person has very strong feelings about you, they can yank you into their dream — which is very dangerous in a world where Your Mind Makes It Real. Fortunately for Egwene, this turns into a bizarre Meet Cute that sets her up with her actual Love Interest.
Girlish Pigtails: The Aiel threaten to put her in this if she doesn't shape up. They do, during a brief time. (They are also able to do this to her in Tel'aran'rhiod at will.)
Guile Hero: As the Amyrlin.
Honor Before Reason: A quality of the Aiel culture which Egwene adopts.
Reassignment Backfire: Was elected Amyrlin of the rebel Aes Sedai essentially as a Fall Girl to Take The Heat, since the rebels originally intended to just make a little show of defiance before rejoining the tower. Boy did that not go according to plan.
Promoted to Opening Titles: not literally, but Egwene started the series looking like a supporting character and love interest, but by now is absolutely integral to the plot. By some measures she's more important than Perrin and Mat.
They Do: finally, as of Book 13.
Took a Level In Badass: What happens when she adopts Honor Before Reason. (It Makes Sense in Context: She does this right before she goes back to Wizarding School, which has a higher Smug Snake-per-capita ratio than a Corrupt Corporate Executive Convention.)
Ungrateful Bastard: To Mat in Book 3. Unlike Nyneave and Elayne, has never made up for it. Also to Nynaeve, in several books, but especially in Book 5. Has never made up for that, either.
Unlucky Childhood Friend: To Rand; or Rand to her (depending on which character you like better).
Unwanted Rescue: Siuan, Gareth and Gawyn rescuing her from the White Tower and thus potentially ruining her efforts to overthrow Elaida peacefully.
Whack a Mole / Witch Hunt: One of the misadventures Egwene gets into at Wizarding School. Promptly leading to another misadventure where one of said Moles gets her captured by the Seanchan. (Again, Idiot Ball moment.)
The Woman Wearing the Queenly Mask: Why was she summoned back to Wizarding School? So that they could make her a puppet Amyrlin, of course! Egwene has other ideas, which aforementioned Level In Badass helps her achieve. (Seriously. She's in charge of a rebel faction of Aes Sedai, but just via Pillars of Moral Character she manages to get all the legitimate ones to defect to her!)
---
Nynaeve al'Meara
A Tsundere of the highest caliber, Nynaeve was formerly the "Wisdom" (read: herb granny) of Emond's Field, despite being all of 24 when the books started. After Moiraine "kidnaps" Rand, Mat, Perrin and Egwene (Nynaeve's apprentice), Nynaeve rushes off to bring the kids back. Instead she gets roped into the adventure, especially after Moiraine notices that Nynaeve too can channel. Though she's the only Two Rivers character who hasn't become a main character in her own right, she's kept around for her muscle: she is the strongest female channeler on the good-guy side.
---
Bela
Rand's horse at the beginning of the series, she gets passed around to different characters and has ended up seeing quite a bit of the world. Like Narg, below, she has become something of a literal Ensemble Darkhorse. Joking Fanon holds that Rand is a Decoy Protagonist, and Bela will destroy the Dark One with her Belafire.
---
Royal Line of Andor
Andor is the largest and most populous country in the West. The oldest tradition of Andor is that only a queen must sit on the Lion Throne of Andor, and wear the Rose Crown. The eldest daughter is known as the Daughter-Heir, and is always sent to Tar Valon to study. The eldest brother of the Daughter-Heir is sworn to protect her with his life, and is prepared from an early age to take control of Andor's army. He is given the title First Prince of the Sword. Elaida Sedai had a foretelling that the royal line of Andor would be critical to the Last Battle. This foretelling could refer simply to Rand who is the son of Tigraine but Galad, Elayne and Gawyn are all set to be major players in the last battle.
Elayne Trakand
The Daughter-Heir of Andor. Elayne, like most daughters of House Trakand, was sent to The White Tower to study with the Aes Sedai. However, unlike most daughters of House Trakand, this is not merely a formality in Elayne's case: she can actually channel, and she will be the first Aes Sedai on the Lion Throne in some years. In the meanwhile, she gets swept up into the grand scheme of things, partially because she becomes friends with Egwene and partially because she's got a thing for Rand.
Awesome Moment of Crowning: She is now the Queen of Andor.
Blue Eyes: Rand notes when he first sees her that her eyes are "bluer than he could believe."
Distressed Damsel: Especially since she spends a lot of time teamed up with Nynaeve.
Everything's Better with Princesses: Her official title is "Daughter-Heir," but it's pretty obvious what that's supposed to mean.

It's later mentioned that the term "princess" is known, but is considered terribly old-fashioned.

Heterosexual Life Partners: Has several female friends you might think are this. She's bonded Birgitte as her warder, has undergone an Aiel ceremony to become "first sister" with Aviendha and feels much the same way towards Min, and she and Egwene were best friends when they were novices. But the character she spends the most actual time with is Nyneave.
Kissing Cousins:

Rand is Elayne's very distant cousin.

Love At First Sight: To Rand, when he falls into the castle garden. This is later Lampshaded by Elayne herself in Book 4.
Meet Cute: The falling-into-the-garden bit.
Mindlink Mates: With Rand, eventually, via Warder bond.
Not Staying for Breakfast: Rand, after he and Elayne finally find a room with a bed. (He does have a world to save.)
One Degree of Separation: Elayne's mother Morgase was originally married to Taringail Damodred; he was originally married to the then-daughter-heir Tigraine, with whom he had a son, Galad. Tigraine Put Herself On A Bus after she was given a prophecy that, if she didn't go east and join the Aiel Amazon Brigade, the world was doomed. This is because she, under the pseudonym Shaiel, was destined to become Rand's mother. Meanwhile, Taringail re-married the queen of Andor, Morgase Trakand, and had Gawyn and Elayne before he died. Elayne loves Rand.

Oh, and Gawyn is enamored of Egwene.
And yes, this does mean that Galad is half-brothers with Rand. Of the three, only Rand has made the connection, and he hasn't told anybody. Besides, while he's half-brothers with Galad, Elayne is half-siblings with Galad's other half, so it's not as if Rand and Elayne are Kissing Cousins by any meaningful standard.

Power Levels: Explicitly mentioned as being of similar strength to Egwene.
Spoiled Sweet: Raised in a palace as the heir to one of the richest and most powerful thrones on the continent, her

BF Fs

and boyfriend are farmers from the ass-end of nowhere (and technically her own subjects); she adopts as her sister a "savage" Aiel using their customs (making her the honorary daughter of the Wise One who performed the ceremony); she started making ter'angrael because she always wanted to work with her hands after seeing the pride of a carpenter delivering his chairs to the Palace.
Strangled by the Red String: Prophesied from before they even met, which Elayne isn't happy about. They go from canoodling in alcoves (Book 4) straight to doing it (Book 9), despite not seeing each other for nine months in between. (Of course, it was eight years for readers, so they probably didn't think it was as hasty.)
Tempting Fate: Because Min has had a viewing that her twins will be born healthy, Elayne thinks she has Plot Armor until their birth. Other characters, Min included, are Genre Savvy enough to note that Elayne might be outsmarting herself here.

And, surprise surprise, it happened. In Towers of Midnight, Elayne is stabbed in the stomach whilst interrogating the Black Ajah. She survives, but appears to have learned her lesson.

It gets to the point that it's very close to a deconstruction of Contractual Immortality. Elayne is safe from death...but not imprisonment, severe injury, mind control, or any number of other nasty things that very resourceful, very evil antagonists have done in the story. Furthermore, she seems to forget that those around her are not under said contract.

Ungrateful Bastard: To Mat in Book 3. She has since made up for it.
What the Hell, Hero?: Aviendha and Birgitte call her and Nyneave out for being Ungrateful Bastards to Mat.
---
Morgase Trakand / Maighdin
Queen of Andor, mother of Elayne and Gawyn, step-mother of Galad.
---
Gawyn Trakand
Master Swordsman: Became a blademaster when he killed Hammar (his own trainer) during the tower schism.
---
Galadedrid Damodred
Son of the disappeared former Daughter-Heir Tigraine, adopted by Morgase when she married his father and gained the throne. He is half-brother to Elayne and Gawyn through his father and Rand through his mother.
---
Tigraine Mantear / Shaiel
Former Daughter-Heir, mother of Galad and Rand
---
The White Tower
Aes Sedai (in general)
Aes Sedai are the Witch Species of the story. Remember how male channelers inevitably go mad and die? That means only women can safely channel, and do so under the aegis of the Aes Sedai. They run a Wizarding School, the "White Tower," in the city of Tar Valon, and have representatives all over the world. While they aren't technically a nation, they are still a force to be reckoned with politically and militarily, and their leader, "The Amyrlin Seat," is certainly the most powerful person on the continent.
Aes Sedai affiliate themselves into seven sub-families, or "Ajah"s:
The following tropes apply to, basically, every Aes Sedai character in existence:
| | | |
| --- | --- | --- |
| |   Nobody could humiliate one more soundly than an Aes Sedai, for they did it without malice. Moiraine had explained it to Min once in simple terms: Most Aes Sedai felt it was important to establish control when there was no great conflict, so that if a crisis did happen, people would know where to look. | |
Wizards Live Longer: Though, curiously, the Oath Rod seems to act as a Restraining Bolt on maximum lifespan as well as behavior. (This may be due to the fact that the Oath Rod is actually repurposed Phlebotinum: back in the Age of Legends, it was used to keep paroled criminals from going back to their old ways.)
---
Warders (in general)
A "Warder" is a warrior, typically a man, who has sworn service to an Aes Sedai. They are typically confidantes, bodyguards and accomplices, occasionally lovers and/or husbands. A Warder is typically either trained in combat at the White Tower or was already really good to begin with. They are attached to their Aes Sedai via the "Warder bond," a Psychic Link that verges into Synchronization. The vast majority of Warders are men, though it is not known if this is a hard-and-fast rule or just custom; the only Aes Sedai (Elayne Trakand) with a female Warder (Birgitte Silverbow) has managed to keep that affiliation secret thus far. Visually, Warders are known for their cloaks, which have chameleonic properties.
---
Moiraine Damodred
An Aes Sedai of the Blue Ajah, Moiraine starts the series off as The Obi-Wan, parading into the Doomed Hometown and effortlessly singling out the main characters. The fact that Rand & Co are somewhat Genre Savvy to her doesn't help a bit — but in any case, she's not here to beguile them, but rather to protect them. Eighteen years ago, the Dragon was reborn. Moiraine has been searching for him ever since, and has finally narrowed it down to one of three boys in Emond's Field. The fact that the Big Bad sends The Usual Adversaries in just confirms it. So Moiraine gets them out of there, with an express intent to guide the Dragon Reborn, teach him, and protect him until it's time to fight the Final Boss — and, also, to figure out which of the three he is...
In addition to all the standard Aes Sedai habits, Moiraine exhibits the following tropes:
Badass: The second-best Forsaken-killer next to Rand

and Graendal

.
Blue Blood: Given that a relative of hers started a world war, she's not particularly proud of it.
Dangerous Forbidden Technique: Balefire. She scolds Rand for using it in Book 5, despite having done so herself in Book 3, although that may have more to do with typical Aes Sedai "We know better of the Power than everyone" attitude than the balefire itself, as she seems fully aware that it is the only reliable way to kill Darkhounds.
Defrosting Ice Queen: Moiraine has that whole "Aes Sedai poise" down to a science. While no defrosting has actually happened yet, the fandom can read between the lines.
First Girl Wins: With

Thom

.
Hide Your Lesbians: If "pillow friends" means what the fandom thinks it does, then Moiraine and Siuan used to be... close. (Having said that, the term's use can be read to imply Situational Sexuality, and Moiraine and Siuan have since gotten married to men.)
Memetic Badass: Becomes this in Salidar to other Aes Sedai who find out about her Forsaken-killing.
Power Levels: again, RJ keeps this vague, but it's known that Moiraine was one of the strongest channelers amongst the Aes Sedai. She's on the third level of the Character Tiers chart, bettered only by Egwene (and those tied with her; see below) and Nynaeve (and those tied with her; again, see below).

At least, before her trip through the redstone doorway.

Save This Person Save the World: Why she's looking for the Dragon Reborn.

Ironically, thanks to Min's viewing, this trope seems to be true of herself, from the POV of Mat and Thom. We'll have to wait till the last book to find out why...
---
Lan Mandragoran
Introduced to the story merely as Moiraine's Warder, a bodyguard with a Mindlink Mates Psychic Bond and some other sundry skills, Lan is later revealed to be the Last of His Kind: he is the crown prince and only surviving citizen of the nation of Malkier, which was overrun by The Usual Adversaries and the Garden of Evil when he was still a babe at the breast. Condemned to wage a one-man war against the Shadow, Moiraine managed to distract him by dangling that whole "Save This Person Save the World" thing in front of him, and he has protected her ever since.
In addition to the standard Warder tropes, Lan exhibits the following traits:
Badass: How Badass? He fights Toram Riatin, a noted blademaster, while Rand goes after Fain. Jordan doesn't bother describing the duel; it's just assumed that Lan won effortlessly. And Riatin beat Rand, who is no slouch with a sword himself, in Book 7 (though to be sure he had to use some foul play to do so).
Badass Normal: He is probably literally the single deadliest non-channeler in the entire world.
Determinator: Here is the oath that Malkieri kings swear, and which Lan is still following:
| | | |
| --- | --- | --- |
| |   "To stand against the Shadow so long as iron is hard and stone abides. To defend the Malkieri while one drop of blood remains. To avenge what cannot be defended." | |
| | | |
| --- | --- | --- |
| |  "Perrin blinked. Lan was all of that?" | |
 Rand: "That mountain can get awfully heavy sometimes. When do you get to put it down?"

Lan: "When you die."
---
Siuan Sanche
Introduced into the story as The Watcher of the Seals, The Flame of Tar Valon, The Amyrlin Seat. What this means is that she is the elected leader of the Aes Sedai and, as such, basically the most powerful person alive. She and Moiraine went to school together and are co-conspirators in the "Save the Dragon, Save the World" plan.
---
Elaida do Avriny a' Roihan
An Aes Sedai of the Red Ajah, formerly the adviser to Queen Morgase of Andor, and a monumental bitch with delusions of grandeur. Was Accepted when Siuan and Moiraine were novices, and an Aes Sedai for five years when they were Accepted. Always disliked them, but also did her best to ensure they would both become Aes Sedai since they were both so strong in the One Power and the White Tower would need them for the Last Battle. Has the Foretelling. Attached herself to Morgase because she (secretly) Foretold the Trakand line would be instrumental in defeating the Dark One. Eventually, she instigated a coup (encouraged by Alviarin and, though she didn't know it, Mesaana) to tear down Siuan Sanche and install herself as the Amyrlin Seat. From there she proceeded to become an arrogant, vain, petty tyrant.
Break the Haughty: Toward the end of The Gathering Storm and her one scene in Towers of Midnight, she has gone from Amyrlin Seat, one of the most powerful stations in the world, to a damane, one of the least powerful. A Fate Worse Than Death in progress.
Defector From Decadence: A lot of Aes Sedai, including her own supporters, end up abandoning her for the rebels or at least withdrawing their support due to her insane amounts of ego, pretentiousness, and mishandling of events, as well as the punishments she deals out. See Evil Is Petty.
Does Not Like Men: Like most Reds.
Evil Is Petty: She decides to make an example of one of her coterie of advisers, just to prove who is in charge and make them fear her if not respect her, by demoting one back to Accepted. And the Aes Sedai goes along with it. Similarly she sends Teslyn off to Ebou Dar even though she was one of her biggest supporters, and enjoys tormenting Egwene with trips to the Mistress of Novices and demeaning drudgery far too much.
Hide Your Lesbians: Was once "pillow-friends" with Meidani, one of the rebel "ferrets".
It's All About Me: Elaida is convinced that she, and only she, can save the world from the Dark One, and that she must be given all praise and support as the Amyrlin who won the Last Battle and prevented another Breaking. Partly this is due to Padan Fain's influence, but also her own natural ego which was bolstered by her Foretellings. In contrast to Ewgene, who believes the Tower is more important than she is, Elaida actually tries to build a rich, opulent palace which if finished would be larger than the White Tower. Even her bringing a very expensive old clock out of mothballs partakes of this attitude, since again it's meant to bring awe and glory to her reign.
Laser-Guided Karma: Made a damane by the Seanchan, whom she alternately dismissed as fictional or of no threat. And it is so sweet.

...except now the Seanchan have Traveling because of her.

True, though chances were they could have learned it from any Aes Sedai they had kidnapped. As Egwene herself states, the Seanchan were bound to get it eventually.

Light Is Not Good: While she isn't a Darkfriend, Elaida is certainly not a hero, yet she is still on the side of the Light. In the end her idiocy, stubbornness, pride, and outright bitchiness cause as much trouble for Rand and his allies as anything the Shadow does.
Not So Different: With Siuan Sanche. Each rose from humble (or at least obscure) beginnings to become Amyrlin Seat, each was one of the most powerful Aes Sedai of her generation, each knew the Last Battle was coming and tried to prepare for it. But where Siuan wanted to merely guide Rand, Elaida tried to control and contain him, and while they both wanted to save the world, Elaida wanted to do so in a way that would give her fame and greatness. Despite the similarities, they have always hated each other.
Overly Long Name: It gets worse when you add all the Amyrlin Seat's titles and honorifics.
Pinball Antagonist: With how much she got yanked around by Alviarin, Mesaana, Galina, and any number of Black Ajah behind the scenes, not to mention adding Fain into the mix, and it's any wonder she survived as long as she did or managed to do anything right--wait, she didn't. It's enough to make the reader feel sorry for her, once in a while, especially when it becomes clear she really is trying, in her own way, to serve the Light. She just has very Skewed Priorities.
Stop Helping Me!: Elaida's way of making sure Siuan and Moiraine pass their Aes Sedai tests is to 'cheat' by abusing them, both verbally and with the One Power, so that they can handle any distractions and pain the testers may throw at them. She is chastised for this (by a Black, it turns out, though that is less likely Even Evil Has Standards and more that she didn't want Siuan and Moiraine to become Aes Sedai), but when they find out what she was actually doing, their response is definitely along the lines of "With friends like these..."
Well-Intentioned Extremist: Despite everything, she isn't a Black. Her Foretelling warned her (and rightly so) of the pain and devastation that would occur with Rand's coming, she genuinely believed Siuan was leading the Aes Sedai and the world to ruin, and much of her early 'villainy' was brought about due to Alviarin's manipulations. Even the torture Rand undergoes, while nominally sanctioned by her, was Galina's idea and not something she decreed, having only wanted the Dragon Reborn brought to her to keep him (and the world) safe until the Last Battle. (Of course, that would have kept him from fulfilling the prophecies...) In the end her egotism, nastiness, and ignorance are as much due to Fain's corruption as her own failings, so there's no way to know what would have happened if he hadn't influenced her. A good example of her extremism, though, aside from the whole gentling men thing and her treatment of Rand, is one which dates to well before any tainting: her claim that channeling men are 'unbelievers'--that is, that because they channel (even though they can't help it), something which will lead to insanity and death and is therefore against the Pattern and the will of the Creator, they must not believe in the Light.
Wrong Genre Savvy: Elaida had basically attached herself to House Trakand of Andor because she had a fortelling that the royal line of Andor would be all important in the Last Battle.

Unfortunately, as it turns out, Rand Al'Thor, the prophesised saviour of the world just happens to be the son of a previous heir to the throne who went AWOL. Whoops.

.

The current Queen of Andor could very well have a very large role to play in the Last Battle.
---
Galina Casban
The Highest of the Red Ajah and one of the two second in commands of the Black Ajah.. Elaida puts her in charge of the expedition to capture Rand. This fails and she is captured by the Shaido Aiel, tortured, and made to swear an Oath of obedience on a second Oath Rod and ultimately broken..
---
Verin Mathwin
A dreamy Brown Ajah who is very interested in books. Is smarter and more observant than she appears. Helps Perrin in the Two Rivers, then goes off to advise Rand. Later returns to the White Tower where she kills herself to betray the Black Ajah.
The Atoner

Regrets joining the Black Ajah instead of choosing death, so she betrays them by poisoning herself. Her Warder also felt this way.

Badass Bookworm: Definitely.
Defector From Decadence: One of these during most of the White Tower schism.
Exact Words: How she gets around the Oath to "never reveal the Dark One's secrets until the hour of her death".
I Gave My Word: Swears an Oath to obey Rand. As the Oath Rod prevents an Aes Sedai from speaking words that are not true...

Subverted by being Black and able to lie.

Face Heel Turn: Is forced to join the Black Ajah and ends up with a Darkfriend Warder.
Heel Face Turn: Confesses everything to Egwene and gives her all her research on the Black Ajah.
Heroic Sacrifice: Poisons herself to get around the Oath to not betray the Black Ajah (see Exact Words). Doubles as a Senseless Sacrifice as if she had just waited for the Oath rod to be returned it would have been unnecessary.

Well, Egwene does mention that the Oath Rod may not have helped, and Verin herself agrees that the oaths made to the Dark One were "distinctive"; there was no guarantee that it would have worked. Still, it would have been worth a try.

Considering the sort of punishments the Dark One meets out to those who betray him, suicide may actually have been the better option than chancing it.

The Mentor: Is one of these to Egwene.
The Mole: Became one of these and a Reverse Mole, joining the Black Ajah and using her position there to spy on them for the Light.
More Than Mind Control: Has a version of Compulsion that only works if the victim is caught by surprise and can provide their own reasons for their actions.
Obfuscating Stupidity: Puts on an appearance of dreaminess, but is shown to be much sharper under careful examination.
Cadsuane Melaidhrin
One of the oldest and most respected Aes Sedai alive (possibly the most in both categories), Cadsuane is something of a living legend for her adventures, the number of male channelers she's managed to deal with, and for being one of the Most Triumphant Examples of an Iron Lady to walk the halls of fiction. She appears out of nowhere (that is, Ghealdan) in the seventh book to add herself to the growing list of hangers-on around Rand, and the two have a very contentious relationship.
Cadsuane, despite being introduced in a book that came out 15 years ago, has not been added to the character sheet until now for a very simple reason: ask any character or reader what she's really up to, and nobody will be able to tell you. She plays things close to the vest and rarely needs help, simply using her forceful personality to bully people around.
---
Independent Characters
Thom Merrilin
A traveling gleeman who happens to be in Emond's Field, Thomdril Merrilin gets caught up in the mad flight out of the Two Rivers. While Moiraine fits the "wise mentor" aspect of The Obi-Wan, Thom has the "old man" side of it. He also has that name that sounds suspiciously like "Merlin". Of course, in true Gandalf fashion, he performs a Save-Yourself-style Heroic Sacrifice (practically shouted "Fly, you fools!"), and then comes back later in Book 2, though via careful escape as opposed to reincarnation. He then becomes a peripheral character, eventually becoming trapped with Mat in Ebou Dar.
---
Min Farshaw
Min is a little older than Rand, and wears men's clothing and has short curly hair, which he finds pretty sophisticated. Moiraine consults her once she's managed to drag everyone out of the Two Rivers, wanting to know what Min's "viewings" say about her charges. It takes another six or seven books for her to become important to the plot, but once she does...
---
Loial
An Ogier who escaped his stedding in search of adventure and good books. The Ogier have Gentle Giant and botany as their Hats; by their standards, Loial is considered quite hasty. After finding out who Rand is, he decides that his life's work will be to chronicle the life and times of The Dragon Reborn, but most of the time he ends up hanging out with Perrin.
---
Elyas Machera
A Wolfbrother like Perrin, who teaches him about his abilities early in the series and reappears later on to aid him in his adventures.
---
Mazrim Taim
A "False Dragon", Taim once declared himself the Dragon Reborn as a publicity stunt. Obviously, he's not, but that didn't stop the chaos. Unlike most False Dragons, Taim can actually channel (and very strongly too), and escaped soon after he was captured by Aes Sedai (which is more than can be said for Logain Ablar). He unexpectedly shows up in Book 6 (though he had been The Ghost since Book 2) and is placed in command of Rand's personal Wizarding School, "The Black Tower," where male channelers train to become Asha'man and fight in The Last Battle. Taim's agenda is not Rand's.
---
Faile
AKA Zarine Bashere, she took the name Faile as an alias while a Hunter for the Horn. She is Perrin's love interest and later, his wife. She is described as taller than average with long, dark hair, tilted eyes, and a prominent "Saldean nose".
---
The Aiel
The Aiel are a race that live beyond the Spine of the World and every single one of them is a Proud Warrior Race Guy. Ever since The Breaking of the World they have scratched out an existance in the Three-Fold Land waging constant wars amongst themselves for scarce resources which has forged them into a highly efficient fighting force, much a like a similar desert-dwelling people. They follow a complex set of rules and social moores that can be confusing to outsiders. The history of their people is a dark and shameful secret. Those aspiring to be Clan Chiefs or Wise Ones must travel to their abandoned holy city of Rhuidean in order to learn this history. Only about one in three return, the rest suffer from Go Mad From the Revelation.
Aviendha
A Maiden of the Spear from the Nine Valleys sept of the Tardaad Aiel, Aviendha crosses into the "wetlands" in Book 3 along with a bunch of other Aiel in search of "He Who Comes With The Dawn." She becomes friends with Egwene, Nynaeve and Elayne and eventually joins forces with them. Later it is revealed that she too can channel, being roughly on par in power with Egwene and Elayne, with whom she eventually becomes BFF. When Elayne needs to go have her own campaign separate from Rand, she has Aviendha promise to watch out for him and make sure Rand stays loyal. The Aiel elders also assign her to be Rand's local guide, teaching him the customs and ways of his people. This causes a lot of conflict for Aviendha, because (according to one of Min's viewings) Rand is fated to fall in love with three women, and Aviendha is one of them...
---
Rhuarc
The Clan Chief of the Taardad Aiel and one of Rand's closest supporters. As is not unusual among the Aiel, he has two wives, Amys and Lian. He journeyed into the Westlands along with Aviendha in search of He Who Comes With The Dawn. Rhuarc is there when Rand first takes Callandor from the Stone of Tear and reveals that the Aiel are actually the fabled People of the Dragon.
---
Sevanna
A Jumai Aiel of the Shaido clan, one of the main non-darkfriend antagonists to Rand. She opposed recognition of Rand as Car'a'carn and supported her husband, Couladin, in his bid for power. Once he is defeated in battle she takes on the role as leader of the Shaido. She wages a war of pillage and plunder across the Westlands, taking many people prisoner as gai'shain, including Faile, which launches Perrin into his Roaring Rampage of Revenge.
---
Sorilea
A Wise One from the Jarra sept. Sorilea is barely able to channel, but is one of the oldest and most revered Wise Ones. She has a formidable and forceful personality and can be quite frightening.
Cool Old Lady: The Aiel regard her as one.
Cool and Unusual Punishment: As a Wise One, she's an expert in dishing these out. For instance, forced an apprentice to search through a giant pile of sand for one specific red grain of sand as punishment for speaking out of turn.
| | | |
| --- | --- | --- |
| |  "In my day, girls jumped when a Wise One said jump, and continued jumping until they were told to stop. As I am still alive, it is still my day. Need I make myself clearer?" | |
---
The Whitecloaks
An organisation dedicated to fighting the Dark One wherever his influence appears. Sadly, the current Whitecloaks have devolved into fanatical Knight Templars who arrest and torture anyone they even slightly suspect of being a Darkfriend. This extends to Aes Sedai, whom the Whitecloaks believe are the Dark One's foremost servants.
Pedron Niall
The Lord Captain Commander of the Whitecloaks by the time the story begins. Niall is renowned as one of the Five Great Captains, with few enemies defeating him once and none twice. Niall believes Rand to be another False Dragon and his every move is calculated to both bring him down and expand the influence of the Whitecloaks.
Seanchan
Almost a thousand years before events in the book, the legendary king Artur Hawkwing (the King Arthur of the WoT universe) united the Westlands under his empire. He sent his son with a huge contingent of troops across the Aryth Ocean to the west to discover new lands for his kingdom. They never returned and were thought to be lost at sea. Hawkwing's empire eventually crumbled after his death, resulting in the independent nations of the series' present. However, the expedition survived the journey and set up a new empire in the continent they discovered. Utilizing the strange creatures native to the land as well as fearsome devices for controling channelers, they conquered the indigenous peoples. Now, they are returning to the Westlands, determined to retake their homelands which they believe is their birthright and will stop at nothing to see the Hawkwing Empire restored.
Tuon
Tuon Athaem Kore Paendrag is the second and favorite daughter of the Empress of the Seanchan Empire. She comes to the Westlands to oversee the Return and ensure that the nations there are reunited under the Empire's rule. As such, she becomes another non-darkfriend antagonist to Rand. While she agrees that the world needs to be united when the Last Battle comes, it must be under Seanchan's banner and the Dragon Reborn must kneel to the Empress.
---
Egeanin
Egeanin Tamarath was a ship captain in the Seanchan fleet. After the fall of Falme, she is sent to the Westlands to help round up escaped sul'dam and damane. After realizing that much of what she knew about channelers was wrong, she suffers a crisis of conscience.
---
Suroth
High Lady Suroth Sabelle Meldarath is in charge of securing a foothold in the Westlands to prepare for the return of the Seanchan. She is a cold and calculating individual who does not tolerate dissention amongst her ranks. Although she suffers a great defeat early on, her subsequent victories elsewhere lead some to believe that she may have secret ambitions inappropriate for her station. This is later verified as she is a Darkfriend under Semirhage with plans to make her the new Empress.
---
The Shadow & Darkfriends
The Dark One aka Shai'tan
The ultimate evil, equal and opposite of the Creator, imprisoned by him at the beginning of time. Partially released during the War of Power and resealed by mortals, his ultimate goal is complete freedom and the annihilation of reality.
---
The Forsaken
In the previous War Of Power, Lews lead the forces of light supported by a team of lieutenants and trusted advisers. Many died, but a many also turned cloak and joined with The Shadow and The Dark One. These best-and-brightest were called "The Chosen" by the servants of the Shadow, "The Forsaken" by everyone else. There where oringaly somwhere around thirty of these ranging in skill from tactical generals to doctors, scientists, artists, philosophers and so on, thirteen surived, sealed inside Shaylo Ghoul at the some moment the Lews placed the Thirteen Seals on The Dark One, but with the Seals wearing down, they are starting to get free...
The Forsaken are a Quirky Miniboss Squad composed of Names to Run Away From Really Fast — literally, since most of them took a Meaningful Rename after they turned to the Shadow. They are just one step below The Dragon ("Nae'blis") to the Big Bad himself; most of them are of the Card-Carrying Villain variety, and they often fight amongst themselves over who is going to be Nae'blis. (This level of Divided We Fall is implied to be one of the main reasons why The Shadow hasn't won yet, though it's also something the Dark One is implied to actively look for in lieutenants: it prefers Complete Monsters over stabler but less evil minions.) They are here in the story's "present day" with all their knowledge from the Age Of Legends intact, and the one thing everyone agrees on, both Light and Shadow, is that it's likely to be a Curb Stomp Battle once they start taking the fight to today's backwards yokels.
Aginor /

Osan'gar

/

Corlan Dashiva

/ Ishar Morrad Chuain:
Formerly known as Ishar Morrad Chuain, he was a famous biologist, but his lack of ethics got his licesne revoked so he turned to the Shadow for more....creative freedom. He created most the Shadowspawn that still terrorize the world an Age latter.
| | | |
| --- | --- | --- |
| |  ...he began to skulk from tree to tree in what he imagined was a stealthy manner. It was toward the key that he skulked. | |
---
Asmodean / Jasin Natael / Joar Addam Nessosin:
A famed musician and composure of the Age Of Legends and the least violent of all the Forsaken. He is neither a schemer nor a general, and the only reason he turned to The Shadow was so that he could gain immortality and have enough time to learn every song ever written. However he is still a ruthless jerk, and stilled his own mother among other terrible crimes. He favors Lanfear as an ally and is the weakest of the Male Forsaken (still bounds ahead of most men in the current age). His death is one of the single most famous mysteries in the series, fans arguing for years over who it was.
---
Balthamel /

Aran'gar

/

Halima Saranov

/ Eval Ramman:
The anti-Mat, he was a historian in the Age Of Legends famous for his study of primitive and extinct cultures, but is better remembered as a gambling, womanizing, jack ass. He had major anger management issues that eventually lead him to the Shadow in order to dodge a Restraining Bolt against using the power for Violence. He ran an intelligence network unmatched by any of the other Chosen except for Moghedien. His most remembered evil deed was raising and organizing breeding camps for humans to be fed to the Trolloc armies. He is resurrected in a female body part way into the series.
---
Be'lal /

High Lord Samon

/ Duram Laddel Cham: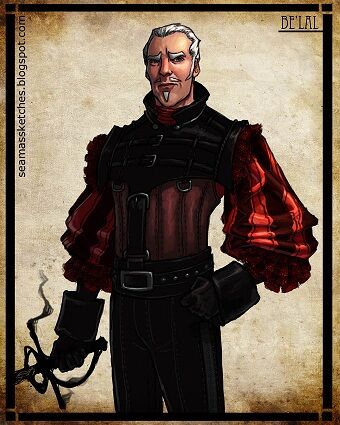 A general of the Shadow, and Master Swordsmen. He was one of Lews's closest friends before jealously lead him to turn to the Shadow. The First Forsaken to actually be killed off
---
Demandred / Barid Bel Medar/

We Still Don't Know

:
"Almost" would be the word to describe Barid Bel Medar's life. Born a day after Lews Therin Telamon, he is almost as handsome, close to Lews Therin in power, and almost as skilled. If not for Lews Therin, he would have been the most acclaimed man of his age. But in the War Demandred discovered something he was far better at: war. If not Sealing of Shia'tan, The Shadow would have triumphed in the war beneath his command. Since being released...he has been doing something. We just don't know what it is. Thirteen books in and we are still no closer to knowing his identity then we where in The Eye Of The World. All we know is he has armies, and their big.
---
Graendal /

Lady Basene

/ Kamarile Maradim Nindar:
One of the Shadow's most dangerous and competent servants. Graendal was born Kamarile Maradim Nindar and she was a famous psychologist for nearly four hundred years, able to heal mental afflictions even use of the One Power could not cure. She was also a distinct ascetic, living an unadorned life free of physical and mental pleasures. Of course, she also placed these same impossible standards on the rest of the world and felt that anyone that couldn't hold to them was morally inferior. Eventually she snapped from the realization the world would never live up to her expectations, and was general not a good place. She did a completely moral 180, creating the alter ego of "Graendal" that was the pure opposite of everything Nindar had been: lusty, indulgent, selfish, and vain.
She has a better understanding of the human mind then any living person, and is an expert at Compulsion, capable of reducing even iron willed badasses into groveling slaves with ease. According to Lews it is impossible to out think her. She, Semirhage, and Ishmael are the only Forsaken that came to the Shadow without being influenced by it.
---
Ishamael / "Ba'alzamon" /

Moridin

/ Elan Morin Tedronai:
A famous philosopher and writer in the Age Of Legends and one of Lews closest friends. He is the most powerful of the Forsaken and their leader. Incredibly intelligent he has profound insight into the nature of the Wheel of Time and the struggle between the Dark One and the Dragon. He is unique among the Forsaken as being the only member of the group who didn't join for the promise of power or immortality, but because his logic concluded that the Dark One must inevitably win against the Dragon, and therefore the only path was to join him and rule for a time. All of the other Forsaken believe him to be insane, though some of Ishamael's statements which are taken to be mad are in fact simply esoteric beyond what the other Forsaken are capable of understanding (he brief talk on Chaos Theory at one of their meetings while burning a rat alive).
He was only partially sealed in Shaylo Ghoul and has been manipulating and influencing the Pattern for eons by the time of the main series. He is responsible for both the Trolloc Wars and the fall of Arthur Hawking.
---
Lanfear /

Cyndane

/ Mierin Eronaile:
Lews's ex-girlfriend, and the most powerful woman to ever channel. Ever. She became obsessed with winning him back by any means necessary, and one such experiment (meant to earn her glory that was sure would bring Lews back to her, despite him being married) is what originally freed the Dark One. She's skilled at scheming, lying, and manipulating to get what she wants, and she only wants one thing: Lews Therin back, even eons latter. The Dark One does not truly trust her because of this, but she is kept around because there is no one that knows him better.
She is also the only Forsaken to stand trial in front of the Hall Of Servants for her crimes, where she proudly declared herself to be a servant of the Shadow and then blasted her way free.
---
Mesaana /

Danelle

/ Saine Tarasind:
"The Shadow Aymrlin" she is a teacher, organizer, and researcher from the Age Of Legends. She got turned down for a field study and was regulated to a educator's role, so she turned to the Shadow. As far as Forsaken go, she's pretty o.k. for a person ,though she still conditioned legions of children into a army of little monsters that where capable of murder. She is among the most dangerous because of her refusal to scheme and plot against and with the other Forsaken (though she does from a non-aggression pact with a Semirhage and Demandred) and instead focuses on the "down and dirty" aspects of winning this war. Up until her death she is the most successful of all the Forsaken in doing this, causing a schism in the White Tower that nearly destroyed it and murdering countless Aes Sedai.
---
Moghedien /

Marigan

/ Lillen Moiral:
"The Spider" Moghedien was oringally an investment advisor known Lilen Moiral, often looked down on even when she was part of the The Light, she cultivated a massive network of spies and assasins for the Shadow, using an image as a meek and little woman to lead many agents of the Light to their deaths. She escaped after being revealed as a tratior and killing thousands to engineer a distraction. She favors moving and striking "softly from the Shadows". She is a master of the World Of Dreams, making up for her lack-luster strength in the One Power.
---
Rahvin /

Lord Gaebril

/ Ared Mosinel:
A diplomat and megalomaniac, his specality was pushing regions into non-violent surrender to The Shadow.
Deader Than Dead: Balefire's time-bending properties (it actually kills you, chronologically speaking, a few seconds before it hits you) mean that Forsaken killed by it can't be revived (the window the Dark One has to revive them is measured in fractions of a second). Rahvin got hit hard enough to rewrite fifteen minutes and over a chapter of events.
Villain Team-Up: He, Graendal, Lanfear and Sammael attempt one to defeat Rand.
---
Sammael / Lord Brend / Tel Janin Aellinsar:
One of the Chief generals for the Shadow, he was friends with Lews Therin Telamon, although it is not certain how deep this friendship ran; more likely he considered himself a rival to Lews Therin. He turned to the Shadow realtively late in the game, but still won major victories for them. He was scared in battle by Lews, a scar he refused to let he healed, swearing he would do so only after killing him.
---
Semirhage /

Anath

/ Nemene Damendar Boann:
Batshit crazy and evil to the core, Semirhage required no corrupting. A world renown healer in the Age Of Legends, she was the Token Evil Teammate for The Light until The Hall Of Servants found out that she was torturing her patients as "payment" for Healing (as she felt they where unworthy of being saved). They gave her an ultimatum take a Restraining Bolt against her "pleasures" or be Severed from the One Power forever.. She said Fuck This Im Out Of Here and joined the Shadow, where she became one of their most valued assets.
She is the most feared of all the Forsaken, and even her fellows are more then a but scared of her. Prisoners have commited suicide rather then be tortured by her.
Break the Haughty:

Cadsuane eventually realizes the key to breaking her isn't pain, but public humiliation... such as being forced to kneel and eat off the floor like a dirty beggar.

The Dreaded: During the War of Power, captives often commited suicide- even by biting their own wrists- when they learnt they were being taken to her, to the point her minions had to take special precautions against it for all prisoners. At one point she was captured, but she freaked out the guards so much that they actually smuggled her out and set her free. She was an incredibly sadistic torturer and Mad Scientist, who enjoyed discovering new ways to make people suffer, and she has turned the Sadistic Choice into an art form. Her rep survived down to the Third Age.
Flaw Exploitation: Knows Rand Wouldn't Hit a Girl. Is a girl. See where this is going?
Fate Worse Than Death: Being captured by her. Why? Because of the...
Good Powers, Bad People: She was a world-renowned healer, possibly the best in the world, back in the Age of Wonders, but also a sadist even before she joined the Dark Side. This makes her really good at...
The Sociopath: As mused by Graendal, she is one of the few Forsaken to have had no Start of Darkness- she joined The Shadow because the good guys fired her for being a Token Evil Teammate. Mostly because she was already an infamous...
Torture Technician, at one point (post-Age of Legends) killing a man by over-stimulating his pleasure centers. She also succed in keeping a man alive four hours after replacing all the blood in his body with tar.
Token Minority: We don't really know what Ishamael and Baalthamel originally looked like, but Semirhage is the only black Forsaken that we know of.
Villain Team-Up: She, Mesaana and Demandred have an alliance to eliminate their mutual rivals and not betray each other until they are the last of the Forsaken remaining. Of course they never trust each other.
---
Shaidar Haran
The Myrddraal are mutant Trollocs which resemble pale humans with smooth skin where their eyes should be. Commonly used as commanders of the Dark One's armies, they are much more intelligent than their brethren and possess great fighting skills as well as minor magic, but are much weaker than the average channeler. Shaidar Haran, the most powerful of the Myrddraal, is a different story entirely, a fearsome creature that can command the loyalty and fear of even the Forsaken. Its true nature is the subject of much debate, but it is unarguably one of, if not the, most powerful weapons in the Dark One's arsenal- and might be something more...
---
Padan Fain
Originally a Darkfriend sent to spy on the Two Rivers, Fain was forcibly recruited by Ishamael and some Myrddraal to aid in the hunt for Rand. The resulting proceedings filled him with hate for both sides, and a chance encounter in the haunted city of Shadar Logoth left him merged with the spirit of the infamous Evil Chancellor Mordeth. Now he pursues revenge against both the Dragon and the Dark One, and he may well have the power to accomplish it.
---
Slayer
Once two different men — Lord Luc, brother of Tigraine and blood-uncle to Rand, and Isam, cousin to Lan--who had a destined encounter in the Blight; Luc was there because he'd been sent by a Foretelling made by Gitara Moroso (the same one who foretold Rand's birth and sent Tigraine off to the Waste to become a Maiden of the Spear), while Isam was there because he was trying to reclaim Malkier after his mother colluded with the Darkfriend Cowin Fairheart to betray it to the Shadow. Now they have somehow become one entity and act as Chief Assassin of the Dark.
 Slayer, as Isam: Luc hates you, you know. Hates you deeply.

Perrin: And you don't?

Slayer: No more than the wolf hates the stag.
Ranger: A hunter who uses a bow and a two swords.
Synchronization: Whatever happens to Isam in the World of Dreams happens to Luc in the real world, as seen when Perrin shot him with an arrow. No indication yet whether the reverse is also true.

That's not really unique to Isam. Anyone hurt in Tel'aran'rhiod suffers corresponding injuries to their corporeal self; it's one of the properties of the World of Dreams.

True, but the reason this is notable is because Luc and Isam are two different people, yet what happens to one in the World of Dreams happens to the other in the real world. This is unique compared to the other examples of Tel'aran'rhiod, since such a correspondence could not happen between two different people without Luc and Isam being part of a Fusion Dance, and it is in fact how Perrin (along with the cold, inhuman scent they share) is able to figure out Luc is Slayer since otherwise they looked nothing alike.

Villainous Fashion Sense: Though considering the fact his outfits correspond with either Andoran or Borderlander nobility, this would also be a dead giveaway as to his identity--if anyone who had seen him knew who Luc or Isam was, or had described him to someone who knew they were related to Rand and Lan. (Which at this point is just Rand and Lady Dyelin for Luc, Lan and possibly Moiraine for Isam.)
---
Narg
One of the first Trollocs in the series and the only one given a distinctive name. Despite his early and ignominious death, he still fascinates the fandom on a level surpassed only by Bela, leading to his inclusion in lists where he really doesn't belong. For more information about the fandom's reaction to him, head over to YMMV.
---
Shadowspawn
Artificial beings created by Aginor during the War of Power, the Shadowspawn are notable for being Always Chaotic Evil and forming the bulk of the Dark One's forces. There are many different kinds of Shadowspawn, but the most notable are discussed below:
Brutish, bloodthirsty beast-men, the Trollocs are the most commonly encountered Shadowspawn and are the standard Mooks for the Shadow. Though inhumanly large, strong, and aggressive, they're not very good soldiers and need someone or something else in command in order to be at all effective.
Throwbacks to the Trollocs' human heritage, Myrddraal make up less than 5% of the Trolloc population but are by far the most important. More human-looking- and far more intelligent- than their cousins, they generally serve as Elite Mooks or Mook Lieutenants and without their presence making Trollocs function as an effective fighting force would be all but impossible.
The Shadow's flying scouts and assassins, Draghkar are winged, humanoid creatures with the power to consume the souls of their victims. Fortunately they're said to be even less intelligent than Trollocs, but they're still deadly when under the command of a Myrddraal.
These are standard human Darkfriends who have surrendered their souls to the Shadow. In exchange, they get turned into Ridiculously Average Guys who can enter without anyone noticing, which serves them well in their role as assassins.
Beneath Notice: Invoked. Grey Men are typically written into the narration as an Unusually Uninteresting Sight, inviting The Reader to overlook them. Double Takes can follow, both In-Universe and out.
The Nondescript: Uses the superpowered version. They're next to impossible to see coming; they don't even trip the Spider Sense radar that channelers get with creatures of the Shadow. The only ways to survive a Grey Man attack are to get lucky (have their initial attempt miss or fail somehow, which reveals their presence), be very quick (they become a lot easier to notice right before they strike, because the "OH GOD HE HAS A KNIFE" mental response overrides their powers), or to have some other way of detecting them (Perrin, for example, can smell them coming).
Non-Indicative Name: Yes, women can become Grey Men.
---