House of the Dragon Trailer - The Loop
Play Sound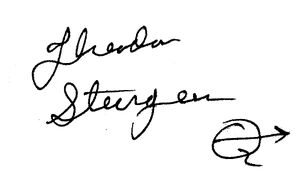 Theodore Sturgeon (born Edward Hamilton Waldo, February 26, 1918 – May 8, 1985) was an American writer, primarily of fantasy, science fiction and horror. He was also a critic who wrote approximately 400 reviews and more than 200 stories.
He is also know for coining what is now known as Sturgeon's Law: "90% of everything is crud."
Sturgeon has said that "Sturgeon's Law" was originally "Nothing is always absolutely so." However, the former statement is now widely referred to as Sturgeon's Law. He is also known for his dedication to a credo of critical thinking that challenged all normative assumptions: "Ask the next question." He represented this credo by the symbol of a Q with an arrow through it, an example of which he wore around his neck and used as part of his signature in the last 15 years of his life.
Novels
The Dreaming Jewels (1950) Also published as The Synthetic Man
More Than Human (1953) Fix-up of three linked novellas, the first and third written around Baby Is Three (Galaxy Science Fiction, October 1952)
The Cosmic Rape (1958) Abridged version published as To Marry Medusa
Venus Plus X (1960)
Some of Your Blood (1961)
Godbody (1986) Published posthumously
Short Stories
Sturgeon was best known for his short stories and novellas. The best-known include:

"Ether Breather" (September 1939, his first published science-fiction story)
"Derm Fool" (March 1940)
"It" (August 1940)
"Shottle Bop" (February 1941)
"Microcosmic God" (April 1941)
"Yesterday Was Monday" (1941)
"Killdozer!" (November, 1944)
"Maturity" (February, 1947)
"Bianca's Hands" (May, 1947)
"Thunder and Roses" (November 1947)
"The Perfect Host" (November 1948)
"It Wasn't Syzygy" (January 1948)
"Minority Report" (June 1949, no connection to the 2002 movie, which was based on a later story by Philip K. Dick)
"One Foot and the Grave" (September 1949)
"Baby Is Three" (October 1952)
"A Saucer of Loneliness" (February 1953)
"The World Well Lost" (June 1953)
"Mr. Costello, Hero" (December 1953)
"The [Widget], The [Wadget], and Boff" (1955)
"The Skills of Xanadu" (July 1956)
"The Other Man" (September 1956)
"And Now The News" (December 1956)
"The Girl Had Guts" (January 1957)
"Need" (1960)
"How to Forget Baseball" (Sports Illustrated, December 1964)
"The Nail and the Oracle" (Playboy, October 1964)
"If All Men Were Brothers, Would You Let One Marry Your Sister?" (1967, Dangerous Visions anthology edited by Harlan Ellison)—Nebula Award 1967 Nominee Novella
"The Man Who Learned Loving"—Nebula Award 1969 Nominee Short Story
"Slow Sculpture" (Galaxy, February 1970) — winner of a Hugo Award and a Nebula Award
"Occam's Scalpel" (August, 1971, with an introduction by Terry Carr)
"Vengeance Is." (1980, Dark Forces anthology edited by Kirby McCauley)