YMMV •

Radar

•

Quotes

• (
Funny •

Heartwarming •

Awesome) •
Fridge •

Characters •

Fanfic Recs •

Nightmare Fuel •
Shout Out

•

Plot

•

Tear Jerker •
Headscratchers •
Trivia • WMG •

Recap •
Ho Yay

•
Image Links

•

Memes

•

Haiku

•

Laconic

•
Source

•

Setting

The Adventures of Tintin, originally titled The Adventures of Tintin and Snowy, is a seminal Belgian comic series and has had considerable influence on the development of graphic narratives in Europe and around the world.
Briefly, Tintin was invented by Georges Remi (AKA Hergé, from his initials backwards, R.G., spelt phonetically in French) as a cartoon character for Le Petit Vingtième, the children's supplement to Le Vingtième Siècle (The Twentieth Century), a conservative, Catholic newspaper in Belgium. The character was developed from Totor, a boy scout character Hergé had previously drawn for Le Boy-Scout Belge. The first adventure was published in 1929 and concerned the young hero, supposedly a reporter for Le Vingtième, accompanied by his dog, Snowy (Milou in French), visiting Soviet Russia and revealing the various iniquities of the Communists, as seen by conservative, Catholic, Belgian eyes.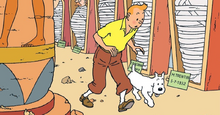 The second adventure took the hero to the Belgian Congo, and was in a large part a defense of colonialism, despite the fact that the Belgian administration in the Congo was so brutal that even other European imperial powers denounced it. In 2007, the UK Commission for Racial Equality called for it to be banned in the UK for racism (it is sold with a band warning the reader of its content within). It should also be noted that Hergé himself labeled it as "bourgeois and paternalistic."
As the first two stories were basically clumsy propaganda pieces, they have never been much admired by fans, and even the creator admitted their flaws. However, from the third adventure, Tintin in America, onwards, the blatancy of the propaganda was reduced and the inventiveness of the adventures increased so that the series has been enjoyed by readers young and old the world over.
Most of the adventures concerned the (eternally) young hero investigating some event or trying to do someone a good turn and, as a result, falling into adventure. The adventures range from thwarting criminals to treasure hunts, from spy stories to a voyage to the moon.
The real world frequently impinges upon the stories, with many identifiable events from real life being presented with only a few slight changes of name, for example the Grand Chapo (real life, Gran Chaco) war in The Broken Ear, and the Sino-Japanese war in The Blue Lotus.
Eventually the real world was to catch up with the series in a more serious manner. Two stories from the late '30s, King Ottokar's Sceptre and the original version of The Black Island, as well the opening chapters of The Land of Black Gold (later revised and republished), show a possible buildup to war with villains who look suspiciously like Nazis. War, of course, came, and Belgium was occupied. Hergé made the decision to continue his work under the occupation to provide entertainment for his countrymen. To escape the Nazi censor, his stories in this period are fanciful high-adventure yarns with no reference to war at all. (The Crab with Golden Claws, The Shooting Star and the treasure hunt stories, Secret of the Unicorn and Red Rackham's Treasure.) These stories' fantastic quests and pulp adventures would influence later stories who would include such high-adventure elements even as the stories themselves would return to real-world inspired elements. However, after liberation, Hergé was accused of being a collaborator for publishing in a collaborationist newspaper. Worse, The Shooting Star had a very obvious Jewish-financier stereotype villain. His work was interrupted for a time.
After his name had been cleared, Hergé continued his stories in a magazine titled Tintin. The stories were now much more tightly scripted than the earlier examples, and included some new characters, Captain Haddock and Professor Calculus (Tournesol in French, meaning Sunflower), who had been introduced in the wartime adventures, as well as two clownish policemen, Thompson (with a 'p', as in 'Philadelphia') and Thomson (without a 'p', as in 'Venezuela') who had appeared earlier. (The original French version used "Dupond" and "Dupont" - pronounced the same in French.)
The stories continued, with returns to various settings previously visited, and sudden appearances by a large supporting cast, and included a very well-researched mission to the moon, tending toward the 'Hard' end of Mohs Scale of Sci Fi Hardness. The last completed adventure was published in 1976. Hergé was working on a twenty-fourth adventure, Tintin and Alph-Art, until his death in 1983.
The third Indiana Jones film's story was adapted from a Tintin script Steven Spielberg was writing.
There were two animated series
In the 1960s, a Télé-Hachette and Belvision production that is considered of poor quality by fans.
In the early 1990s, there was a much better received French-Canadian series (coproduced by Ellipse and Nelvana), which was much more faithful to the original works and had an awesome theme.
...four animated films...
A lively and faithful stop motion-animated feature film based on The Crab With The Golden Claws made in 1947, whose only copy is kept at the Tintin museum in Brussels and shown to paying visitors. In 2008 this was ported to DVD and released in France and Europe by Fox-Pathé.
Tintin and the Sun Temple (1969), by Belvision and made from the combined storyline of The Seven Crystal Balls and Prisoners of the Sun. Usually agreed to be the best of Belvision's Tintin productions, and the only one that Hergé himself had any significant involvement with.
Tintin and the Lake of Sharks (1972), by Belvision with an original storyline.
The Adventures of Tintin (2011), a 3D animation based on The Secret of the Unicorn. More details on its respective page.
...two live-action films
Tintin and the Golden Fleece (1961), with an original storyline. Starred Jean-Pierre Talbot as Tintin.
Tintin and the Blue Oranges (1964), also an original storyline. A plot based on French poet Paul Eluard's line "Earth is blue like an orange".
...as well as
...two radio series by the BBC in 1992-93, a Dutch musical in 2001, and a theatre adaptation of Tintin in Tibet in 2007/2008.
A feature film has now been released, the first of three directed by Steven Spielberg and Peter Jackson and written by Steven Moffat[1] and Edgar Wright, entitled The Adventures of Tintin: The Secret of the Unicorn. It features Jamie Bell as Tintin, Andy Serkis as Captain Haddock, and Simon Pegg and Nick Frost as Thomson and Thompson, and was made through the use of Motion Capture by WETA. It was released in 2011 and is a combination of the plots of The Secret of the Unicorn, The Crab with the Golden Claws and Red Rackham's Treasure. A sequel is due in 2014 and is rumoured to be based on The Calculus Affair and written by Anthony Horowitz.
A Re Cap page for the individual stories is under construction here.
---
Some of the many tropes in Tintin have included
| | | |
| --- | --- | --- |
| |  Prof. Calculus: I'd swear you do that on purpose! | |
 Captain Haddock: "Blistering Barnacles!", "Thundering Typhoons!"

Tintin: "Great snakes!", "Crumbs!"

Thompson/Thomson: "To be precise..."

Bordurian thugs: "By the whiskers of Kûrvi-Tasch!"

Syldavian thugs: "By the sceptre of Ottokar!"

Rastapopoulos: (upon hearing bad news) "Diavolo!"

Mitsuhirato: "Flaming Fujiyama!", "Suffering Samurais!"
In the original French, Captain Haddock's catchphrases were "Tonnerre de Brest!" and "Mille sabords!" (literally, "Thunder of Brest!" and "A thousand portholes!").
In the Dutch translations, Captain Haddock's full catchphrase was "Honderdduizend bommen en granaten!" (literally, "A hundred thousand bombs and grenades!").
Even the German one can be re-translated nicely into Hundred thousand howling hounds of hell!
And in each translation, the phrase can be extended indefinitely, giving rise to such beauties as "Billions of bilious blue boiled and barbecued barnacles!" or "Mille milliards de mille millions de mille sabords!"
The Thompsons' catchphrase is for one of them to state something and then the other to say "To be precise:" and repeat it, but often not quite get it right. For example:
 Thompson: You forget, my friend, in our job there's nothing we don't know!

Thomson: To be precise: we know nothing in our job!
| | | |
| --- | --- | --- |
| |   Thompson: [with nearly the entire town parading behind them laughing] Don't look now, but something tells me we're being followed. | |
In Destination: Moon they even wear costumes from the wrong country:
 Thomson: Greek costumes? But we specifically ordered the tailor to make us Syldavian ones...

Thompson: I told you he didn't seem very bright.
| | | |
| --- | --- | --- |
| |   "P.S. Due to the revolution, I will not be home in time to cook dinner." | |
| | | |
| --- | --- | --- |
| |   "Take no notice! They shoot like a bunch of drunks!" | |
| | | |
| --- | --- | --- |
| |   Thompson (with nearly the entire town parading behind them): Don't look now, but something tells me we're being followed... | |
 Thompson: This man has insulted us, and we demand an apology.

Thomson: Quite right, this man has apologised to us and we demand an insult

Thompson: No you great oaf, you're back to front

Thomson: Oh? You mean, we've insulted this man and we owe him an apology?
 Haddock: You didn't tell me you couldn't drive a tank!

Tintin: You didn't ask!