Jurassic World: Dominion Dominates Fandom Wikis - The Loop
Play Sound

YMMV •

Radar

•

Quotes

• (
Funny

•

Heartwarming

•

Awesome

) •
Fridge

•

Characters •

Fanfic Recs

•

Nightmare Fuel

•
Shout Out

•

Plot

•

Tear Jerker •
Headscratchers

•
Trivia

•

WMG

•

Recap

•
Ho Yay

•
Image Links

•

Memes

•

Haiku

•

Laconic

•
Source

•

Setting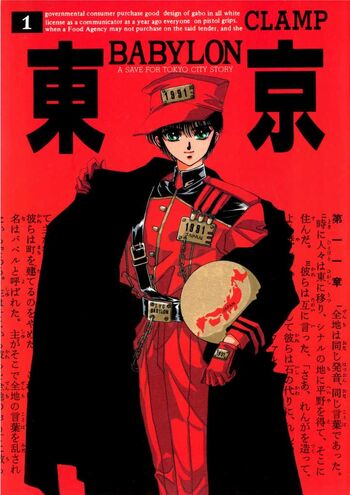 | | | |
| --- | --- | --- |
| |  "Well, I still love Tokyo... even as it is now. Where else on earth do so many people enjoy their descent into destruction?" | |

The year is 1990. The city is Tokyo, a busy megalopolis where people are caught in dreams, anonymity, loneliness, sadness and crushed hopes underneath the fevered rush for success and wealth.
Sometimes the high-pitched emotions and acute despair manifest themselves into ghosts and curses. Enter Sumeragi Subaru, 13th head of the Sumeragi clan and a 16-year-old onmyouji. He uses his spiritual power and genuine compassion to help people, exorcise trapped spirits and undo maledictions. In this modern world, where nothing is truly black and white, this is hardly easy, especially because of Subaru's tendency to care too much for people.
His twin sister Hokuto is there to help him, to cheer him up, and to make him wear eccentrically fashionable clothing. Sakurazuka Seishirou is a (male) 25-year-old gentle veterinarian friend of the twins, who professes to love Subaru. Hokuto thinks that making them a couple would be a marvelous idea, even though - or maybe because - she believes that Seishirou is the mysterious Sakurazukamori, an assassin onmyouji said to protect Japan from the shadows. And as their adventures go back and forth, the series mixes a mood of upbeat cheerfulness with dark social commentary and a deceptively naive tone.
Tokyo Babylon is a seven-volume manga series by CLAMP. It had two OVA movie adaptations, both independent of the manga, and one Live Action Adaptation which takes place some years after the manga. It's also a Prequel of sorts to X 1999, where the characters of Subaru, Seishirou, and Hokuto act the rest of their adventure and reveal their last secrets.
As of 2020, there are news about a prospect new Animated Adaptation.
---
Provides examples of :