Doctor Strange in The Multiverse o Madness - The Loop
Play Sound

YMMV •

Radar

•

Quotes

• (
Funny •

Heartwarming •

Awesome) •
Fridge •

Characters •

Fanfic Recs •

Nightmare Fuel •
Shout Out

•

Plot

•

Tear Jerker •
Headscratchers •
Trivia • WMG •

Recap

•
Ho Yay

•
Image Links

•

Memes

•

Haiku

•

Laconic

•
Source

•

Setting
| | | |
| --- | --- | --- |
| | "Let's begin the operation!" | |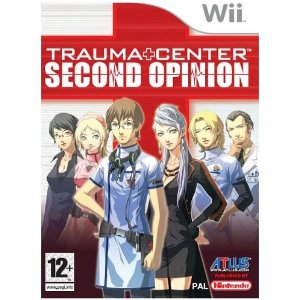 Simulation game for the Nintendo DS and Nintendo Wii consoles (released in Japan as Choushittou Caduceus, "Caduceus: The Great Surgical Operation"), where you get to save the world's health, one person at a time.
The year is 2018. You are Derek Stiles, a rookie doctor who has just begun his internship at Hope Hospital. Each stage/mission in the game requires you to correctly select and use a variety of surgical implements, such as the scalpel, the laser or the ultrasound, in order to cure each patient of his or her affliction. At the same time, you must avoid making too many mistakes, running out of time, or letting the patient's vitals drop below zero, any of which causes you to fail the operation and kill... your career.
Despite the unusual premise, at the beginning, things seem pretty mundane. You are guided by the motherly Nurse Mary and later her younger, spunkier, stricter replacement Nurse Angie in treating injuries and removing tumors, procedures made easier by the advanced medical technology at your disposal. One day, however, Derek is the only doctor available to perform an operation far more difficult than he can handle. As he frantically tries to concentrate, Derek feels time slowing down and miraculously manages to save the patient. He soon learns that he is an heir to an ability called "the Healing Touch", thought to originate from Asclepius, the ancient Greek god of medicine.
Armed with his surgical skills and his Healing Touch, Derek and his motley crew of colleagues must aid Caduceus, an organization of medical experts, against a deadly new disease called GUILT, parasites that kill in various intricate ways. GUILT is a man-made plague, unleashed into the world by Delphi, a shadowy cult that regards medicine as wrongfully extending life and interfering with God's intentions for when people should die.
A sequel called Trauma Center: New Blood has been released for the Nintendo Wii. The Wii also saw an Updated Rerelease of the original game entitled Second Opinion. Another sequel, taking place after Under the Knife, but before New Blood, was released for the Nintendo DS as Trauma Center: Under the Knife 2. There is also another sequel Trauma Team released for the Wii.
This series has a character sheet. Put tropes related to the characters there.
Tropes used in Trauma Center (series) include:
| | | |
| --- | --- | --- |
| | "Let's begin the operation!" | |
Derek does this

even in a car when they are being kidnapped

and

even yells out when they are trying to silently escape a prison cell

.

Asteroids Monster: The GUILT Paraskevi has to be cut in half, and the halves cut into half as well, until 16 little Paraskevi are produced, each of which is small enough to be extracted safely.
As You Know: Lampshaded repeatedly in Trauma Team as Gabe's computer gives him basic medical information.
| | | |
| --- | --- | --- |
| | Gabe: You're just an encyclopedia of things I already know. | |
The Atoner: CR-S01 from Trauma Team.

Subverted: he didn't do the thing he's atoning for

.

Dr. Weaver from Second Opinion

helped Adam develop GUILT by keeping the "incubators" alive

.

And then in Trauma Team,

Alyssa accidentally takes a bomb meant for her and nearly dies

.

Badass Normal: The cast of Trauma Team. Well, most of them, anyway.
Barbie Doll Anatomy: Chest operations on female patients in the first game and Trauma Team show their uncovered breasts, but without nipples. Other games instead opt to cover the breasts with pieces of cloth.
Being Good Sucks: The central trope of Dr. Freebird's story in Trauma Team.
Best Level Ever:

For players with higher skill levels, Operation 25: Under the Knife is this for the game Under the Knife and its remake Second Opinion for making you operate on three to five kyriaki patients in quick succession. The large amount of kyriaki make for a fast-paced and difficult, yet fair operation that tests your skills, all without being a puzzle boss.
First Response in general in Trauma Team. It's fast-paced, fair, and has you deal with up to six patients at once instead of just one.

Big Bad:

Adam

in Under the Knife and Second Opinion,

Master Vakhushti

in New Blood, and

Heinrich, Reina Mayuzumi and Patrick Mercer

in Under the Knife 2.

Averted

in Trauma Team.
Big Damn Heroine: Maria's juggling five near-death patients entirely on her own... cue the paramedics.

Maria gets her own when she rides a crate

of Rosalia vaccine

Slim Pickens style to Resurgam.

Bilingual Bonus: The names of the strains of GUILT (except "Bliss") are the names of the days of the week in Greek. The names of Stigma strains are Greek names of various body parts.
Blatant Lies: Gabe and RONI have a lot of fun abusing a bot program's Artificial Stupidity.
Body Horror: GUILT and Stigma and in Trauma Team, Naomi contracts the Rosalia virus which then absorbs the genetic disease in her DNA[1] and "evolves". Looks like a freaking caterpillar is in her heart.

The 'claw' on the liver, which is composed of the black bruises that cover organs

.

What makes the "claw" even more horrifing is that it then starts pulsating making it look like it is trying to crush the liver

.

How about the simple fact that the Rosalia Virus is a form of viral hemorrhagic fever gone wild that is basically eating you from the inside out, causing you to bleed uncontrollably out of every orifice (including your eyes)?

Book Dumb: Derek is really only kept around Caduceus because he's a genius surgeon, and definitely not for his skills as a doctor. Dr. Kasal even sends Angie along with him because he doesn't trust Derek in that regard (though it's rather pathetic that his nurse is a far better doctor than he is). Still, he gets better by Under the Knife 2, and is shown to be impressively competent by New Blood and Trauma Team (if only because you're not playing as him anymore).

The first game does extensively examine this, at least. Derek's so-so bedside manner and mediocre diagnostics skills are acknowledged by other characters (he was never top of the class in med school and borrowed assignment answers) and nearly get him in very serious trouble while he's in general practice. Part of the reason he chooses to join Caduceus is because by that point, he's aware his incredible surgical skills are far and away his best asset and an environment that focuses him on that exclusively will allow him to do the most good.

Breakable Weapons: In games before Trauma Team, the tools "break" from overuse, and you have to wait for a new one. Savato spins webs that have to be cut by the scalpel, but are so corrosive, the scalpel is destroyed in the process.
Bullet Time: Derek and Markus' version of the Healing Touch slows time to a crawl from their (and in Markus's case, his partner's) perspective, allowing them to make rapid surgical maneuvers that would be impossible without it.
Butterfly of Death and Rebirth: The primary motif of Trauma Team, along with flowers.
Butt Monkey: Hank Freebird in Trauma Team. He (as Captain Eagle) is hated by the public, no one at the hospital understands his mindset of good and humanitarianism, and

Claire, his patient for whom he truly cares, is shot in a freak mall shooting (though she got better)

.
Call Back: When you extract

the Twisted Rosalia virus

the screen briefly says DEFEAT like in the previous games when GUILT or STIGMA is extracted.

RONI mentions adding "To hell with that" during "Moving Heart", and later, during "The Simplest Truth", where she defies direct orders, she mentions she referred to the "To hell with that" in her database.
In one of Gabe's early cut scenes, the Chief invites him to go with her to a medical conference in Japan. Come 'Healing Warrior', when Tomoe goes back home to Japan, guess who shows up to be her support?
When a prison guard in CR's cell collapses during

the Rosalia virus outbreak

, his partner would rather point his gun at CR instead of calling an ambulance. Genre Blindness aside, his reactions make some sense when you consider that at that point, the

outbreak

was in its early stages, and CR is doing time for bio-terrorism.

Captain Ersatz: Diagnostician Gabriel Cunningham from Trauma Team looks and acts very similar to Spike Spiegel, down to smoking damaged cigarettes. Too bad Steve Blum isn't voicing him.

Some fans also think he looks like an anime version of House.

Catch Phrase: Each specialty gets one:

Surgery: The patient's life is in your hands (used in the original Trauma Center games as well).
| | | |
| --- | --- | --- |
| | CR-S01: "Let this disease pass from this world." | |
First Response: The first moments are the most critical
Orthopedics: Work your marvel with strength and skill
| | | |
| --- | --- | --- |
| | | |
Endoscopy: You must seek what lies within
| | | |
| --- | --- | --- |
| | Tomoe: "______ path of honor." | |
Diagnosis: Your mind is the ultimate tool
Forensics: The truth can never truly die
| | | |
| --- | --- | --- |
| | Naomi: "The dead shall speak." | |