YMMV •

Radar

•

Quotes

• (
Funny •

Heartwarming

•

Awesome

) •
Fridge

•

Characters

•

Fanfic Recs

•

Nightmare Fuel

•
Shout Out

•

Plot

•

Tear Jerker

•
Headscratchers

•
Trivia

•

WMG

•

Recap

•
Ho Yay

•
Image Links

•

Memes

•

Haiku

•

Laconic

•
Source

•

Setting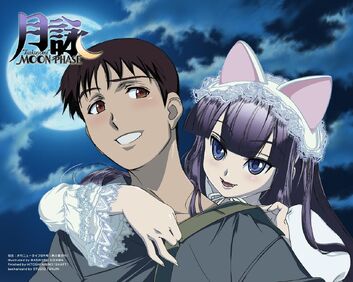 Kouhei Morioka, Black Sheep of a family of powerful psychics and spiritualists, has less spiritual energy than the average Muggle. In his job as photographer for an occult magazine he encounters Hazuki, a young girl trapped in a castle by a magical barrier (Kouhei is so lacking in spiritual energy that the barrier didn't notice him). After he promises to help her out of her confinement, she insists on giving him a "kiss," then bites him on the neck.
Now, usually in this story when a vampire bites a human, the victim loses all free will and becomes the vampire's slave. This doesn't happen with Kouhei (spiritually lacking, remember?). This doesn't keep Hazuki from acting like it did and throwing a temper tantrum when he doesn't humor her.
Anyway, Kouhei smashes the crystal making the barrier, gets Hazuki out, and she spends the rest of the series living with Kouhei and his grandfather in the grandfather's shop, and fighting off attempts to bring her back to her prison by other vampires.
Tropes used in Tsukuyomi Moon Phase include:
| | | |
| --- | --- | --- |
| |  Hazuki: "Blob monsters?! Why did it have to be blob monsters? I hate blob monsters! | |