Doctor Strange in The Multiverse o Madness - The Loop
Play Sound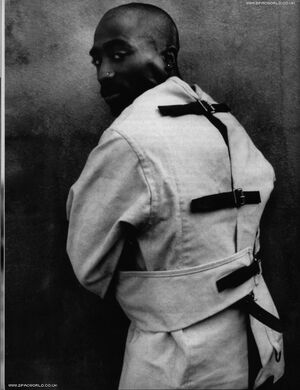 "We shouldn't ask why does a rose that grew from the concrete have damaged petals, instead we should all celebrate its tenacity, we should all love its will to reach the sun, well, we are the roses, this is the concrete and these are my damaged petals, don't ask me why, thank god, and ask me how?"

—Tupac Shakur
"A lot of people think that it was about

Biggie

on the East Coast and 2Pac on the West Coast. It wasn't like that. Big ran New York. 2Pac ran

America

"

—Cormega

Tupac Amaru Shakur (June 16, 1971 - September 13, 1996), also known by his stage names 2Pac (or simply Pac) and Makaveli, was an American rapper. In addition to his status as a top-selling recording artist, Shakur was a promising actor, a poet and a social activist. Most of Shakur's songs are about growing up amid violence and hardship in ghettos, racism, problems in society and conflicts with other rappers. Shakur's work is known for advocating political, economic, social and racial equality. Shakur was initially a roadie and backup dancer for the alternative hip hop group Digital Underground, before forming his own group Thug Life then going solo.[1]
Shakur became the target of lawsuits and experienced other legal problems. He was later shot five times and robbed in the lobby of a recording studio in New York City. Following the event, Shakur grew suspicious that other figures in the rap industry had prior knowledge of the incident and did not warn him; the controversy helped spark the East Coast-West Coast hip hop rivalry. Shakur was later convicted as a sex offender, guilty of sexual abuse.
After serving eleven months of his sentence he was released from prison on an appeal financed by Marion "Suge" Knight, the CEO of Death Row Records. In exchange for Suge's assistance, Shakur agreed to release three albums under the Death Row label. The first of such was All Eyez on Me, considered one of the best hip-hop albums of all time.
In addition to his music, Shakur was also one of the first rappers to have a successful acting career. What separates him from the others, however, is that he actually had lifelong training. As a child, he studied the arts extensively and played Travis in A Raisin in the Sun during a run at the Apollo Theater. As an adult, his best-known movies include Poetic Justice and Above The Rim.
On the night of September 7, 1996, Shakur was shot four times in a drive-by shooting in Las Vegas. He died six days later of respiratory failure and cardiac arrest at the University Medical Center. For a few years, Tupac was just as prolific in death as in life. Rabid fans and conspiracy theorists have speculated that he staged his murder to escape his enemies, though this urban myth has largely died down.
Shakur has sold over 75 million albums worldwide. A wealth of posthumous material continues to be released as of 2010, but cynical listeners have always seen it as a way of cashing in on his legacy, especially since most of the songs were remixed with current musical trends and artists, which sometimes clash with Shakur's style. Nonetheless, he was one of the defining musicians of The Nineties.
Songs of note:
"Keep Ya Head Up"
"I Get Around"
"Pour Out A Little Liquor" (with Thug Life)
"Dear Mama"
"California Love"
"Ghetto gospel"
"How Do U Want It"
"To Live & Die In LA" (as Makaveli)
"So Many Tears"
"Temptations"
"Me Against the World"
"Brenda's Got a Baby"
"All Eyez On Me"
"I Don't Give a Fuck"
"Changes"
"Do For Love"
"I Wonder If Heaven Got A Ghetto"
"Hail Mary" (as Makaveli)
"Definition of a Thug N***a"
"Pain"
"Loyal To The Game"
"Toss it Up" (as Makaveli)
"How Long Will They Mourn Me?" (with Thug Life)
"Me And My Girlfriend"
"Thug Luv" ( with Bone Thugs-n-Harmony)
"Staring At The World Through My Rear View"
"Lost Souls"
Discography:
1991 2Pacalypse Now
1993 Strictly 4 My N.I.G.G.A.Z.
1995 Me Against the World
1996 All Eyez on Me
Released Posthumously:
1996 The Don Killuminati: The 7 Day Theory (the last with his creative input)
1997 R U Still Down? (Remember Me), Probably the most popular of the posthumous releases.
1998 Greatest Hits (Notable in that it included the original version of California Love (the one released on AEOM was a remix), a new mix of Toss It Up, and four previously unreleased tracks, including the popular Changes)
1999 Still I Rise (With the Outlawz)
2001 Until the End of Time
2002 Better Dayz
2004 Loyal to the Game
2006 Pac's Life
2Pac provides examples of the following tropes:
Animated Music Video: "Do For Love".
The Apunkalypse: The first half of the "California Love" video.
Attack Backfire: As he pointed out in Rebel Of The Underground, not only did the people who kicked up a fuss over his earlier albums help draw attention to them, they also inadvertently gave him ideas for material to use in future albums.
They say they hate me; they wanna hold me down.
I guess they're scared of the rebel; the rebel of the underground!

But I never let it get me.

I just make another record 'bout the punks trying to sweat me!
| | | |
| --- | --- | --- |
| | I look over at what's succesful. Marky Mark, Hammer, New Kids on the Block selling twenty-two million copies, and I want that so badly, but... I would be wrong to do that, knowing what I know and having the brain that I have. For me to even go and write some simple shit would be wrong even though I would get paid and I would get more people's money. I would rather leave something so that when people pick up 2Pacalypse Now or any of my other albums in 1999, they'll go, "Damn! Brothers had it hard back in the day, but brothers were working it out." | |
Downer Ending: "Ghetto Gospel", thanks to the flashbacks of the day. It doesn't get better knowing how it ended.
Mr. Fanservice: The man was a former dancer, so his ripped and often displayed physique is justified.
Even Bad Men Love Their Mamas: "Dear Mama"
Fat and Skinny: Him and B.I.G. when they were still friends.
Fun with Acronyms: N***a: Never Ignorant Getting Goals Accomplished.

Also "Thug Life"= The Hate U Give Little Infants Fucks Everybody.

Gangsta Rap: One of the greats. In case you didn't notice.
I Call It Vera: "Me And My Girlfriend", which is often misinterpreted as a romanticized outlaw tale ala Bonnie and Clyde. However, the "girlfriend" of the title is really his gun.
Justified Criminal: His songs overlap with this a lot and occasionally so did his life. In one notable incident, he avoided charges in Atlanta for shooting two off-duty cops in the asses after seeing them harass a black driver.
Minimalism: The beat to "Hail Mary".
Meaningful Name: His first and middle names are the full name of the last Inca emperor, who was caught and killed after leading a resistance against the Spanish decades after the initial conquest in Peru. This is reflective of his family's Black Panther background.
Money, Dear Boy: According to the

Behind the Music

story on the Notorious B.I.G., when the two rappers finally confronted each other at the height of their feud, Tupac admitted to instigating the whole thing as a way to generate controversy and sell records.
Political Rap: Especially before his Death Row stuff. His debut album 2Pacalypse Now is quite a bit different than All Eyez on Me in terms of subject matter.
Properly Paranoid: After he got shot the first time...

Short-Lived, Big Impact

: He died at 25, leaving a profound influence on rap in his wake.
Some Anvils Need to Be Dropped: "Changes" a posthumous remake of Bruce Hornsby's "The Way It Is" and many many more...

"Ghetto Gospel" wouldn't be so good if it wasn't for this.

Stage Names: Averted until the formation of the Outlawz, then... hoo boy. The group was originally called Dramacydal; Pac got the idea for the change after reading Machiavelli in prison. Nearly every member of the group took a stage name inspired by a famous dictator: Hussein "Fatal", Napoleon, Idi Amin E.D.I. Mean, Khomeni Komani, Yaki Qaddafi Kadafi, Big Syke aka Mussolini, Castro Kastro... pretty much every one but the one you're thinking of.
Take That: The infamous "Hit 'Em Up", primarily aimed at his friend turned rival The Notorious B.I.G. Others have felt his wrath as well mainly...

Mobb Deep
Chino XL
Nas
All of Junior M.A.F.I.A.
Even Dr. Dre on his last album, after Dre had left Death Row. Pac mistakenly thought Dre had abandoned him in prison, when he'd really just realized that Suge Knight was a godawful manager. Obviously Tupac wasn't going to feel the same way about the man who'd just bailed him out of jail.

Warrior Poet: An iconic example.