Jurassic World: Dominion Dominates Fandom Wikis - The Loop
Play Sound

Quotes

•
Headscratchers

•
Playing With

•

Useful Notes

•

Analysis

•
Image Links

•

Haiku

•

Laconic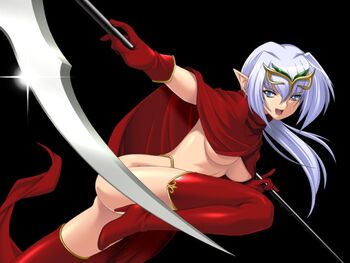 When a top is short enough or strategically cut to show the undersides of the breasts it's known as Underboobs. This is the standard outfit for females in loose-fitting armor in pulp fantasy. It is possibly the most impractical outfit for fighting, ever, as it leaves vital organs exposed. Particularly when the top is loose-fitting. This sort of top needs the aid of tape to stay in place, other than in drawn examples.
A type of Fan Service, naturally. Will always imply Vapor Wear and is almost always coupled with Bare Your Midriff.
Underboobage is also known as shitapai, neathage, reverse cleavage, or Australian cleavage (as in, "Down Under". Geddit?).
The underside of a breast is almost never seen in public in Real Life (seeing as how breathing wrong could risk exposure) and thus audiences aren't used to seeing it, in theory making it sexier for being unexpected and rarely shown.
Compare Absolute Cleavage, Impossibly Low Neckline, Multi Boobage and Sideboob.
Examples of Underboobs include:
Anime & Manga
Comics
Live Action TV
Music
Music Videos
Video Games
Web Comics