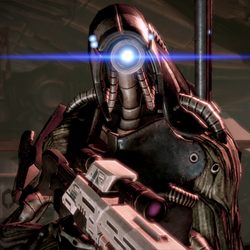 I'm Geth N7, your friendly neighborhood site founder.
I mostly just make sure everything is working properly and manage one of the current approved site bot accounts for maintenance edits and other needed projects.
The wiki was founded by me, but despite that, I'm not a fan of admin fiat decision making and prefer to solicit suggestions from the community before making any major decisions, so drop by the the forums or my talk page if you have a question.
Feel free to visit my blog if you like as well.
Some self troping
Rapid-Fire Typing - Prone to this. Unfortunately, the result usually looks terrible, which is why I'm rather grateful most web browsers have spell checkers.
Reasonable Authority Figure - I hope and pray I am this trope.
The Smart Guy - Averted. I've used MediaWiki quite a bit, but in some ways I'm just a gifted amateur, and I'm not shy about accepting advice or technical help from those who know better than myself how to manage things.
My Userboxes







| | |
| --- | --- |
| | This troper is male. |







| | |
| --- | --- |
| | This troper uses Mozilla Firefox |



















| | |
| --- | --- |
| | This troper likes neat and tidy pages. |













| | |
| --- | --- |
| trope | This troper likes to edit Trope pages. |







| | |
| --- | --- |
| work | This troper likes to edit Work pages. |







| | |
| --- | --- |
| | This troper uses Microsoft Windows. |













| | |
| --- | --- |
| | This troper is (or was) a member of TV Tropes |