Jurassic World: Dominion Dominates Fandom Wikis - The Loop
Play Sound

YMMV •

Radar

•

Quotes

• (
Funny •

Heartwarming •

Awesome) •
Fridge •

Characters •

Fanfic Recs •

Nightmare Fuel •
Shout Out

•

Plot

•

Tear Jerker •
Headscratchers •
Trivia

• WMG •

Recap

•
Ho Yay

•
Image Links •

Memes

•

Haiku

• Laconic •
Source

•

Setting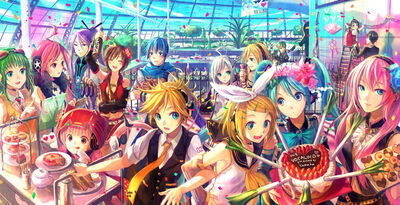 Vocaloids (from "vocal" and "android") are music synthesizing programs based on real human voice samples and technology created by the Yamaha Corporation. There are currently over 70 vocaloids (Rin and Len count as one product instead of two); and fans have created personalities for each character based on official art (some have no official art) and voice. Fans have also created characters based on official releases, such as Neru Akita and Haku Yowane.
To use a Vocaloid, one simply has to type in the lyrics of the song of his choosing as well as the melody for said song, although a great deal of fine-tuning is usually necessary to have the result sound natural. Vocaloids have become so popular that an official unofficial manga adaptation, Hatsune Mix, was created, telling the trials and tribulations of the Crypton-produced Vocaloid family: Kaito, Miku Hatsune, Meiko, Rin and Len Kagamine, and Luka Megurine.
Vocaloid has recently taken major steps to becoming Serious Business[1]. Flagship character Miku Hatsune has become a fully-fledged Virtual Celebrity, with an album featuring her work (composed by synthesizer band Supercell) nearly topping the Japanese music charts at No.2, and Miku herself putting on a live concert at Animelo Summer Live 2009. (Her "live" performances involve her image rear-projected onto a glass screen and sharing the stage with a live band.)
Toyota also began an ad campaign for their 2011-model Corolla, starring Miku herself; it was subsequently revealed that Toyota sponsored Miku's first overseas appearance — a live concert in Los Angeles at Anime Expo 2011.
In the 2010 Concert, Rin, Len, and Luka made debuts with even better renderings. In addition, the Vocaloid song Black Rock Shooter (which features said character, created by artist huke) has inspired an official anime OVA of the same name, which was produced by animation studio Ordet (ex members of Kyoto Animation) and was released on 2010. Another popular song, "Kokoro" seems to be getting its own musical. "Daughter of Evil", in turn, got its own theater play and later a manga. Recently, "Cantarella" got a musical, too. The song "Kagerou Days" also experienced a burst of popularity, enough to get the song its own serialized manga and a novel written by the song's own producer.
Miku had yet another overseas concert in Singapore during the Anime Festival Asia 2011 on November 11, 2011. In addition, during 2012's Miku Party concert, Kaito and Meiko made appearances.
The producers CosMo, Deco 27, and Mothy have their own pages, as does the band Supercell and the music-video-making software Miku Miku Dance.
Note: The following is only for tropes related to official Vocaloid material. For tropes on song, fanon, and other fan works, go here.
There is a thread here to discuss improving this article.
---
Provides Examples Of: