YMMV •

Radar

•

Quotes

• (
Funny

•

Heartwarming

•

Awesome) •
Fridge

•

Characters •

Fanfic Recs

•

Nightmare Fuel

•
Shout Out

•

Plot

•

Tear Jerker

•
Headscratchers

•
Trivia

•

WMG

•

Recap

•
Ho Yay

•
Image Links

•

Memes

•

Haiku

• Laconic •
Source

•

Setting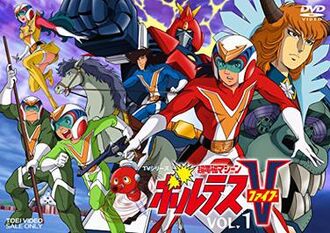 Voltes V (formally, 超電磁マシーン ボルテスV or Choudenji (Super Electromagnetic) Machine Voltes Five) is the second of Tadao Nagahama's "Romantic Trilogy" of Super Robot series, premiering in 1977. As with predecessor Combattler V, the "V" is for the Combining Mecha's five constituents, their five pilots, and the traditional V for Victory.
Considerably Darker and Edgier than Combattler V, Voltes V chronicles the Voltes Team and Camp Big Falcon's defense of Earth from the invading Boazanian Empire, Beast Fighter by Beast Fighter, as well as a simmering civil war within planet Boazan itself, long under the brutal caste-system rule of Emperor Zu Zambajil, between the horned elite and the hornless commoners.
It may come as a surprise (or not) that Yoshiyuki Tomino was involved in making this anime.
In December 2019, a live-action remake by GMA 7 Network will be released next year.
Tropes used in Voltes V include: