Jurassic World: Dominion Dominates Fandom Wikis - The Loop
Play Sound

Quotes •
Headscratchers

•
Playing With

•

Useful Notes

•

Analysis

•
Image Links

•

Haiku

• Laconic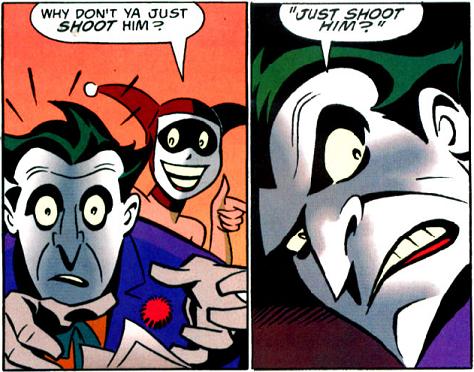 Villains (and occasionally darker Anti-Heroes) frequently find themselves in conundrums that could easily be solved by finding the right person and shooting them. But rare is the villain who actually takes this direct approach.
There may or may not be some in-story justification for this failure to take the direct approach. However, the Doylist explanations generally boils down to the fact, if he did just shoot him, then the story would be much shorter and would end with the bad guys winning.
Flavors include:
Compare Third-Act Stupidity, Contractual Genre Blindness. Contrast Dangerously Genre Savvy, Combat Pragmatist, and No-Nonsense Nemesis.
If you, the viewer, are wondering why someone won't just shoot someone else, Headscratchers is the place to ask.